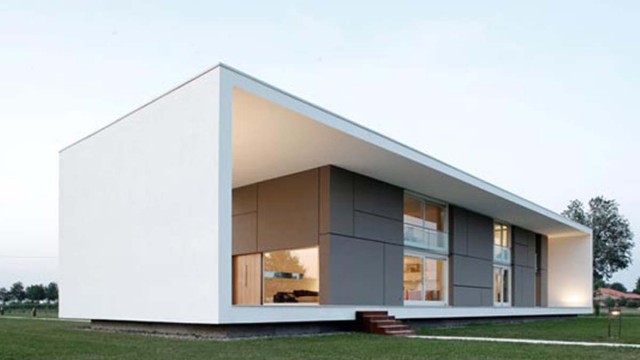 Many architects deem themselves modernists or traditionalists; some are interested in concrete and glass, others wood and brick; some treat architecture as sculpture while others work within pre-existing structures. These dualities often remain as such, but Andrea Oliva has found ways to combine them.
Italian architect Oliva founded his design practice, Studio Cittaarchitettura, in 2000. Since then, he has experimented with varying degrees of modernism and minimalism. His House Sulla Morella takes the notion of a minimalist box to a whole new level. Designed for the 2009 Premio Biennale Internazionale di Architettura "Barbara Cappochin," the house is set on the outskirts of Castelnuova, in Sotto, Italy, on a flat prairie. Set sixty meters (just under two hundred feet) away from the street, Sulla Morella is a modernist block on wide-open space. Here even the trees feel minimal, although over this one presumes Oliva had no control.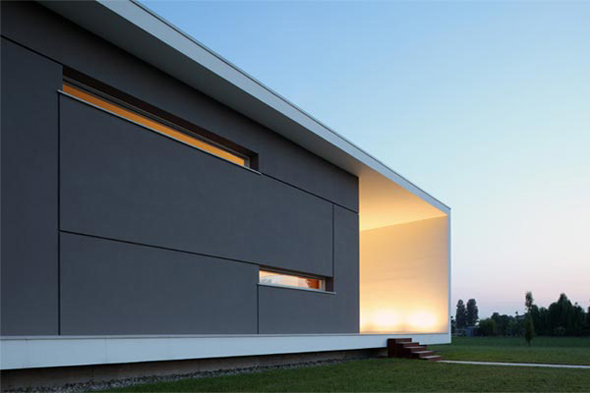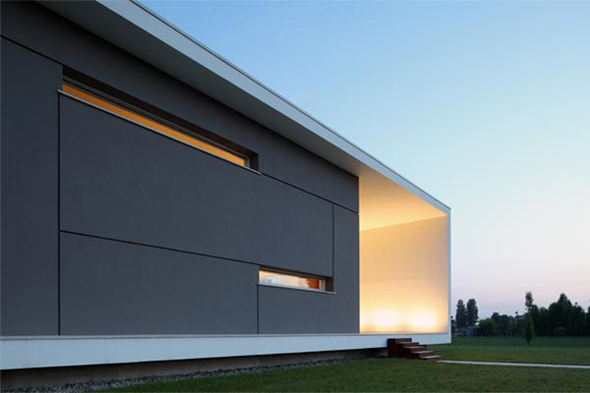 A rectangular white shell allows for a concrete and plaster porch space and overhangs. A gray box with domestic spaces is set inside. Gray sliding panels cover the large windows—created from wooden frames and laminated glazing—and when all are closed, the house seems to be composed of regularized jigsaw-puzzle pieces.
Not surprisingly, the interiors include mostly unadorned white walls and minimal furniture.Dark brown hardwood floors—including a unique staircase design—and a few pieces of brown furniture lend a "pop" to the otherwise white and gray space.  It seems almost impossible to think that the house could be stripped down any further to its basic function as shelter.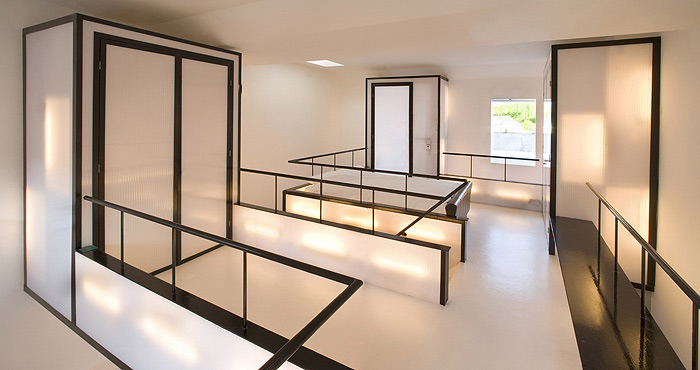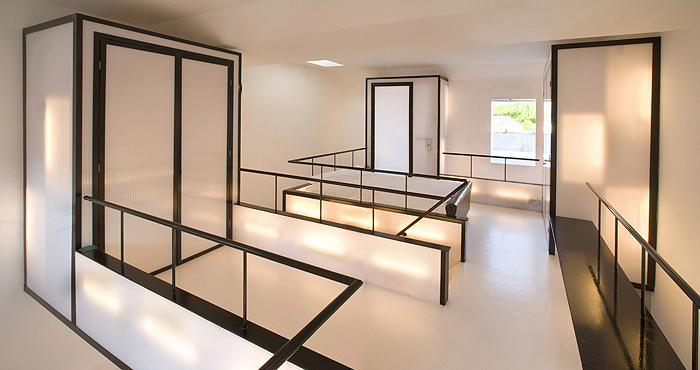 The modern elements extend beyond the obvious materials and design, however. The flat roof addresses contemporary issues of sustainability: it contains solar panels that provide the house with electricity and hot water.
Oliva is more than just a strip-it-down minimalist, of course. In Bologna, he worked with an existing space as part of an urban regeneration project. Oliva transformed the former aqueduct into a social space for local youth. He received the commission after winning the 2003 Centocitta Award, a national competition by Compagnia di San Paolo that aims to transform unused public buildings into community centers. And in winning, Oliva received a nod from famed "starchitect" Renzo Piano, who served as a primary judge.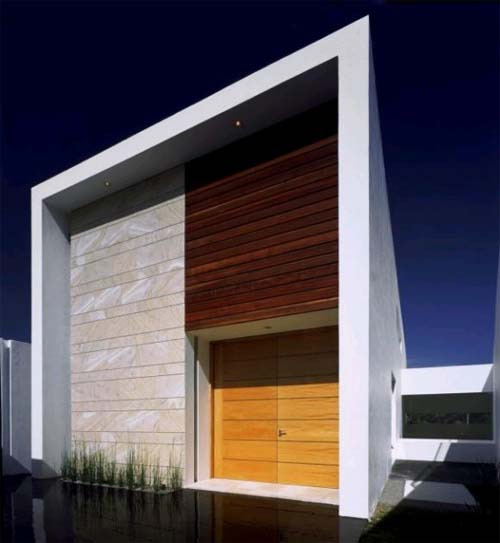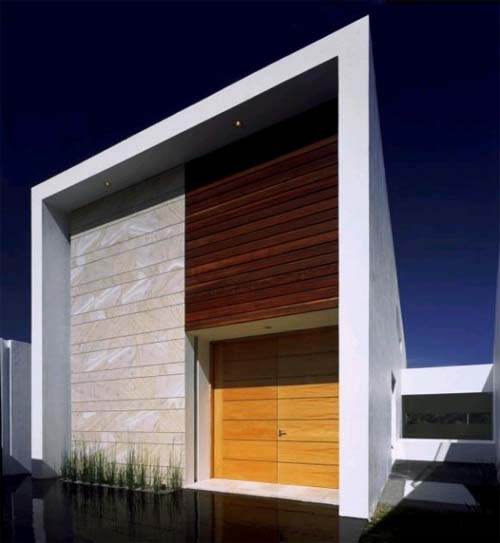 The two original octagonal towers were built in the early twentieth century. Oliva added a third connecting tower and a new building to be used as exhibition space. With the new structures, he aimed to create continuity between past and present. Rather than re-creating the traditional brick of the first two towers, Oliva used the modernist glass brick in the third tower, and simplified its form; rather than octagonal, the new tower is circular. At night, it shines like a lantern, marking the site as a landmark. The exhibition space itself blends old and new: a ventilated brick wall on the north, and mobile corten sunshades with automatic sensors on the south. Conferences, concerts, workshops, and classes are held in the renovated and new spaces.
The project, completed in 2009, allowed Oliva to use a modernist vocabulary in a traditional space, while bringing the old structure into the contemporary world—both in structure and in purpose.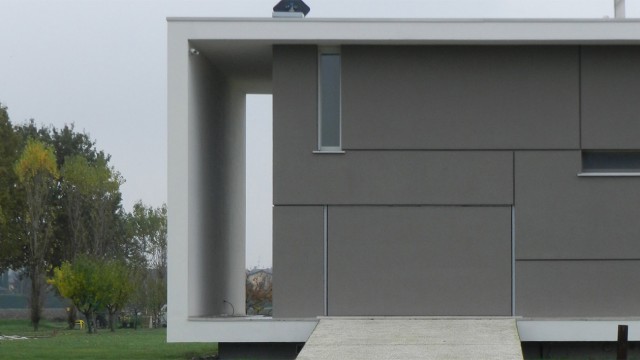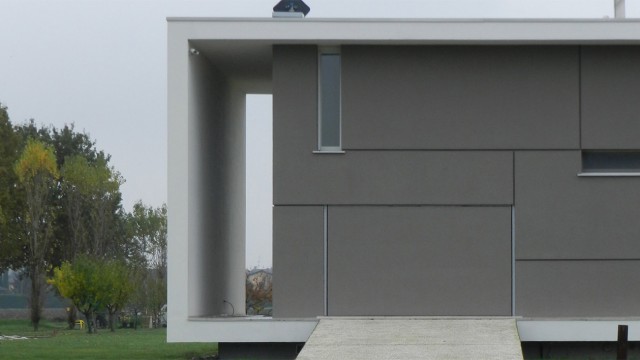 In addition to his design practice, Oliva has worked in research and as an adjunct professor on the faculty of architecture and engineering at the University of Parma for more than a decade. His practice is partly experimental, partly practical, with expertise in structures, equipment, roads, economy, landscape, artwork, and lighting.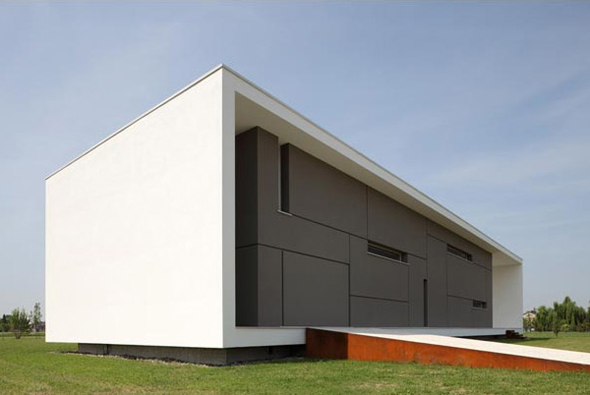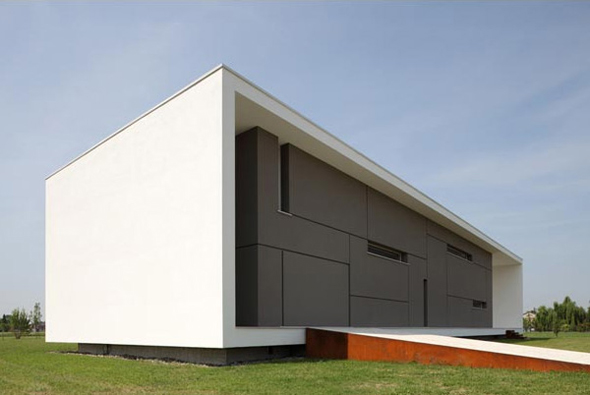 The award-winning architect received his architecture degree from Politecnico di Milano in 1998. He has participated in many national and international competitions, and has been exhibited and published in international journals.
In addition to the range of architecture projects, Oliva has also designed home décor, including a mosaic floor vase of Murano glass, sold by Nella Vetrina in Italy. It is marketed as "ideal for custom creations where the design possibilities are endless"—and it seems Oliva's custom creations are just getting started.