Imagine a building that draws on the ocean for inspiration and combines its natural elements with a classic structure that has molded countless of elegant historical sites. If the picture on your mind lack some clarity, simply allow Aria on the Bay to fill in the missing details. Miami's 53 story tower, comprised of sophisticated waterfront residential condominiums, is the embodiment of innovative yet timeless architecture. With this tower, the Melo Group development firm offers Downtown Miami's inhabitants 648 one to four bedroom condos and exclusive three-story penthouses measuring between 2,600 and 4,800 square feet. The overall product, completed in April 2018, was designed in its entirety by the acclaimed Arquitectonica company. Since the early stages of its construction in 2015 the building's popularity reached an international scope with domestic buyers from the U.S comprising only 15% of the total sales.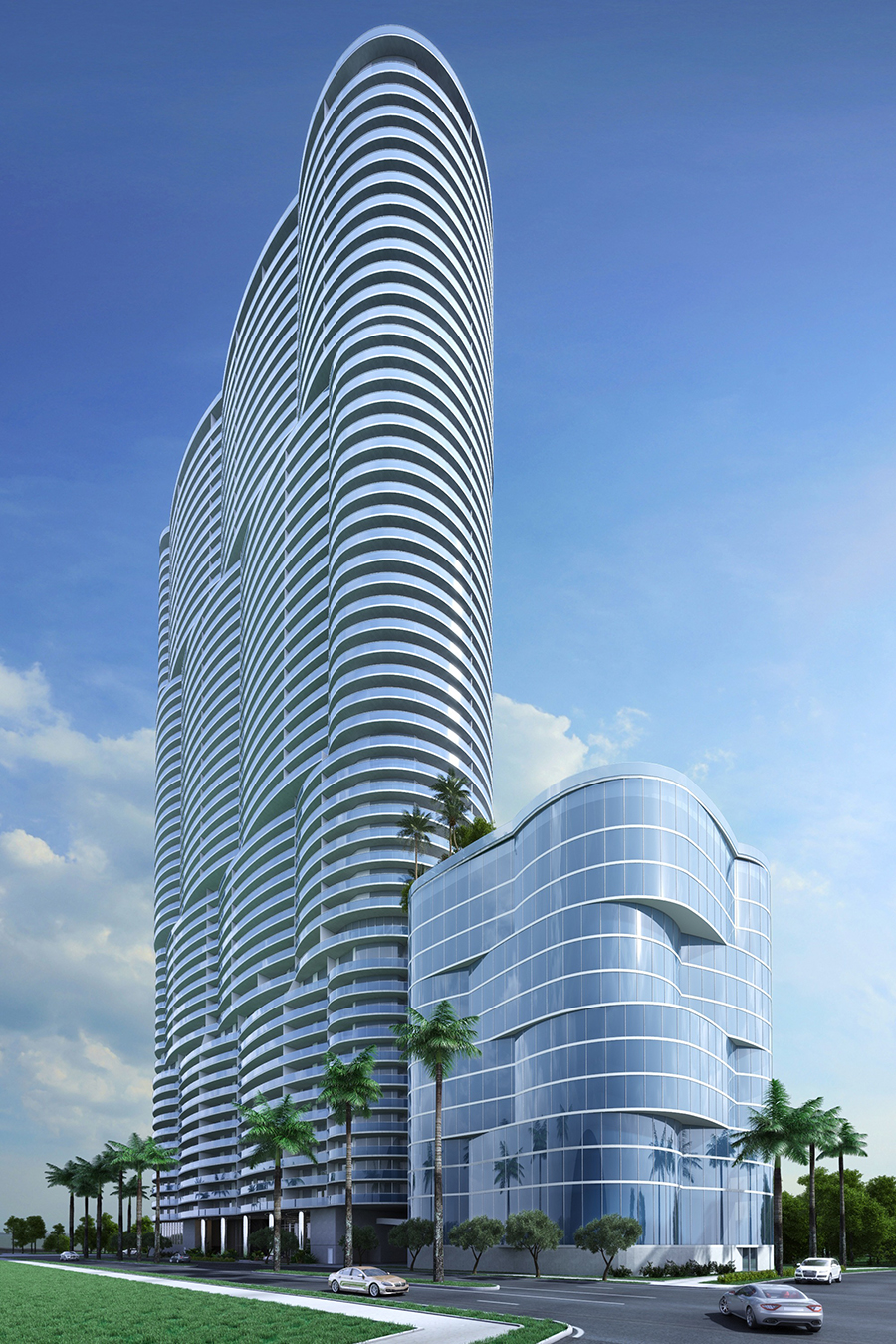 Location
If you would rather observe the tower's grandeur with your own eyes, Aria on the Bay can be found at 1770 North Bayshore Drive in the Edgewater neighborhood. The building is, indeed, conveniently located at the hub of the Arts & Entertainment district with direct sights of Biscayne Bay and within a two blocks distance to the Adrienne Arscht Center. Being situated within a walkable and family-friendly neighborhood is only one of the tower's advantages. What this implies is that inhabitants can engage in the outdoor activities that the surrounding 8-acre waterfront park offers with its biking trails, jogging paths, tennis and basketball courts, barbecue, picnic and playground areas as well as the daily yoga and fitness classes. The area also provides direct access to distinguished cultural arts venues such as the Perez Art Museum Miami and the Patricia and Phillip Frost Museum of Science. This strategic positioning demonstrates that exceptional architecture depends on the creation of a balance between objects and the organic elements of their surroundings.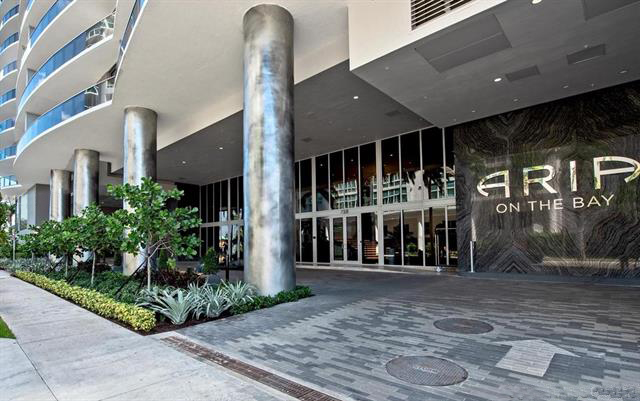 Nonetheless; admirers of Aria on the Bay should first acknowledge the power teams responsible for its development; these are the Arquitectonica design firm and the Miami-based development company, Melo Group.
The first predominates in the global stage of architectural design for its bold, modern style tied to an ecologically sensitive philosophy that seeks to reconcile contemporary aesthetics with the natural and cultural environment. One of Arquitectonica's Founding Principals, Bernardo Fort-Brescia, is recognized as one of the latest central figures of his profession and as such he is currently a Fellow of the American Institute of Architects and has been rewarded with the AIA Silver Medal and the Urban Land Institute Lifetime Achievement Award. Since the firm's establishment in 1977, its projects have not only transformed Miami's urban landscape but also the cityscape of fifty-nine countries such as France, Spain, China, Singapore, South Korea, Venezuela, ad Brazil among others.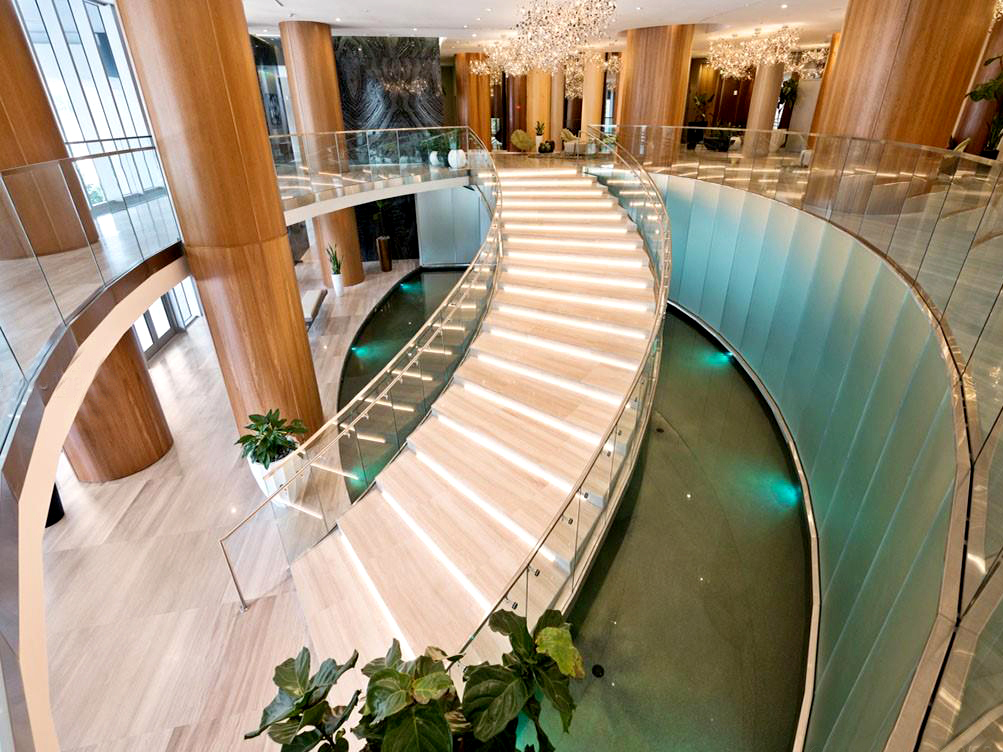 Melo Group
The family-owned real estate firm counts with more than 50 years of experience in the market and nearly 5,000 residential units completed and under development in Downtown Miami. Melo Group's notoriety has grown considerably since 1948 when it was founded by Armando Ferreira de Melo in Buenos Aires. Today Dr. Jose Luis Ferreira de Melo overlooks the company as its President and managerial leader with his sons, Martin and Carlos Melo following the family tradition. The fame this company has acquired in the years following its arrival in Miami during 2001 is due to a large extent to the innovative and sharp minds of its leaders; as a matter of fact, the widespread popularity in the development business of the cash-focused financing model can be attributed to Melo as the first one to implement this method in the construction process of condominiums.
Although Aria on the Bay is only the 14th residential tower developed in Downtown Miami, it can also be seen as a unique jewel carved from years of experience acquired after the construction and design of approximately 8,000 units spread across the Americas in countries such as Argentina, and Uruguay.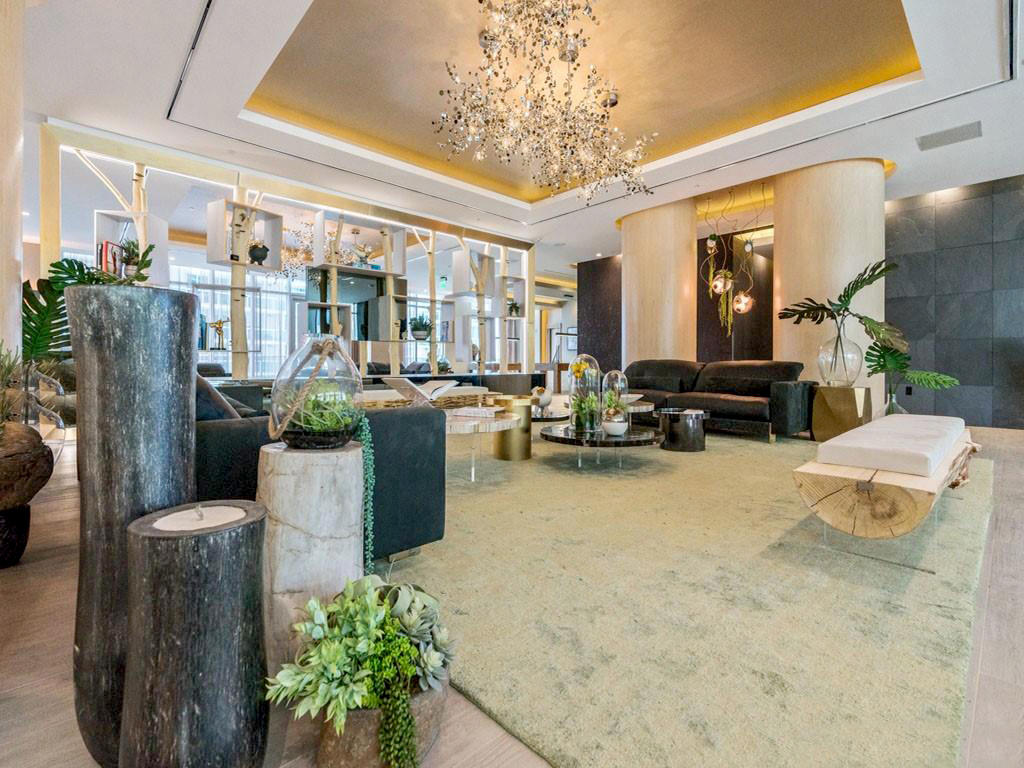 Description
After this brief introduction to the history of the tower's creators you might be wondering- what exactly is so special about the building itself?
To begin describing Aria on the Bay it is indispensable to mention the elements which inspired the architectural design. These are: the Biscayne Bay wave crests, elegantly reproduced in the building's smooth glass facade and secondly, some of the greatest historical opera houses which are referenced through the curving balconies that "playfully stagger creating a series of cylinders in performance. The arrangement could also be interpreted as a musical score or a series of curves dancing to a tune." as Arquitectonica describes them.
Even before entering, visitors and residents are greeted by a variety of attractions that are fitted within the 10,000 square feet of commercial space reserved for offices, retail and restaurants with terraces that offer tranquil ocean views. These luxurious additions are characteristic to Arquitectonica's humanistic approach which accentuates the organic essence of a building through undulating surfaces and flowing texture.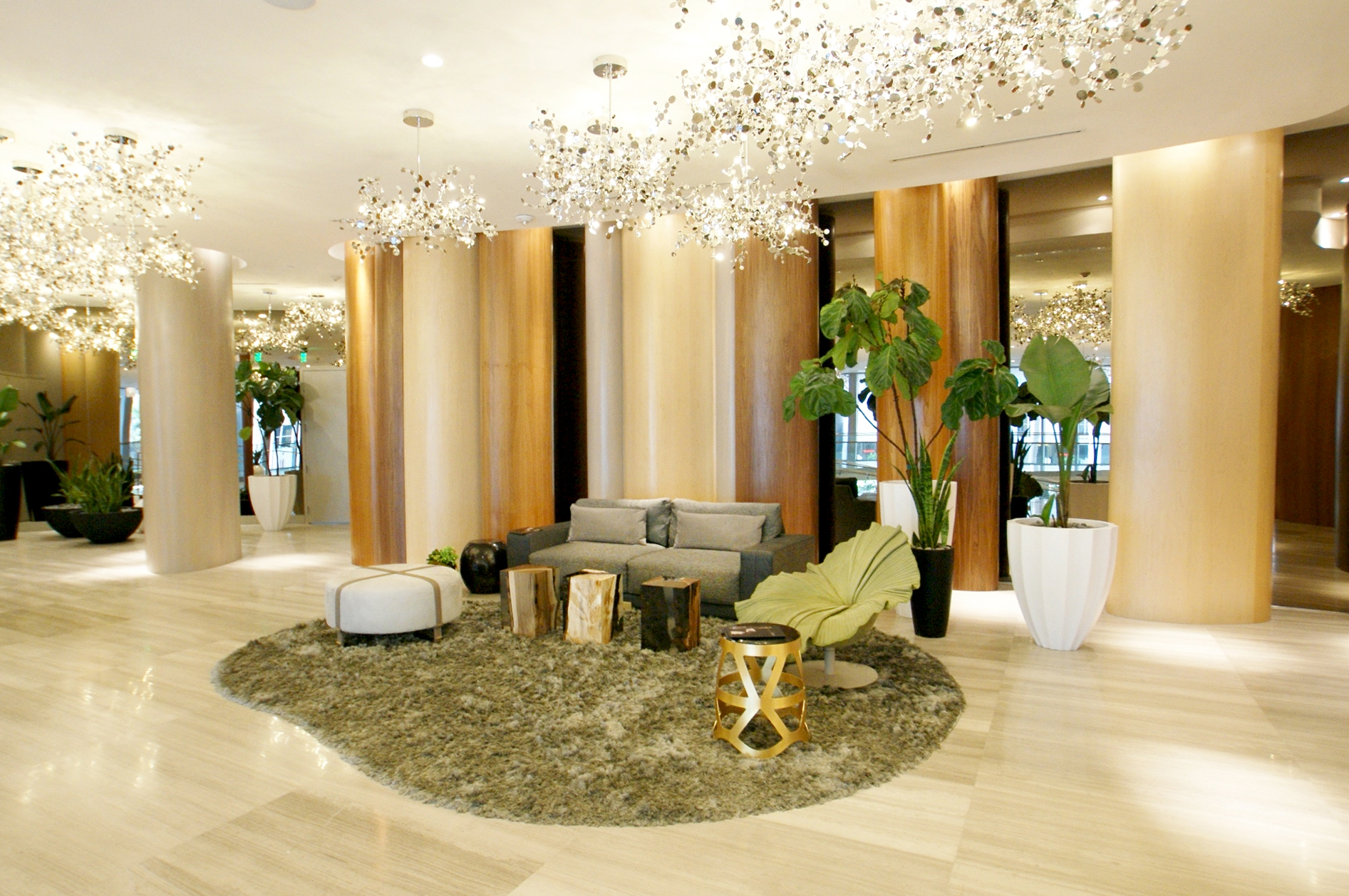 Interiors
Residences are endowed with 9-foot floor to ceiling glass and wrap-around terraces that create an open and serene atmosphere in contact with the environment by allowing natural light to brighten the interiors while providing unobstructed views of Biscayne Bay. Each unit also comes with private elevator access, high-quality fixtures, custom-designed cabinetry and a modern European style of interior design. Triplex penthouses benefit from additional features such as rooftop terraces featuring private pools, open-air kitchens and 12-foot deep extensive balconies. Nonetheless, the overall product's timeless elegance is accentuated by the golden hues in combination with wooden finishes that radiate from columns, walls and which are also found in modern furniture pieces. This merging between lush and organic materials such as leather, glass and marble forms a warm and balanced composition.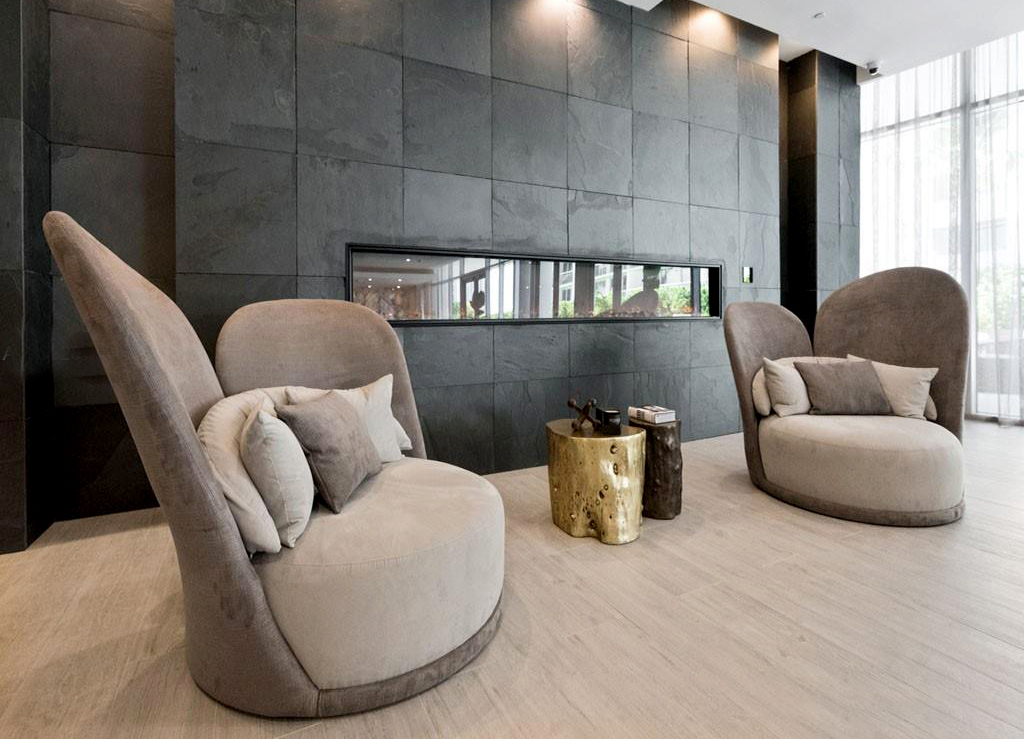 To complement the sophisticated atmosphere radiated by the interiors, the residential complex also provides its clients with world class amenities such as a private spa, fitness and yoga studio centers, theater, media and entertainment rooms and a beauty salon. The 14th floor alone counts with a resort amenity deck including summer kitchens, barbecue grills, custom-seated fire pits and four pools reserved for different instances (a sunset, sunrise and children's pools).
"After looking at other buildings with my broker, Ben Moss, Aria on the Bay's downtown location with sweeping views and the developer's attention to detail sold me on this property," these were the words of the National League's Most Valuable Player, Giancarlo Stanton, in regards to the acquisition of one of the tower's coveted condos.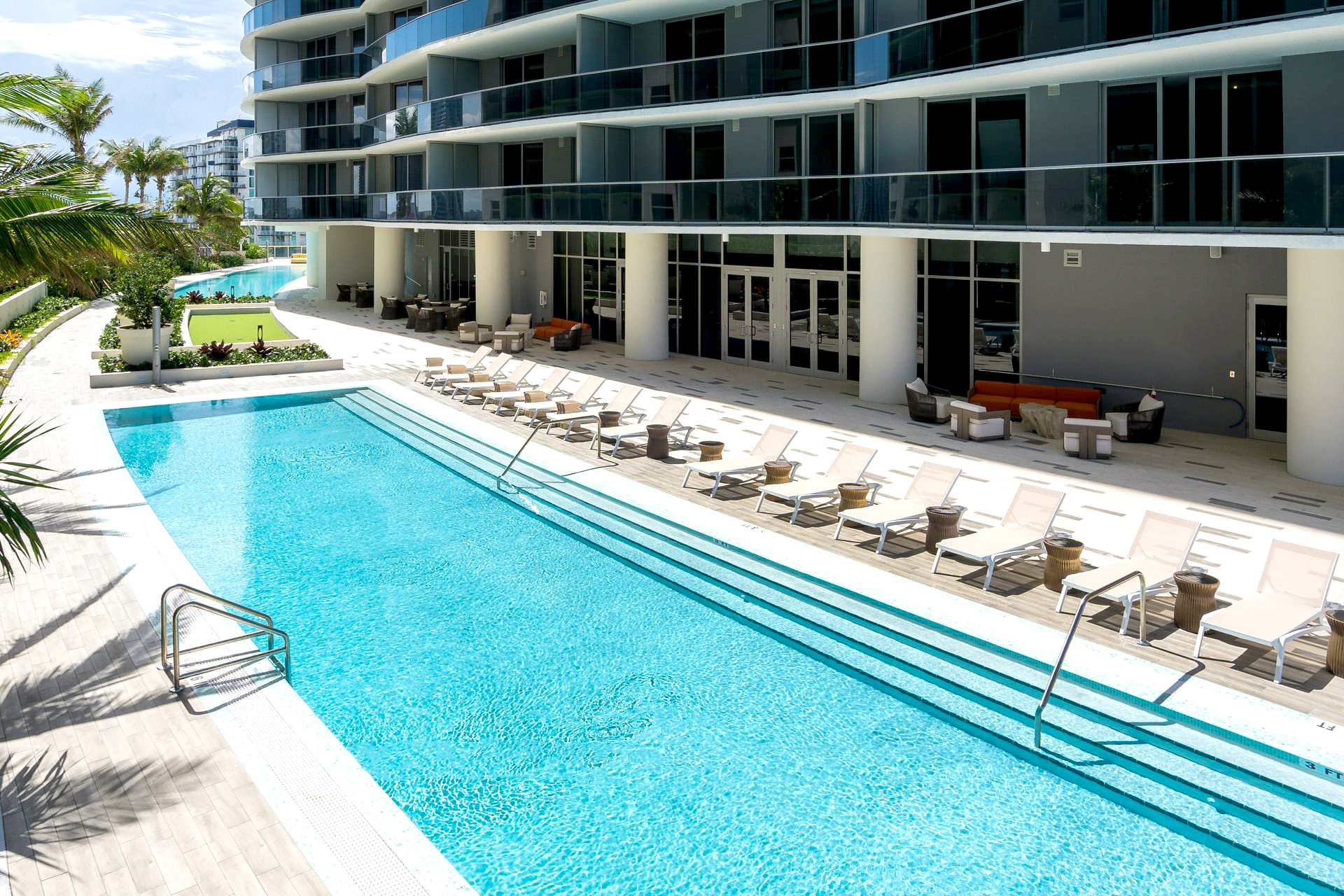 There are buildings which are inspired by change and contemporary tendencies and there are others that transform such modern movements. Aria on the Bay is the kind of building that engages inhabitants, viewers and residents alike, with the landscape that surrounds them. It is influenced by nature as much as it is by the cultural attributes that the modern life of Miami has to offer. This residential tower is both, inspired by the diverse, ever-changing processes that motivate innovative architecture and also responsible for revolutionizing Miami's urban space.