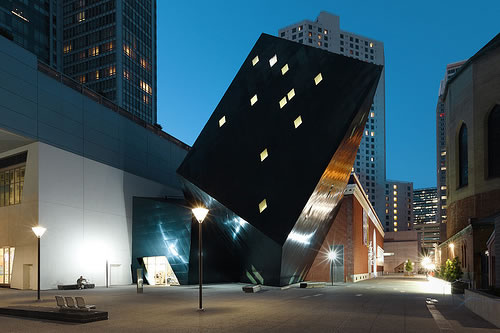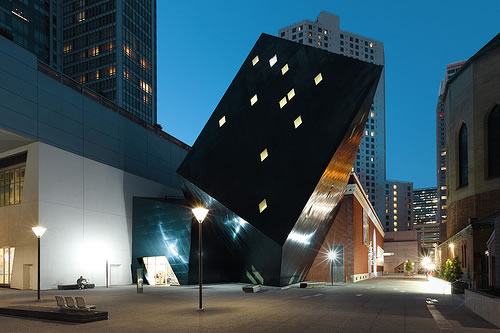 Daniel Libeskind's name is associated with major projects in major cities. His built work can be seen around the world, from Hong Kong to Las Vegas, from Denver Art Museum to Dresden's Military History Museum, to Singapore's new residential development, Reflections at Keppel Bay; he was also the winner of the World Trade Center master planning competition in 2003. Libeskind's aesthetic—jagged lines, sharp angles, and unexpected forms—is easily recognizable, whether on a monumental museum or a lighting fixture.
In Berlin, the Jewish Museum he designed opened in 2001, and was widely praised, and his collaboration with the institution continued. In November 2012, the Academy of the Jewish Museum Berlin, designed by Libeskind, officially opened. It is sited across from the museum, and houses its library, archives, education center, and additional office and storage space. It is arguably thanks to Libeskind that the space was needed at all: public and educational programs and archives have each more than doubled since the 2001 reopening, and the library's holdings have tripled.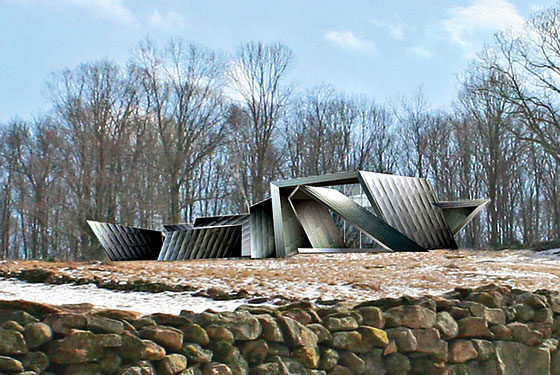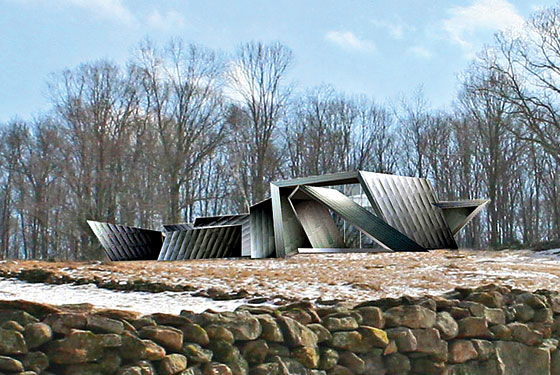 Libeskind, born in Poland to Holocaust survivors, embedded Jewish heritage into the structure. On approaching the piazza, one sees a famous quotation by Jewish philosopher Maimonides written in five language on the left: "Hear the truth, whoever speaks it." A jagged, upward sloping cube on the right has black-framed skylights shaped like the Hebrew letters Alef (A) and Bet (B)—nods to Judaism, knowledge, and learning, all at once. It also guides one's eye across the street, to the similarly shaped museum.
Inside, Libeskind includes a reference to Noah's ark in two large, jagged cubes (connected by a glass-cube entryway) whose wood paneling resembles shipping crates. The ark symbolizes the preservation of cherished living things. Libeskind calls the design "In-Between Spaces," because the three cubes are a transitional area, and because a hall guide's the visitor's eye across the street to the museum.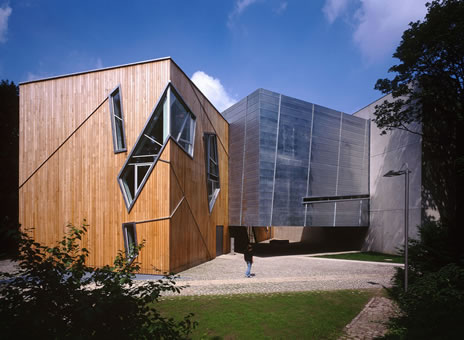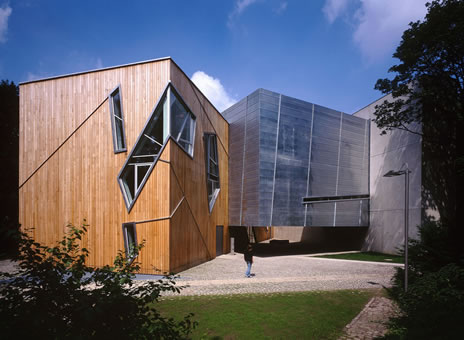 Libeskind has collaborated with other Jewish foundations as well, putting his signature stamp on a range of projects. The Contemporary Jewish Museum in San Francisco, completed in 2008, brings Libeskind's sharp edges in dialogue with buildings more than a century old. Like the Berlin academy, this building too has not-so-hidden meanings: the form is based on the Hebrew letters chet and yud, and the Hebrew expression "L'Chaim" ("To life") was Libeskind's inspiration. It also brings a nineteenth-century landmark building into dialogue with the twenty-first-century structure.
In 2010, Libeskind curated an exhibition at the Jewish Museum in New York. The exhibition, "A Hanukkah Project: Daniel Libeskind's Line of Fire." He was eager to share his love for the holiday, which celebrates overcoming oppression, in this public way. For Libeskind, no project is too small: in an interview with the New York Times, he said: "Anything that is true is not judged by its size or cost or extravagance."
Libeskind co-founded Studio Daniel Libeskind with his wife, Nina, in 1989 in Berlin after winning the competition to build the Jewish Museum there. He moved his headquarters to New York in 2003 when he was named master planner for the World Trade Center redevelopment site. Libeskind serves as principal architect in the US, and has partner offices in Zurich, Switzerland, and Milan, Italy.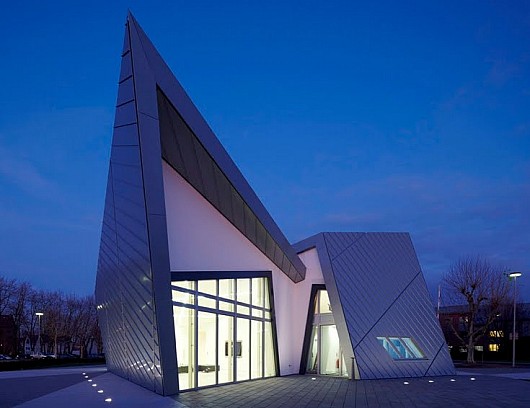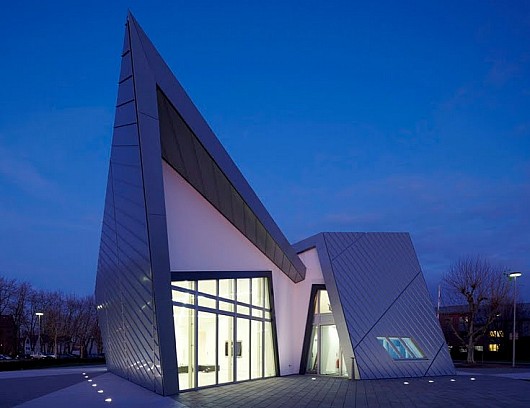 Involved in dozens of architectural projects around the world, Libeskind is already a busy man. However, he is also a poet, opera set designer, and musician. Perhaps his creative pursuits have led to his success. As his most recently opened project attests, Libeskind is deeply concerned with embedding cultural meaning into his projects, and thinking about broader issues than building and construction. He has said, "Architecture is…based on wonder"—which leaves us wondering which skyline he will stimulate next.