Mexican firm Elias Rizo Arquitectos designs a variety of building types, from mixed-use and commercial to vertical housing and institutional buildings. In many of their single-family residences, they have combined the sleek lines of modernism with warm tones and natural materials to add comfort to a style often described as harsh or unwelcoming.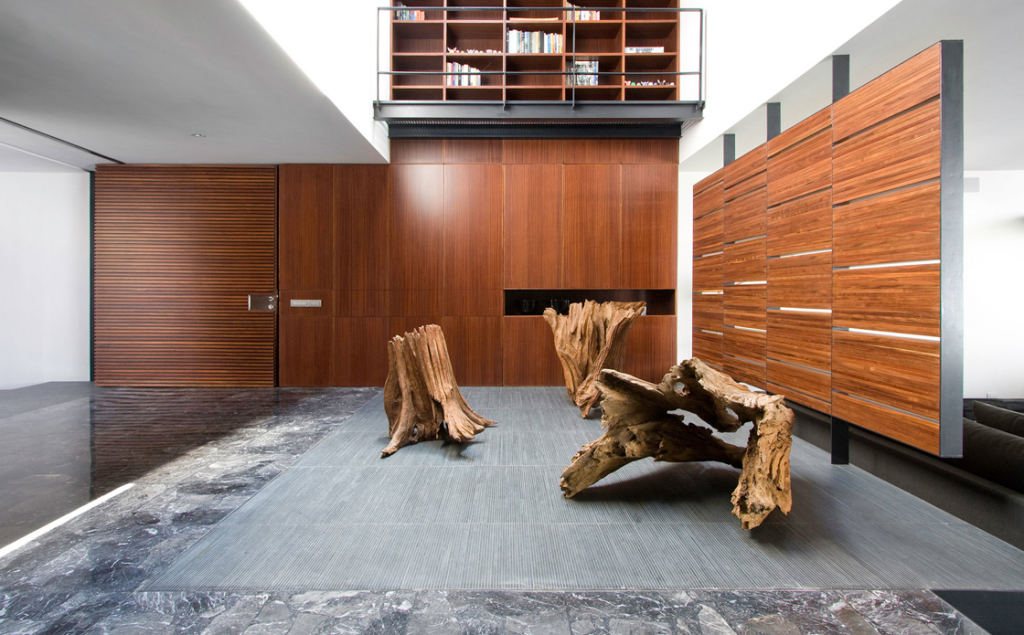 Casa Ro in Guadalajara, Mexico, was a renovation of a deteriorated 1960s home. The clients wanted to use warm tones, woods, and stone to create a comfortable, but still modern, residence. Most of the original marble floor remains on the ground floor. Wood panels on the second floor are on rails to allow natural light in the interior, but only when desired; they can also be closed to shut out the exterior.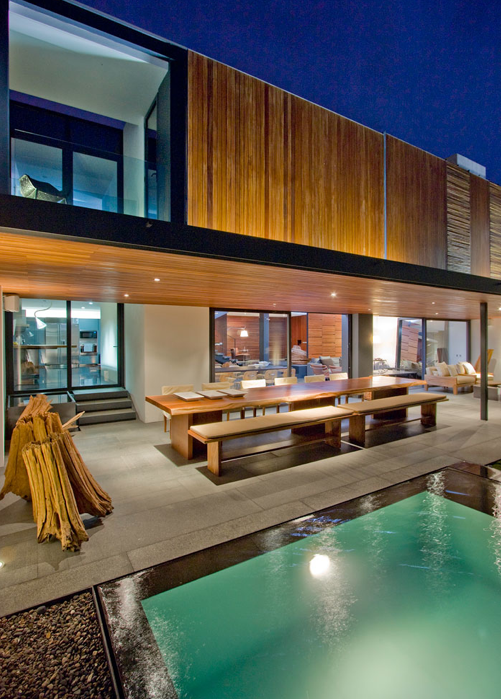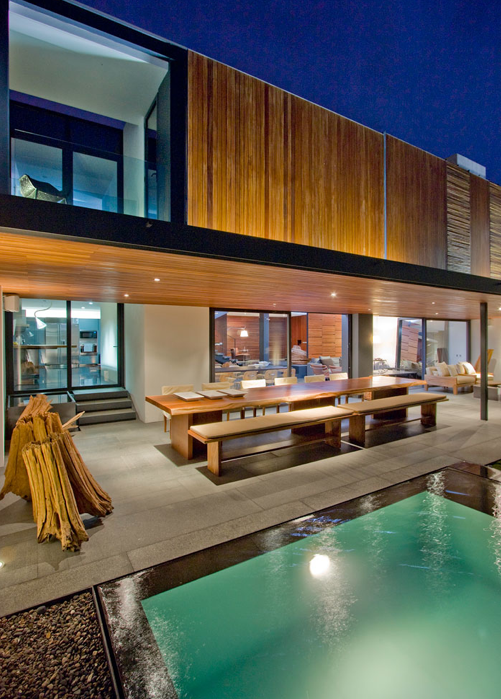 A terrace runs along the house, and serves as a main gathering space for the family. A double-height entrance allows room for sculptures. Currently, tree stumps are placed seemingly randomly throughout the ground floor, an embrace of nature inside the home, and a juxtaposition against the clean modern lines.
Another residence, Casa Ro Tapalpa is a retreat from urban life. Public areas face a main entrance while private spaces are accessed via a special corridor. While other houses in the area have solid walls to close off the interior from the elements, Casa Ro's many windows and glass doors open to the outside, and a cantilevered terrace welcomes gatherings. Unlike the window walls of modernism, however, wooden beams break up the double-height glass surrounding part of this cabin, adding to the sense of warmth.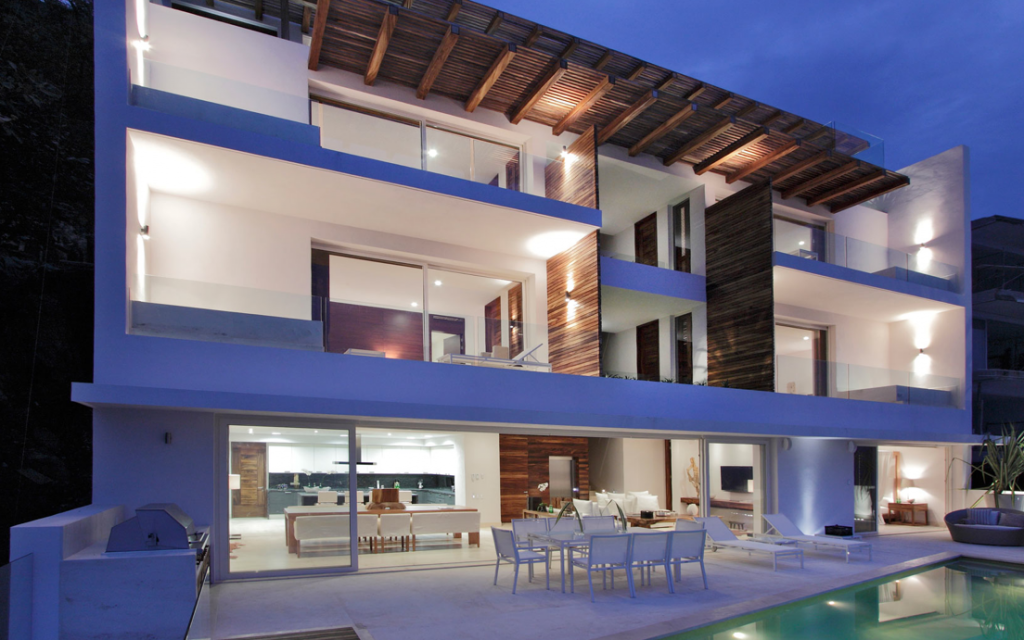 Local materials include slate and wood on the walls, and wooden beamed–ceilings, which provide familiar, comfortable tones in the interior. Fireplaces built into the walls and upholstered furnishings add to the cozy feel. A sloping roof, asymmetrical floor plan, and variety of exterior materials give the building a different form when viewed from any angle.
While Rizo combines modernism and the comforts of a traditional cabin in some of his residences, he takes on a great variety of other projects as well. Punto Surf, in Guadalajara, Mexico, currently in process, will bring the seaside inside. The building contains a double-height indoor wave pool in a metropolitan area, where surfers of varying levels can practice in a controlled environment. An undulating steel skin and solid concrete base form the building's facade.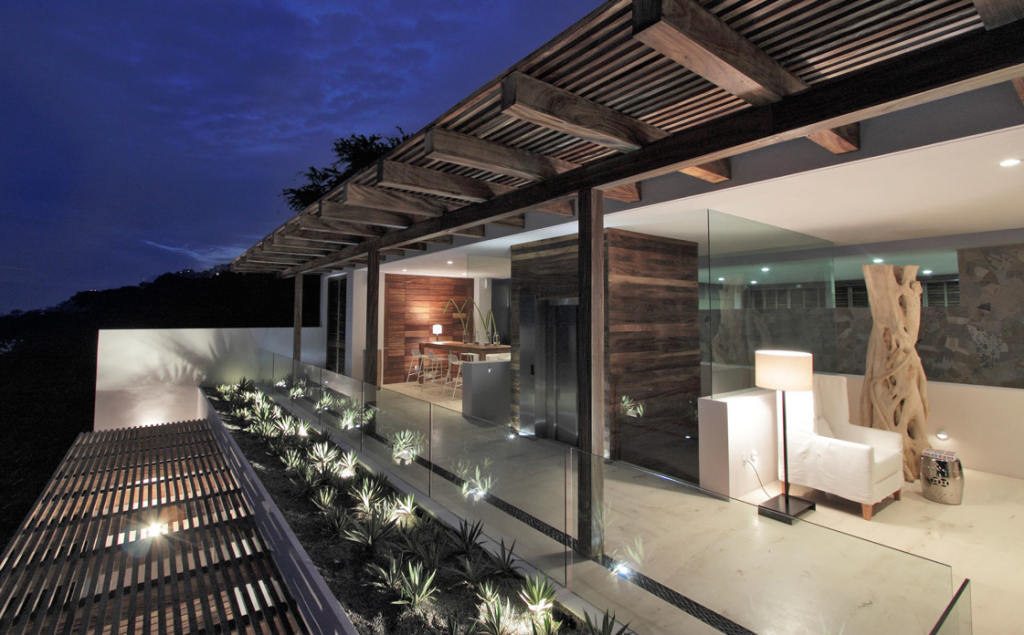 The firm, established in 1996, has received numerous awards, including most recently gold medals in the Iberoamerican Biennale of Interior Design in the health category for Consultoria 1606 and in the residential category for Casa RO Mar Azov. The firm has also been recognized in the Architecture Biennales of Jalisco in 2003, 2005, and 2009. It has also participated in architecture exhibitions internationally, most recently the Legacy of 90 Architects from Jalisco exhibition in 2011.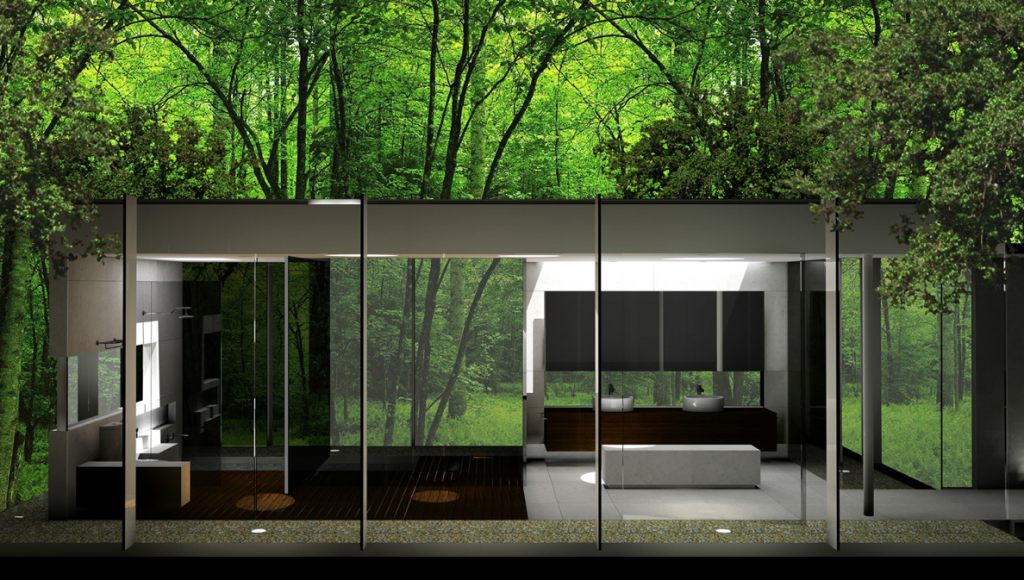 Principal Elias Rizo earned his architecture degree from ITESO (Instituto Tecnologico de Estudios Superiores de Occidente) in 1992. He has studied and exhibited internationally, and was recognized at a young age for his work. As a student in 1991, he received an honorable mention from the Royal Institute of British Architects in its International Student Competition that year.
Elias Rizo Architects' aim, according to its website, is to "transform fantasy into reality" through architecture. Whether that fantasy is a quiet cabin in the forest with a unique relationship to the outdoors, or a renovated house that provides spaces for family togetherness and comfortability, the firm attempts to reach its goal with each project.