Toronto-based architecture and design firm Atelier RZLBD has been a staple in the online design community in recent years. Its residences have been featured on Design Milk, ArchDaily, Mocoloco, Modto (Modern Toronto), Inhabitat, and many other websites. Perhaps one reason for this surge in interest is that founder Reza Aliabadi has created his own recognizable aesthetic: the single-family house with boxy form with asymmetrical windows. However, like the work of many successful artists, despite a prevailing style, each project is decidedly unique.
RZLBD, founded in 1999 under a different name and reestablished in 2006, recently completed the three-story Whale House, which conforms to the firm's style. The name nods to the biblical story of Jonah and the whale; instead of swallowing Jonah, however, the gray house has swallowed a red, freestanding box, which sits in its center.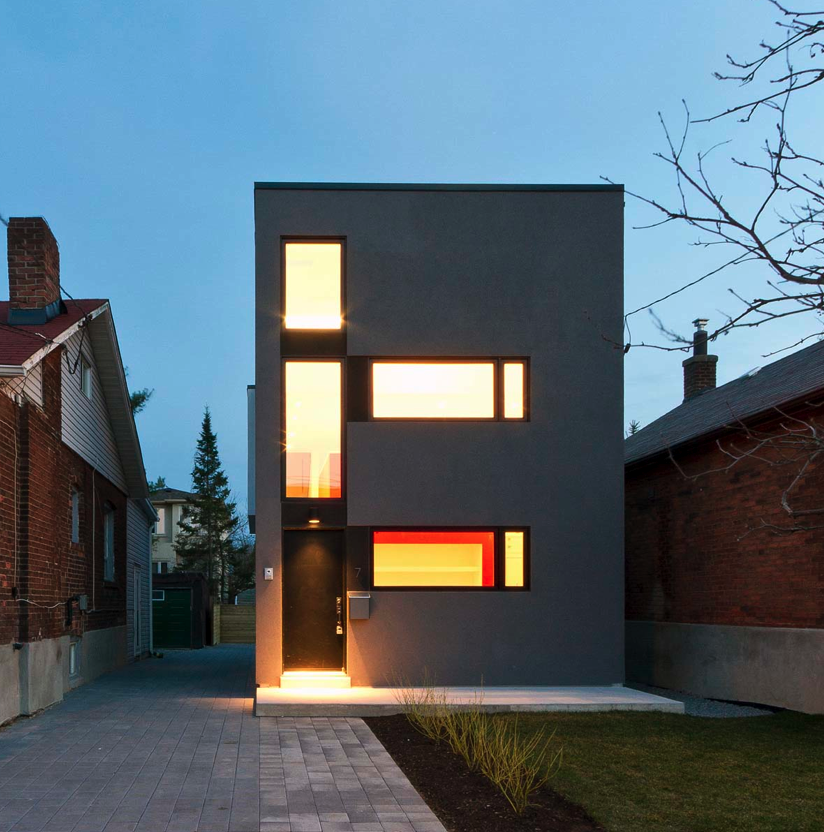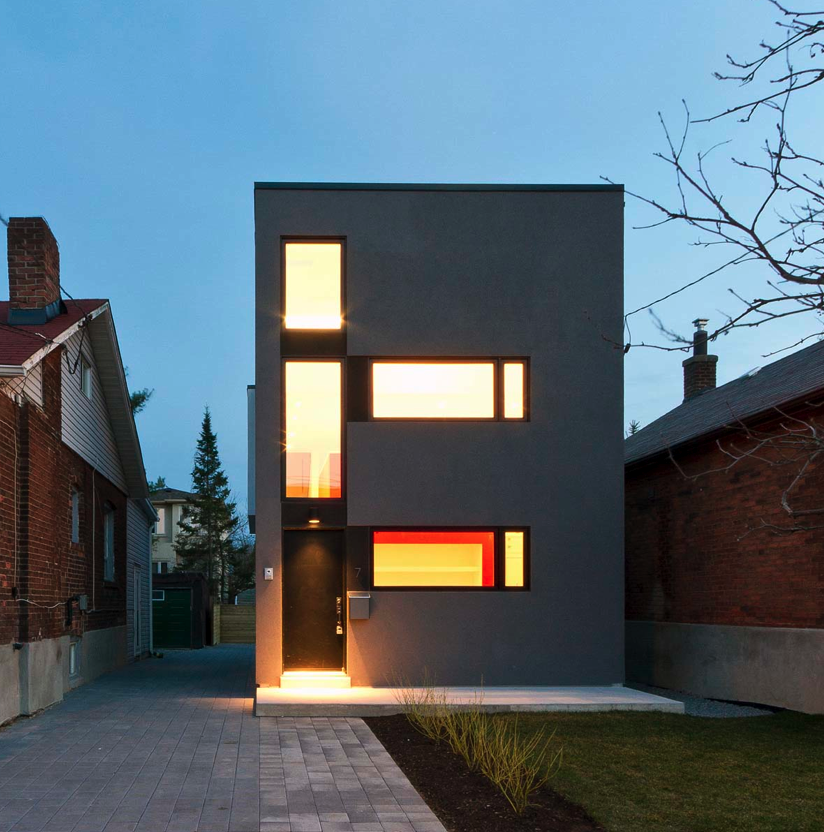 Whale House is situated on a thin lot—sharing a driveway with its neighbor—amongst more traditional-style homes. The fifteen-foot-wide shell is punctuated by a vertical strip of windows that mark the interior staircase on the left side, and two horizontal strips of windows, marking the main and second floors, that emerge from the vertical strip like a sideways double-T form.
Upon entering the house, one immediately sees the red box, which contains a powder room. Home office space is in front, with the private kitchen and living spaces on the far side of the red box. Two bedrooms and a bathroom comprise the second floor, and a master bedroom, with windows on the north facade, sits on the third floor. Whale House is one of four residences RZLBD completed in 2012; the fifth is under construction.
Like other architects before him, most notably early- and mid-twentieth-century modernists, Aliabadi, with Lailee Soleimani, has also redesigned that basic, everyday structure: the chair. R-01 is a brushed steel and painted plywood minimalist chair originally designed in 2011 for a boutique restaurant in Toronto. It uses as few materials and elements as possible. In its simplicity and geometric forms, R-01 may remind one of Eileen Gray's 1927 E.1027 metal adjustable table along with modern furniture design
For R-01, every element used is necessary to its structure. According to the firm's website, "the chair meets the ergonomic seating standards and is in fact decently comfortable." The back pad is resilient so the user can comfortably lean back, and adjustable footings allow the user to level the chair on an uneven floor.
Aliabadi is also interested in conceptual projects and thinking about design more abstractly. He publishes a periodical, POST, that "communicate Reza's curiosities, anxieties, concerns, ideas, thoughts, opinions, and the like on architecture, art, and design," according to the firm website. It can be purchased directly from the firm or at one of five Canadian stores.
Aliabadi graduated as valedictorian from the University of Tehran with his M.Arch in 1999 and founded Reza Aliabadi Building Workshop. He then went on to complete a post-professional M.Arch at McGill University in 2006 and reestablished the firm as Atelier RZLBD, an acronym deriving from his name, ReZa ALiaBaDi.