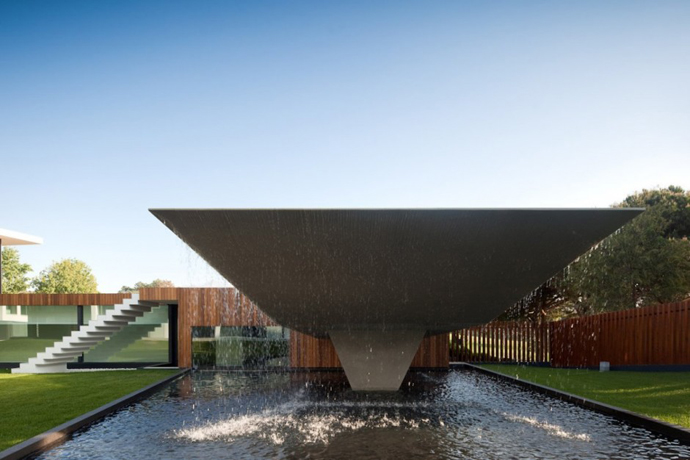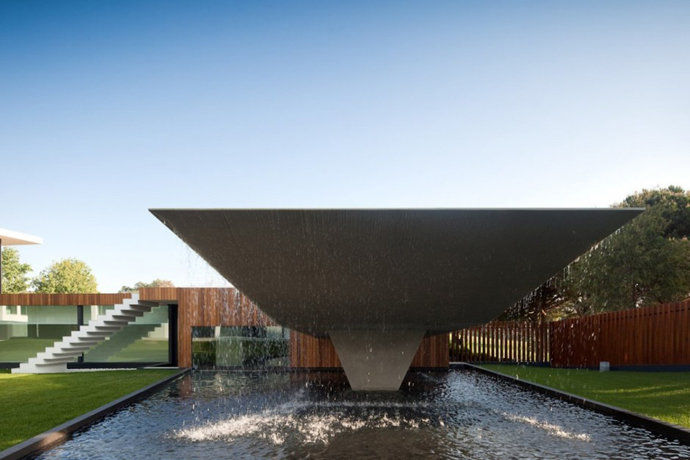 The built-in swimming pool has always been a staple of luxury homes, at least those in warm climates. And in recent years, the infinity pool is almost a necessity for luxury homeowners. But the bar has been raised: Vasco Vieira of Arqui + Arquitectura has turned the notion of the in-ground infinity pool on its head.Casa Vale do Lobo, built on the Vale do Lobo golf resort in Southern Portugal, includes a swimming pool in a concrete base, cantilevered over a reflecting pool below.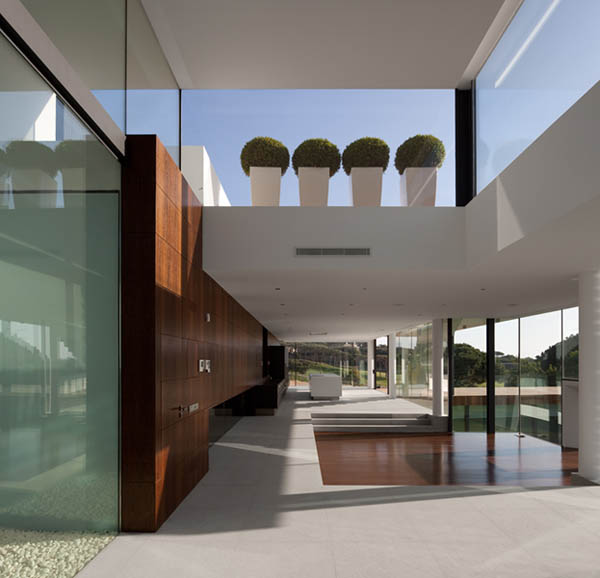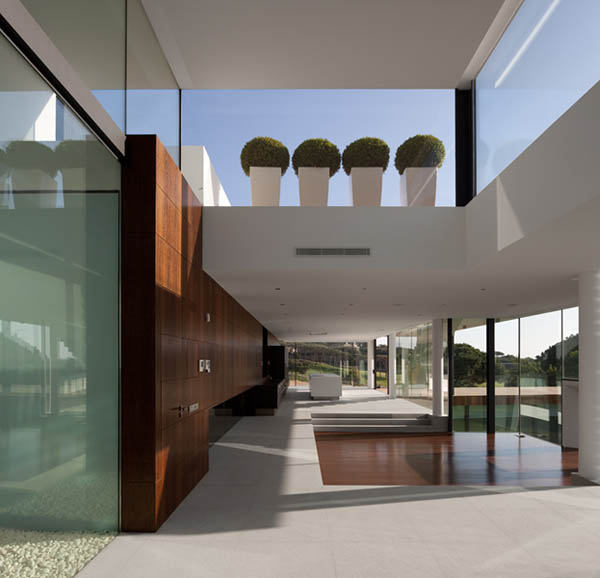 It is meant as both utilitarian pool and sculptural element, and one can imagine passersby pondering this work of art. The upper pool's water overflows, cascading into the shallow reflecting pool, creating calming sounds. Unlike standard in-ground pools, unattractive fences to prevent one from falling into deep water are not needed, allowing the courtyard and pool to create a cohesive visual effect.The U-shaped home has solid outer walls, denoting private space away from the golf course that the structure borders.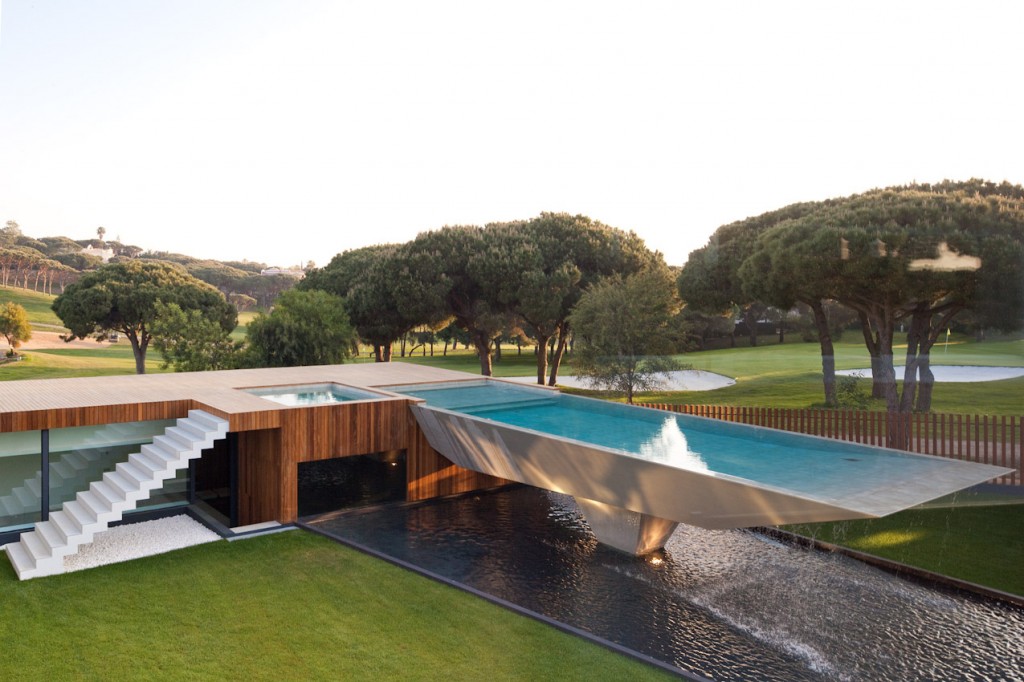 Transparent glazing on the inner walls, however, allow for a connection between interior and exterior. Through the use of transparent and solid materials, Vieira plays with light and shadow. Wood paneling, glass, black tiles, concrete, and gray sandstone floors have all been used to this effect, as well as to create a sense of flow through spaces and demarcate public and private areas.The two-story northern wing houses five bedrooms, all of which grant easy access to the communal single-story living area. And then there is another pool—the roof of the main living space is a terrace with a "mini" pool and outdoor living and cookout areas. Other entertainment areas can be found in the semi-buried basement, including a game room, cinema, and spa.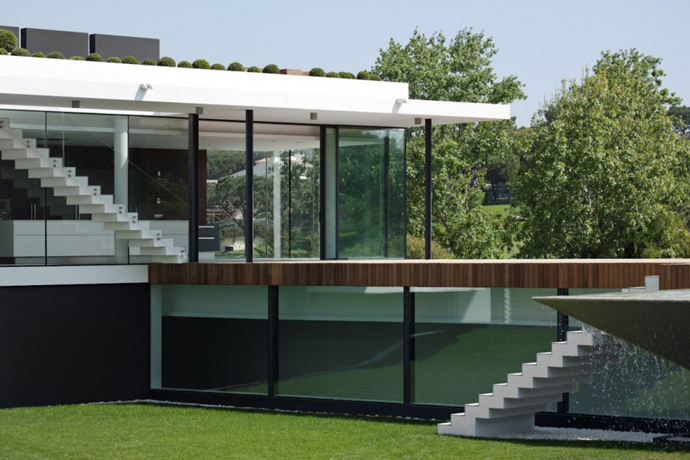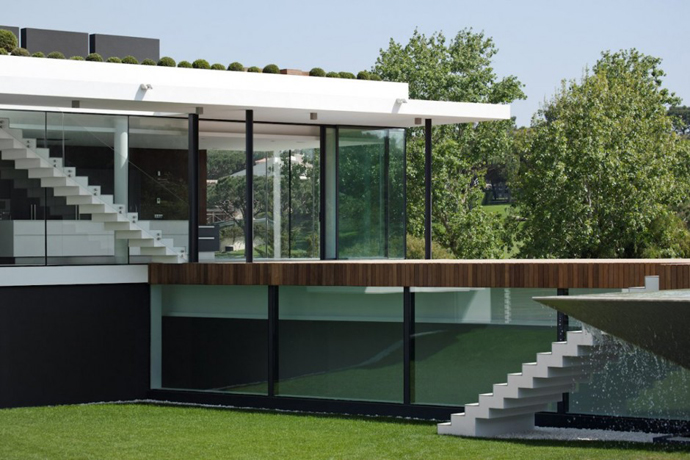 A double garage and service areas are also found here.The exterior is a lesson in geometry: Vieira uses flat, straight, horizontal and vertical lines that appear as if they could continue into infinity. They have no clear stopping points and draw one's eye through to the horizon. Only the stairs create diagonals, but even these are made with minimal materials and horizontal and vertical lines, leaving the space beneath them empty.Vieira was no stranger to the Vale do Lobo Resort when designing this one-of-a-kind home. Before founding Arqui+ in 2004, he was the resort's chief architect and construction director.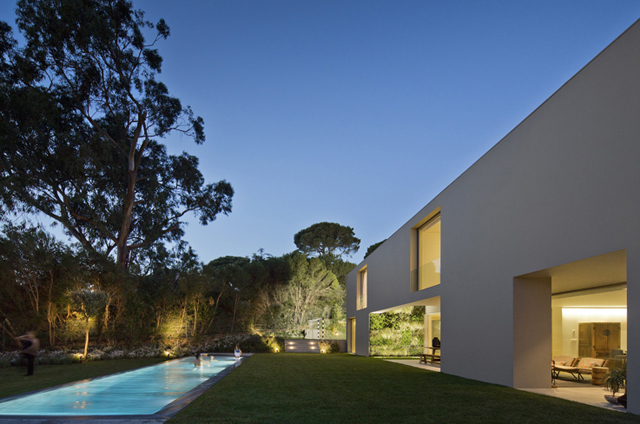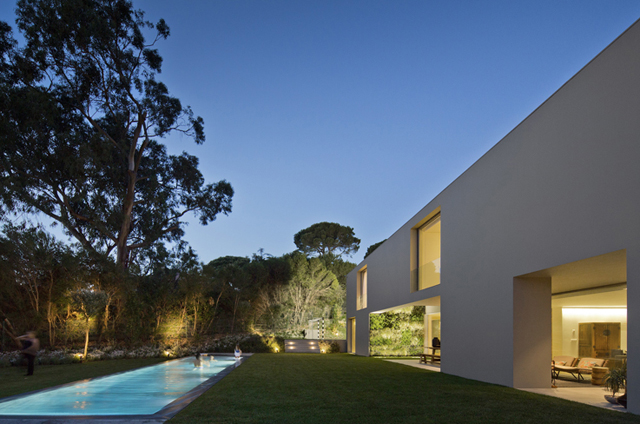 He has been building in the Algarve, the southernmost region of Portugal, for fifteen years. His aim is to create contemporary, innovative designs there while maintaining the region's essence through materials and the quality of light. Vieira has not always worked amongst the Algarve's sandy beaches and year-round sunshine, however. He studied and trained for ten years in South Africa before settling in Portugal, giving him international experience.The architect has designed villas in other Algarve resorts, including for Waratah Properties. While many of these houses maintain the strict rectilinearity seen in Casa Vale do Lobo, in at least one home Vieira embraces more organic forms, demonstrating his ability to expand ideas of minimalism.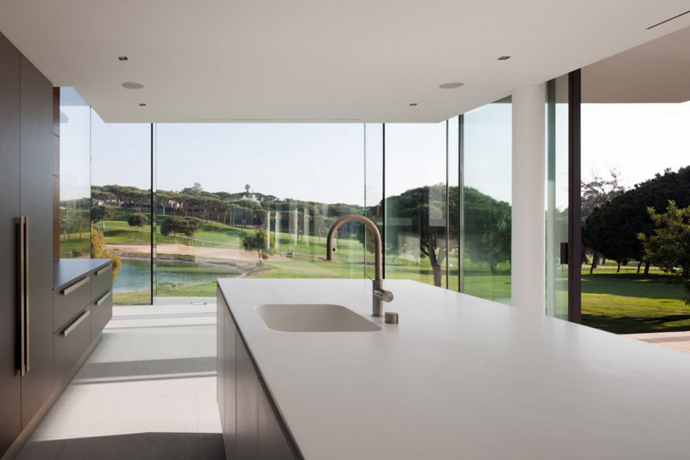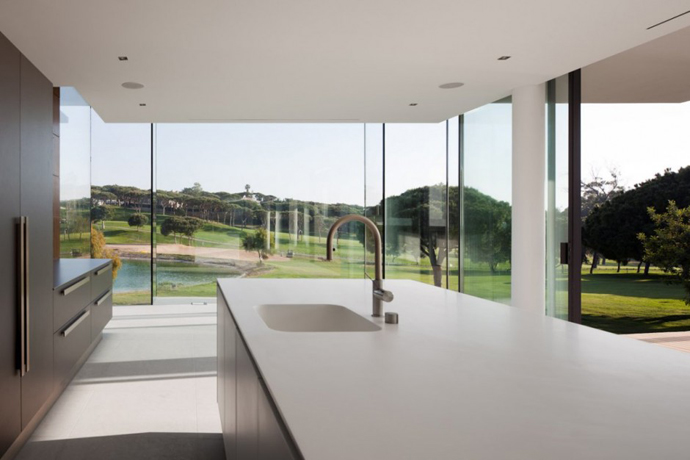 The villa's exterior form, as seen from above, resembles intersecting half-circles. It hugs its surrounding green landscape, rather than standing above it.Vieira has received numerous awards, including being named one of the top ten architects internationally by Homes Overseas magazine in 2004, and has continued to recognize his work since; CNBC Property Awards has also given him a Best Architecture and Best European Development awards in 2009, among others in previous years.If Vieira continues to design luxury villas at high-end resorts, we should hope to see a new reinvention of luxury entertainment. What mundane utilitarian object will became a luxurious sculpture next?