The arrival of Autumn not only brings a change in nature's colors and ambience but it also seeps into our interior's decor as we adapt these spaces to the new season and its celebrations. Thus, taking the opportunity to focus on a cozy and warm aesthetic enriched by deep colors and dim lighting, we can also take inspiration from Autumn's most awaited festivity: Halloween. In honor of the spooky season, today we are looking at the way that this moody decor can transform spaces into inviting sanctuaries that are not only reminiscent of fall's unique beauty but which can also serve as a timeless and captivating backdrop for this time of the year and the ones yet to come.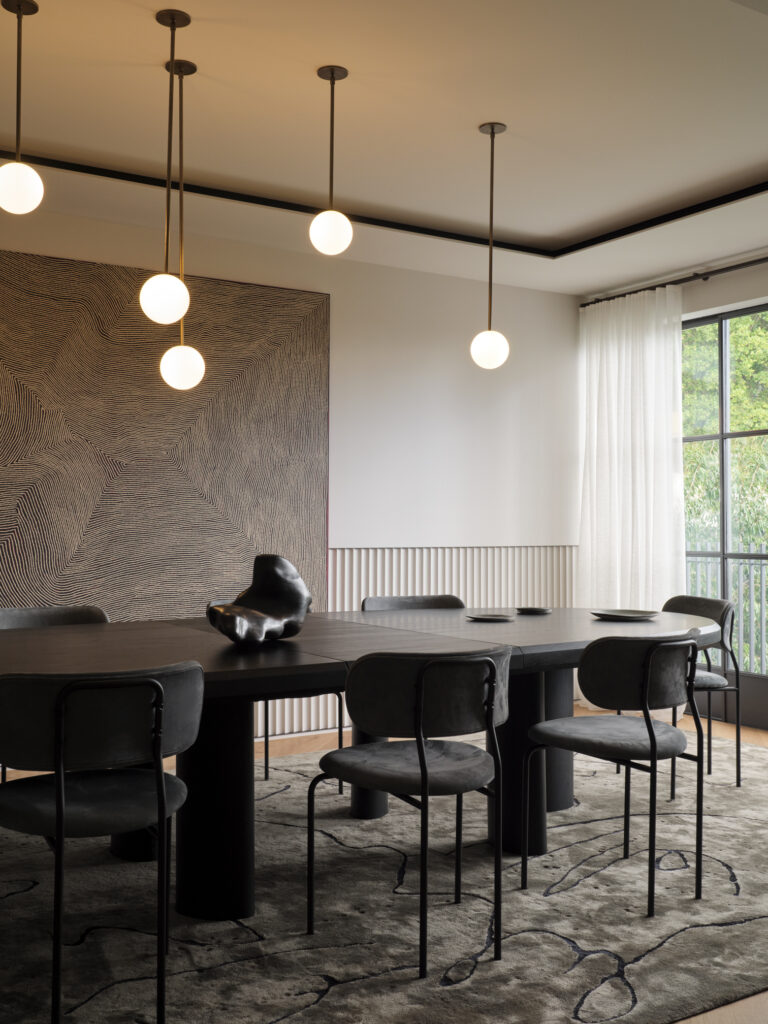 A dark elegance
The primary characteristic of this moody themed design style is its color scheme, mainly comprising deep blues, rich purples, charcoal grays, and for a bold touch a bit of black. These shades do not merely invite but demand our gaze to fall upon them and create an immersive visual experience that can be both daring and luxurious. Additionally, you don't have to worry about overwhelming your interiors with dark colors and creating an overpowering theme seeing as dark shades can also be used with caution on walls, ceilings, and furniture. Modern design in particular, emphasizes clean lines and simplicity so that dark colors can provide the missing touch of sophistication and contrast.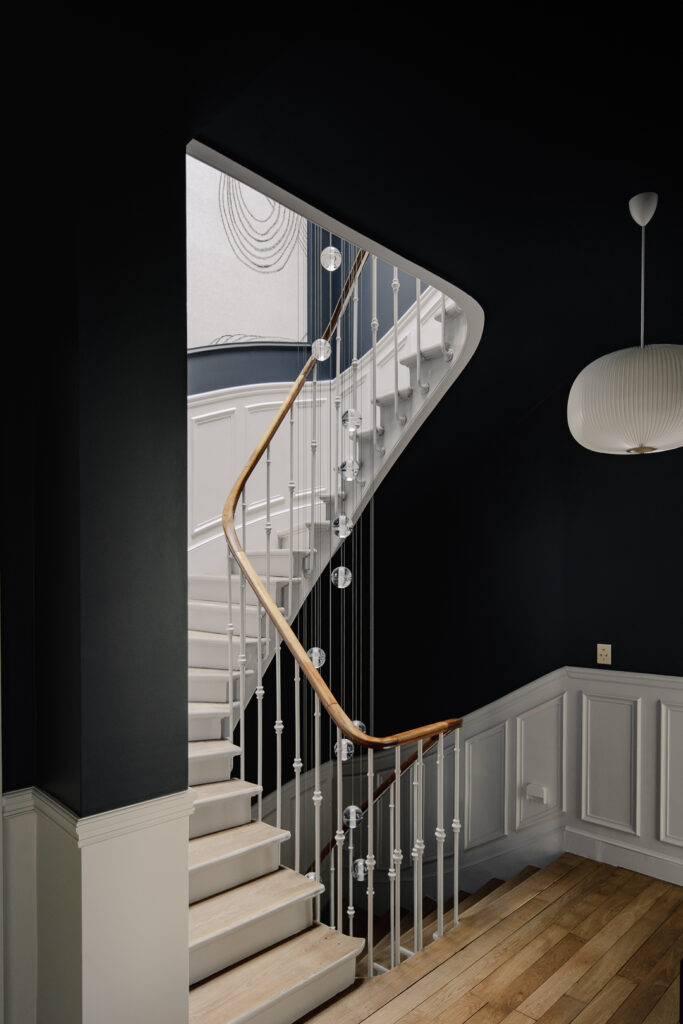 Creating a mood with lighting
A moody atmosphere cannot be recreated without the indispensable aid of lighting; especially ambient and low-level types. This adaptable lighting scheme enhances the modern aesthetic and gives you the power to transform each room's mood according to each occasion. The options one can use vary from table lamps, floor lamps, wall sconces, and pendant lights that give off soft waves of warm light which can even be combined with candles or low wattage bulbs. If we combine these with contemporary fixtures such as minimalist glass pendant lights or an oversized chandelier for a dramatic effect, we can even transform this element into the focal point in a room. Like our approach to color, dare to venture out and embrace the theatrical side of lighting.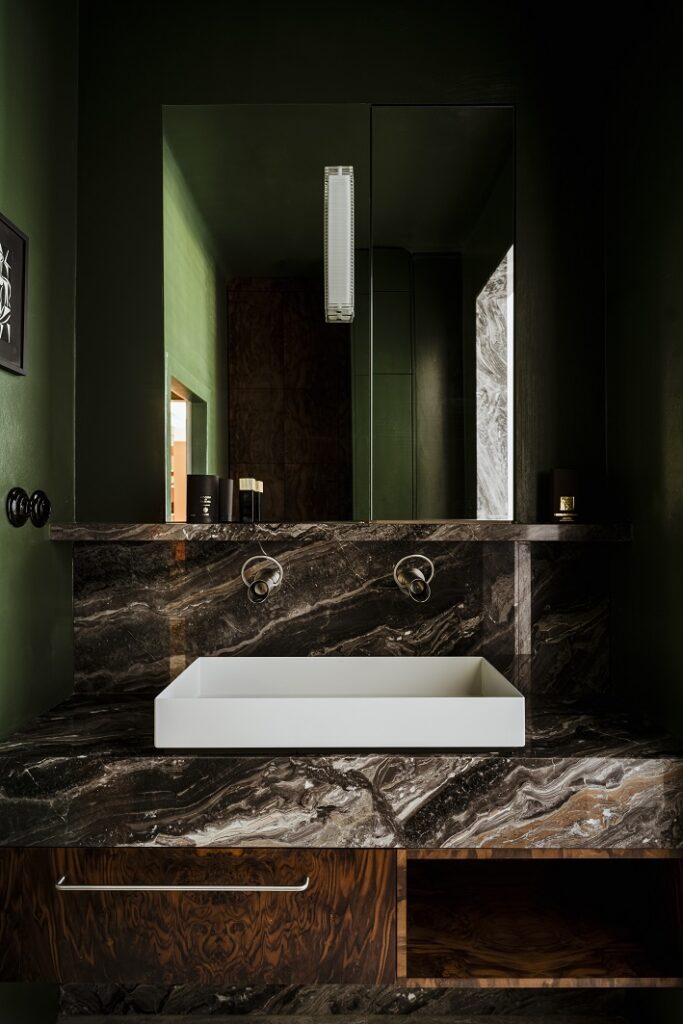 Falling for rich textures
Besides color and brightness which are visual elements, we must also account for our sense of touch which shapes the way we perceive space and connect with our surroundings. In this case, moody interiors are perfect for embracing and playing with touch through a variety of textures that add depth and tactile contrast to a room. Materials such as velvet, leather, faux fur, and heavy drapery hypnotize us with their inviting looks and dare us to go beyond just observing. For a moment, close your eyes and imagine how your body reacts to the feel of a smooth leather sofa, sleek polished floors, and matte-finished cabinetry that maintains the interiors clean look while keeping your senses engaged.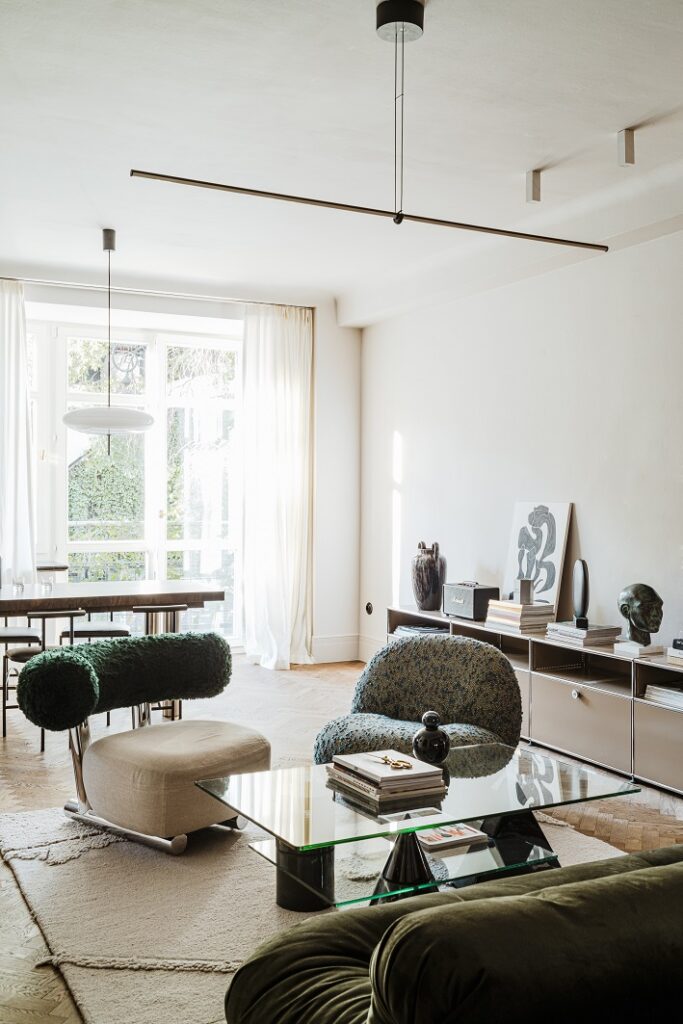 A vintage contrast
Combined with sharp lines, clean bright surfaces, and minimalist furniture, a modern interior can also make room for elegant ornamentation that brings with it a touch of history and uniqueness. For example, a set of neutral-colored chic lounge chairs and sofa can be complemented by a deep, dark wooden coffee table, a retro-style bar cart, or mid-century modern ottomans that serve as a contrast to the overall modern aesthetic. Vintage elements come with a hidden history that creates a sense of mystery and allure, perfect for conversation starters and to personalize interiors with your own particular stories or style.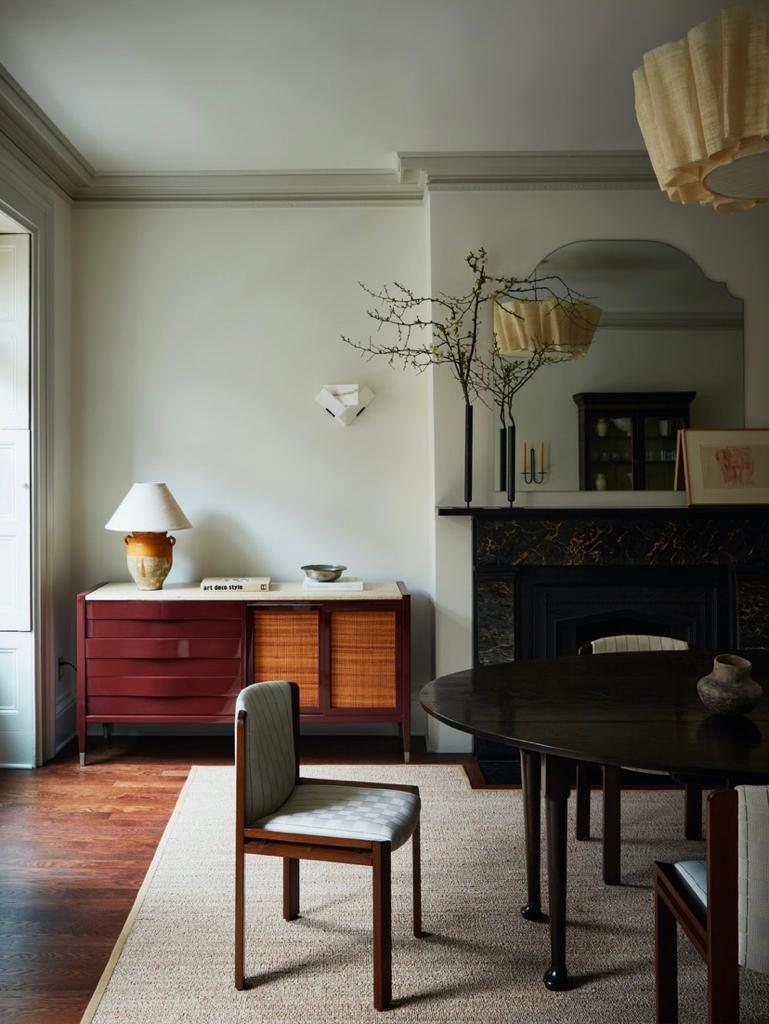 Adding an artist's touch
What better way to express feelings than art? Considering how moody decor is rooted in emotions and the ways design can convey particular feelings, art can become a key element in setting the ambience of your interior. At the same time, artwork, decorative items, and accessories can be used to reinforce an existing theme as we can observe when we incorporate a cryptic oil painting with vintage style frames or abstract black and white photography to a room. Each of these elements, regardless of the style, can transmit a feeling to the observer that endows a space with an air of mystery while retaining the original modern aesthetic of the overall layout.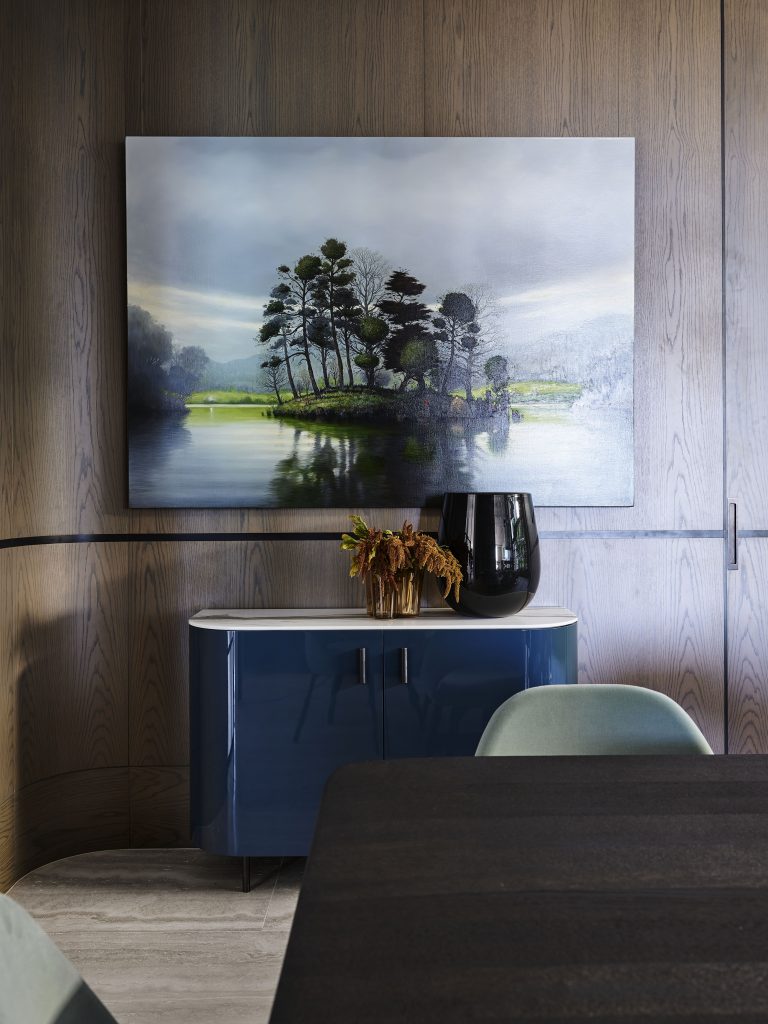 Standout flooring and statement pieces
Besides art and vintage furniture, statement pieces can also come in the form of modern furnishings or functional items that come in unexpected colors or shapes. In this case the quality of the materials is important as it determines the value and visual appeal of these pieces. For example, your go-to items can be unique accent chairs, a distinctly-shaped wooden coffee table, a bold modernist chaise lounge, or a sculptural lighting fixture that commands the viewers' attention as soon as they step into the room. In fact, dark wooden hardwood flooring plays an even greater role in establishing the overall look of a space as it provides a solid foundation for other design elements and creates a graceful flow within the space.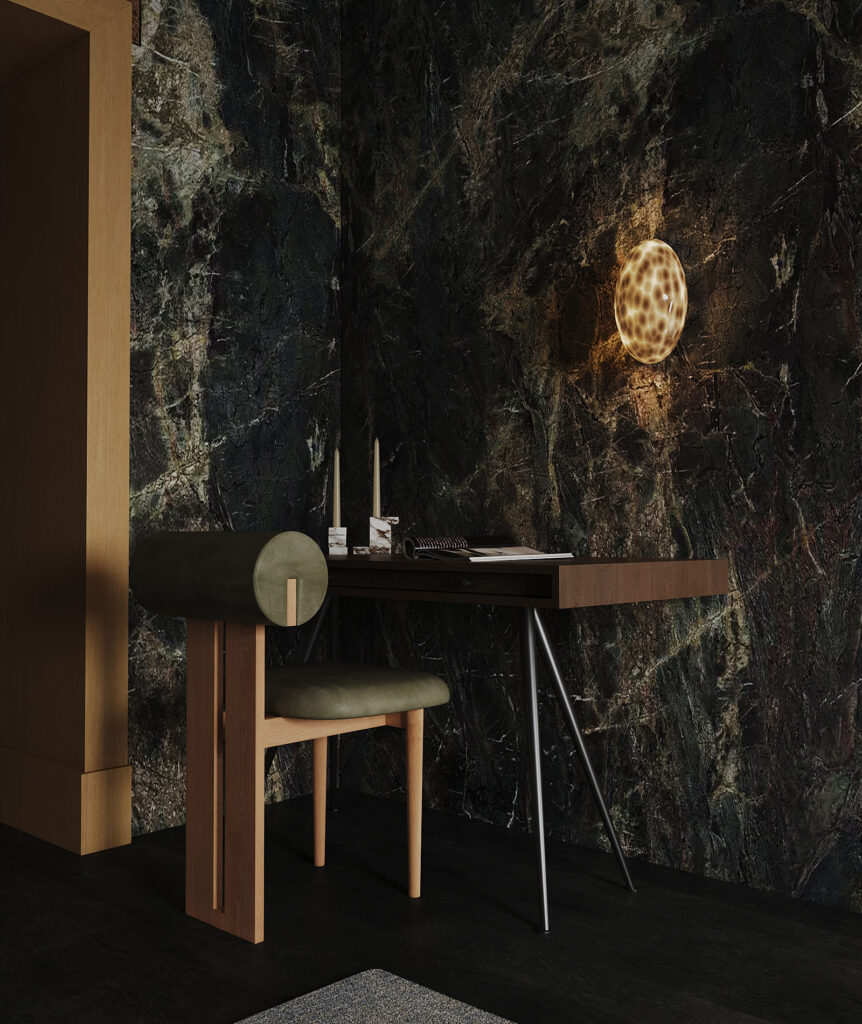 Captivating guests with layers
Part of the charm of a moody interior lies in its focus on warmth and comfort. To make spaces feel both intriguing and welcoming one can layer elements like rugs, throws, and cushions that add depth to our rooms. These layers can also introduce subtle or bold color variations besides texture, as they fall in place with the dark color scheme of moody designs. The effect pairs well with clean-lined minimalist furniture which can be embellished by dark upholstery, velvet pillows or a throw blanket in monochromatic or complementary colors.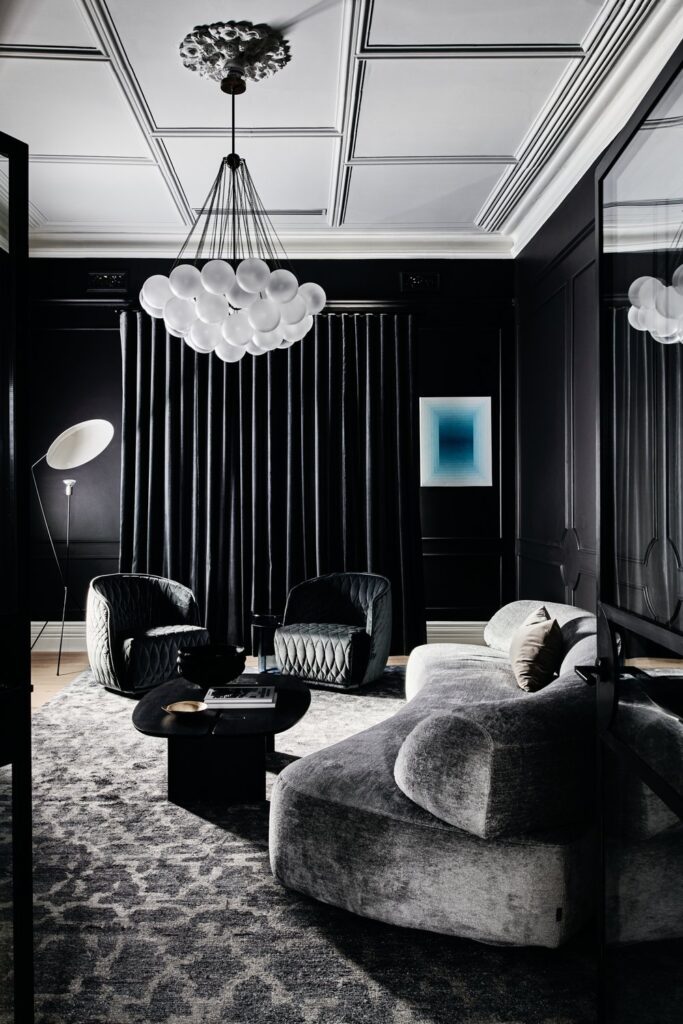 Directing the attention to our walls
While we have been focusing on the decorative and floor-level ambiance of our interiors, we cannot forget to look at small and subtle aspects that also shape the aesthetic of a space. Something as delicate and understated such as wall treatments can greatly embellish our dark and moody design. Some ways of adapting our walls to fit the desired ambience and mysterious autumnal style, include using dark matte paints or textured wallpapers with minimalist patterns or creating a feature wall with geometric, abstract patterns that keep the design rooted in a modern aesthetic.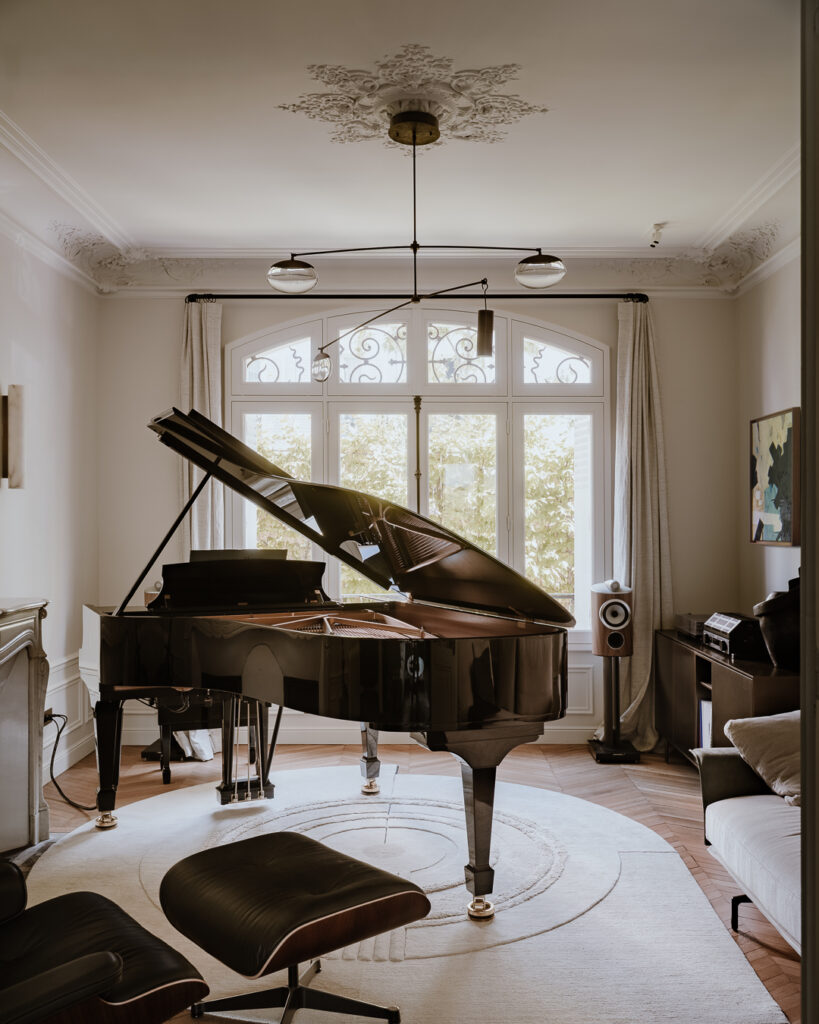 Embracing the spooky season
Dark and moody interior design maintains its relevance past the fall season through its ability to provide comfort, timeless elegance, and a versatile backdrop for various design accents throughout the whole year. Thus, while inspired in the upcoming spooky celebrations and the warm autumnal colors, this decor style offers a long-lasting visual interest, an emotional retreat, and a sensorial experience worth keeping regardless of the season.