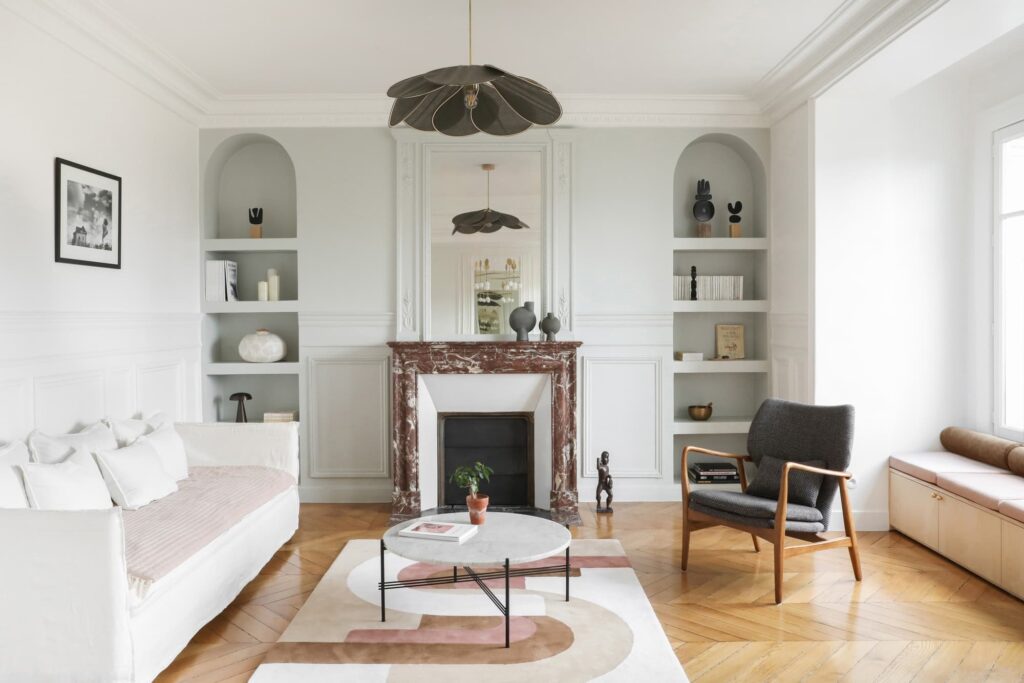 The fascinating fact about interior design is that it comes with a two-fold effect. On the one hand it provides a mean for self-expression, enhanced functionality, and aesthetic charm. However, these designs also have the power of influencing our own emotions and creativity the more time we spend surrounded by them. As one of the most used spaces of our homes, both by us and our guests, living rooms have a significant influence over us: certain tones can bring us happiness and energy while others promote tranquility, comfortable seating and textures contribute to a comforting environment, open and spacious designs encourage conversation and mingling, and a clutter-free space even enhances our productivity and focus. This is why today we provide some examples that may serve you as inspiration for your upcoming living room design with a long-lasting and positive impact.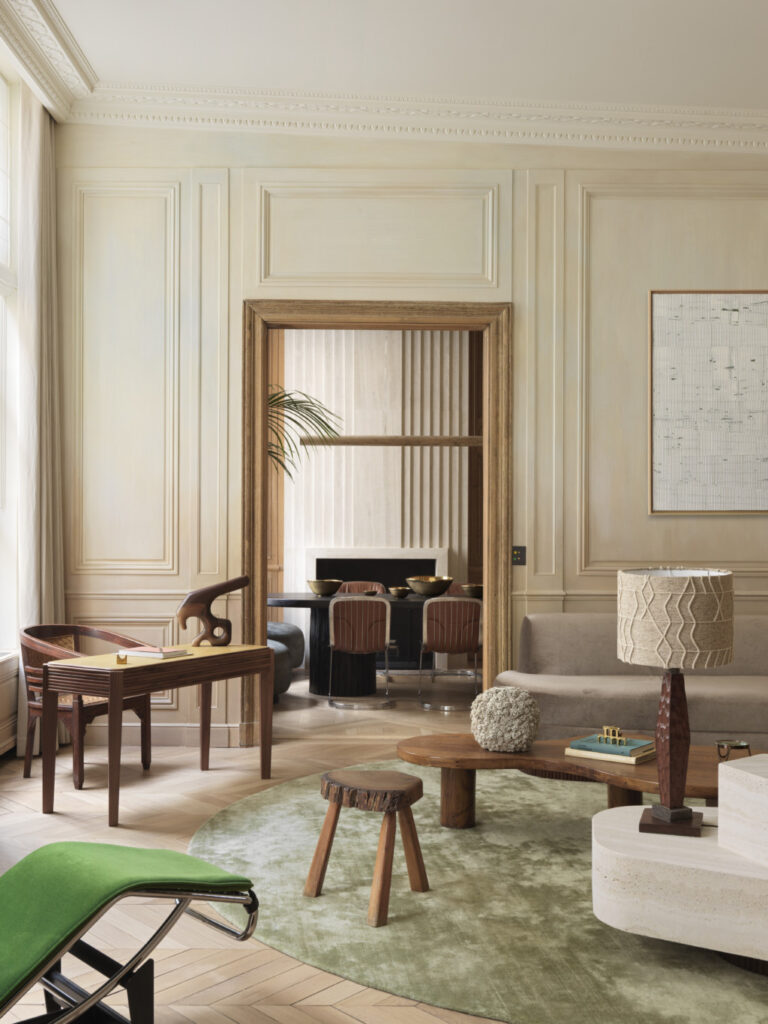 Take inspiration from the past with these hints of roaring 20's décor transformed into a modern interior. The combination of faint geometric shapes, metallic accents, a large-scale rug, and luxurious materials accentuate the inherent elegance of this living room. Meanwhile the contemporary elements such as the high ceilings, neutral and pastel tones, and wooden furniture create a harmonious balance between the sophisticated traces of vintage design and a minimalistic approach. This is the perfect way of treasuring vintage décor in a welcoming and comfortable ambiance.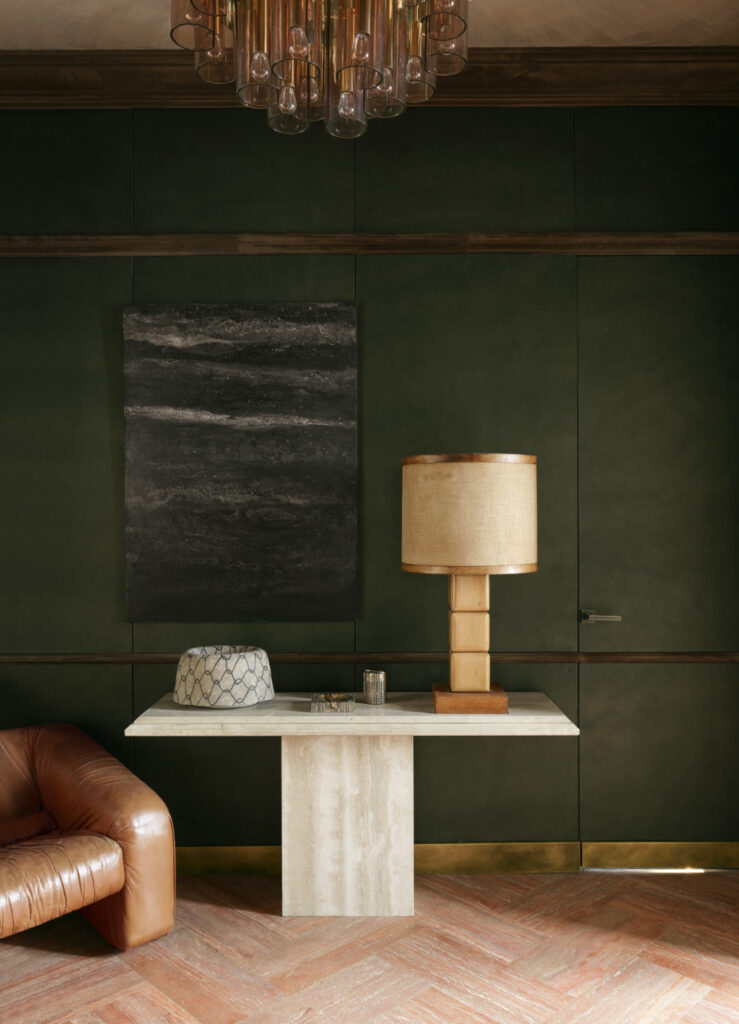 If we observe in more detail, this vintage style living room provides the opportunity to exhibit one's favorite pieces such as modern artwork or a leather lounge chair which tell a story of their own. Each furniture, accessory, and decoration is accentuated by the contrasting emerald green tone of the wall and the earthy stone floor like the main players in a stage. This effect is achieved thanks to the high-quality materials such as leather, marble, and glass which hold an appealing visual weight of their own.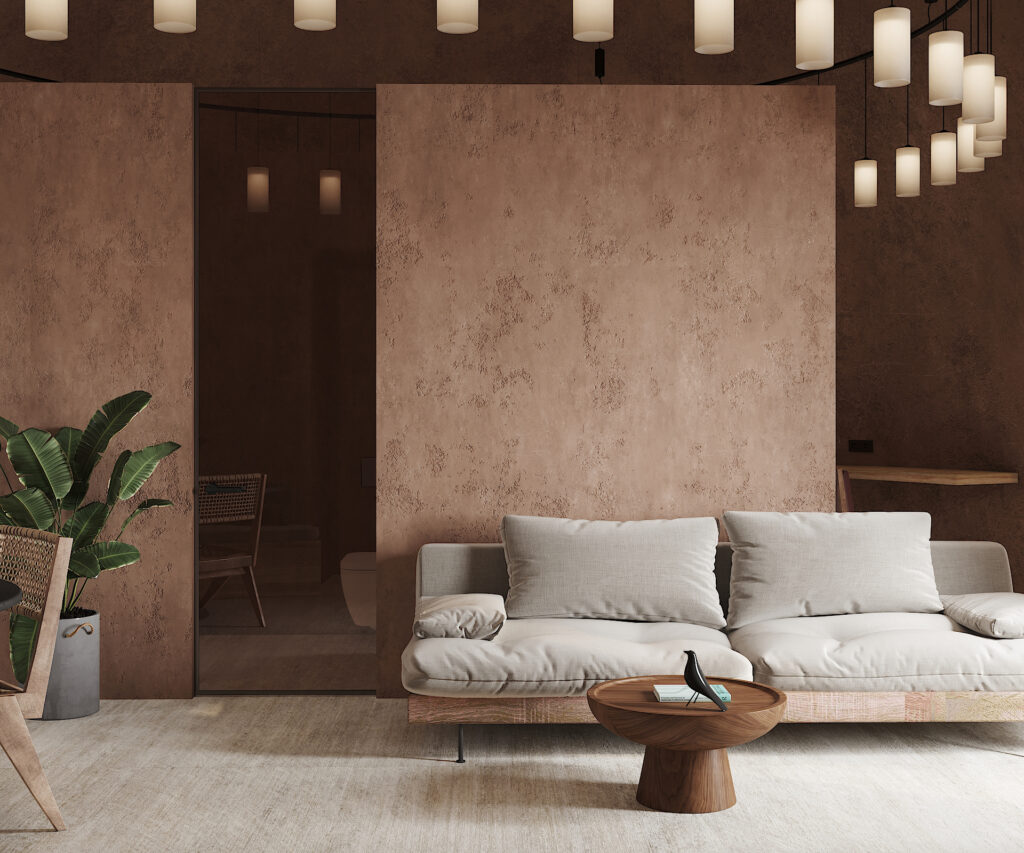 If we switch to a different design, this interior exemplifies a more grounded, minimal, and essential connection with our natural environment. Considering the function of living rooms as relaxing and welcoming spaces to engage in meaningful conversations or to spend quality time by ourselves, this area of the house must bring tranquility through soothing colors, clear spaces, and comfortable furniture. This living room in particular achieves this by using earthy colors that remind us of an enchanting desert palace willed with simple yet plush sofas and a small wooden side table. Instead of creating visual distractions, this minimalistic layout and clean composition inspires a spa-like experience that allows one's eyes to rest while the mind wanders away.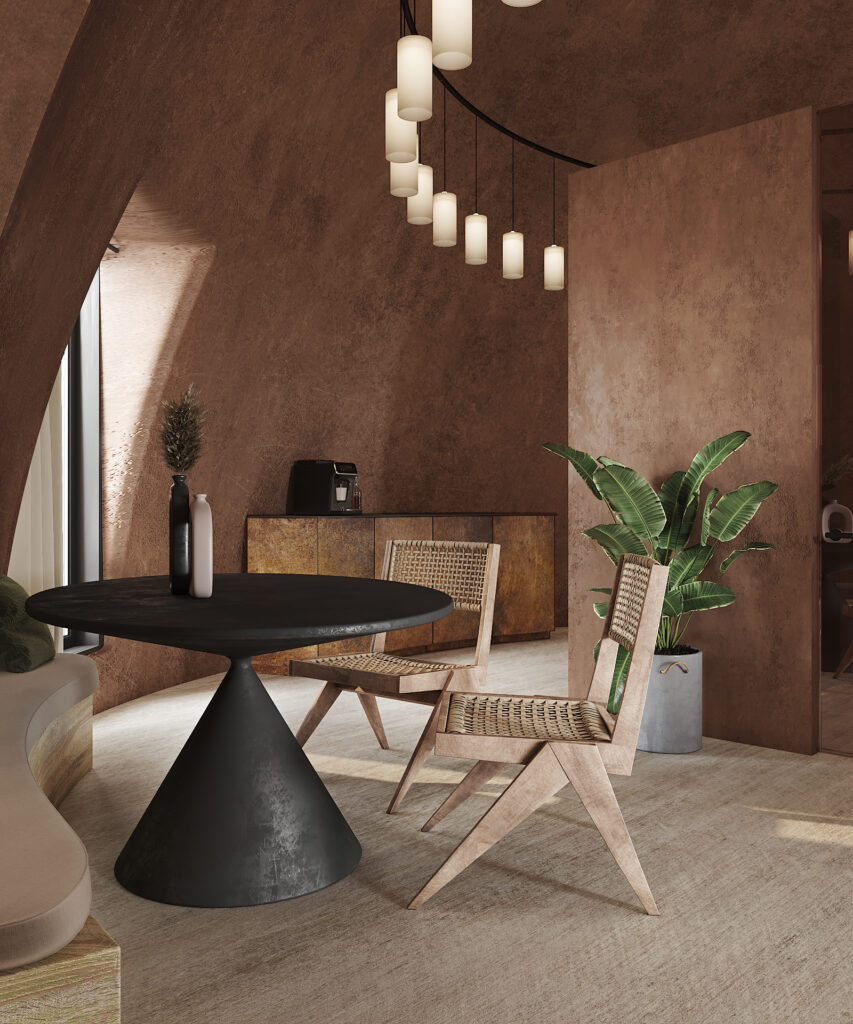 Part of this interior's dream-like and natural charm is crafted through the organic materials which allude to the calming effect that nature has over humans and our inherent connection with our environment. Notice, for example, how the sharp wooden surface of the chairs and the twisting bench surround the volcanic-like coffee table in a perfect symbiosis between contrasting colors and materials. Above this arrangement we also observe the hypnotic glow of the ceiling pendants that encircle the living room like lanterns released into a sunset.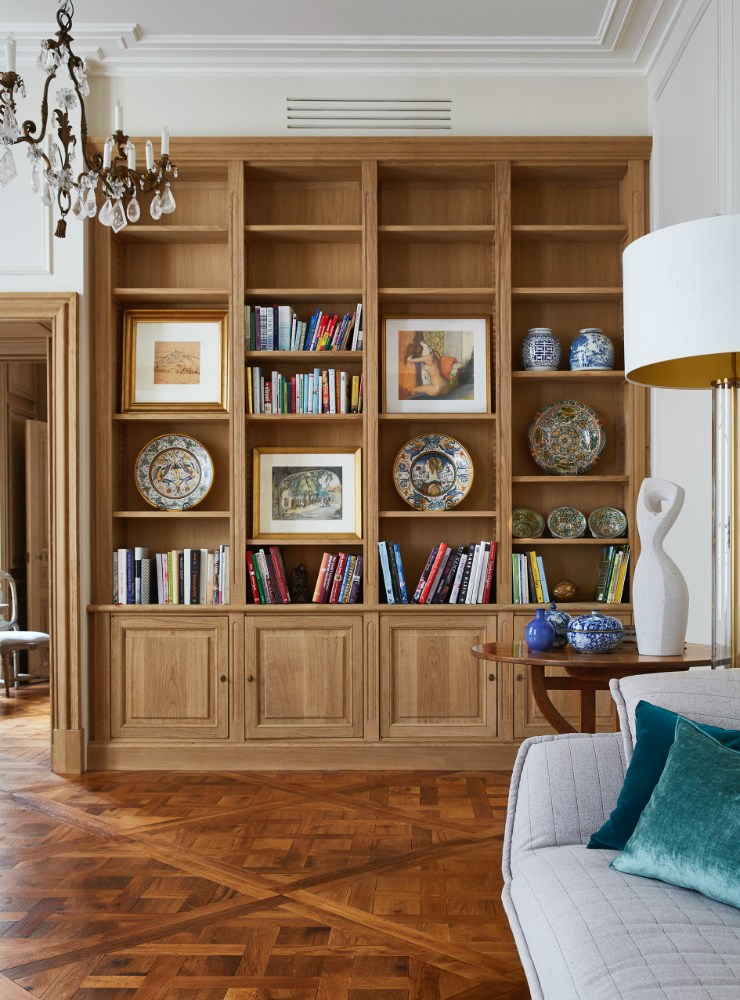 Wood has been a part of human dwellings since the beginning of time and nowadays it continues to embellish our homes. The steady presence of wood in interior design is due to to its timeless quality, elegance, and organic composition which creates a smooth balance in any space. In the case of this interior, this material is not only used for functional purposes but also praised in its emphasized use. A smart way of avoiding overwhelming our eves with this element was to incorporate it as a bookcase together with colorful decorative items that introduce movement and depth. At the same time the patterned wooden flooring creates a smart contrast with the white ceiling, matching lamp, and soft grey couch.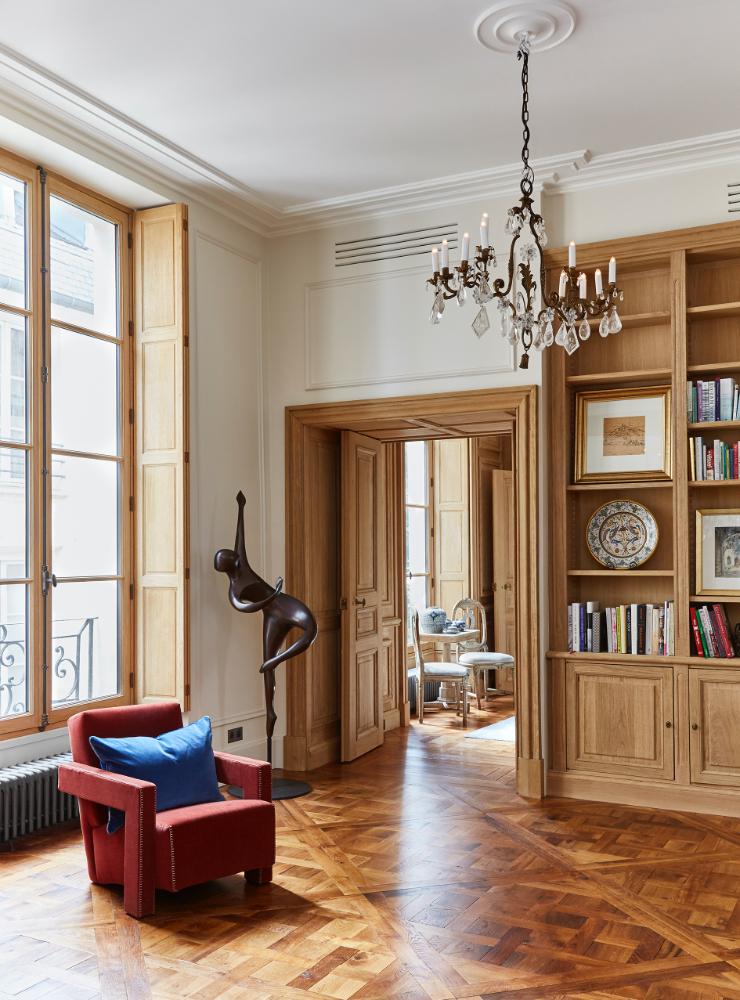 Due to its classic appeal and standard use for flooring, doors, and frames, wood can be combined with countless designs and colors. This particular interior has combined the refined and romantic style of a high ceiling, tall windows overlooking the balcony, and a glass chandelier with a modernist touch. with just a single bold red lounge chair and and anthropomorphic wooden sculpture, this living room opens its doors to modern art and design in a way that makes the connection between contemporary elements and classic décor appear natural and inherent.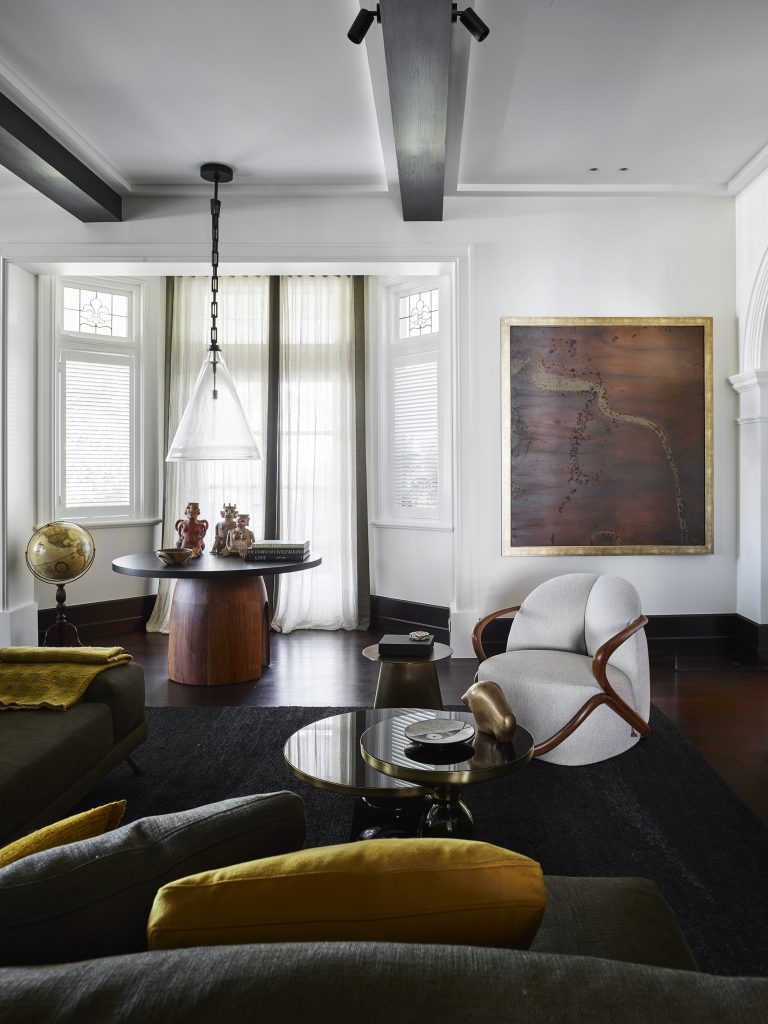 Here again we observe the strong, grounding presence of wood in combination with sleek modern designs. In this case, the material is anchored to the ground as featured in the hardwood flooring, the side table base, and lounge chair frames. it's deep shade complements the dark tones of the black carpet, the grey sofa, and metallic coffee tables. This creates a luxurious opaque aesthetic that ends precisely where the bright industrial décor begins. Moving beyond the flooring to the white walls and ceiling, the living room switches to more minimalist and raw designs such as the chained glass pendant with an exposed light bulb, the black beams of the ceiling, and the gold framed painting.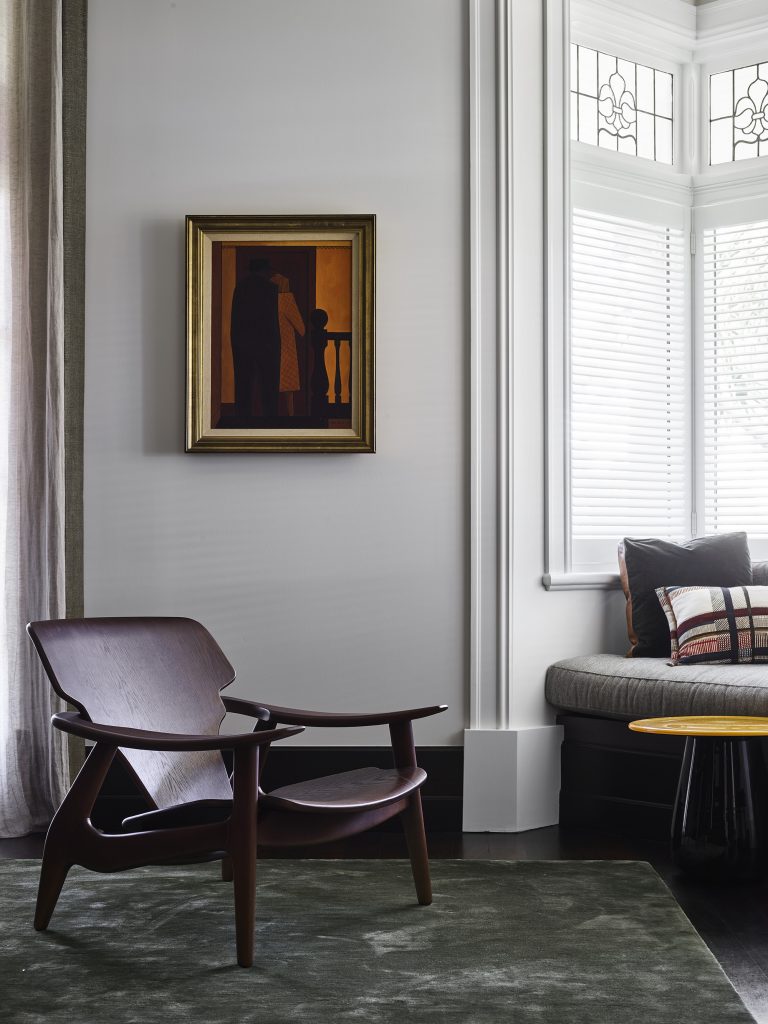 Through this interior we can observe how simple compositions and quality materials can create a significant impact with just the right use of contrasts and adequate lighting. A single dark wooden chair with no upholstery and a small warm toned painting with a golden frame can create a commanding presence and an a formal atmosphere. This is made possible with the use of clear white walls where dark wood and warm colors are highlighted, and through the passage of natural light from the floor-to-ceiling windows.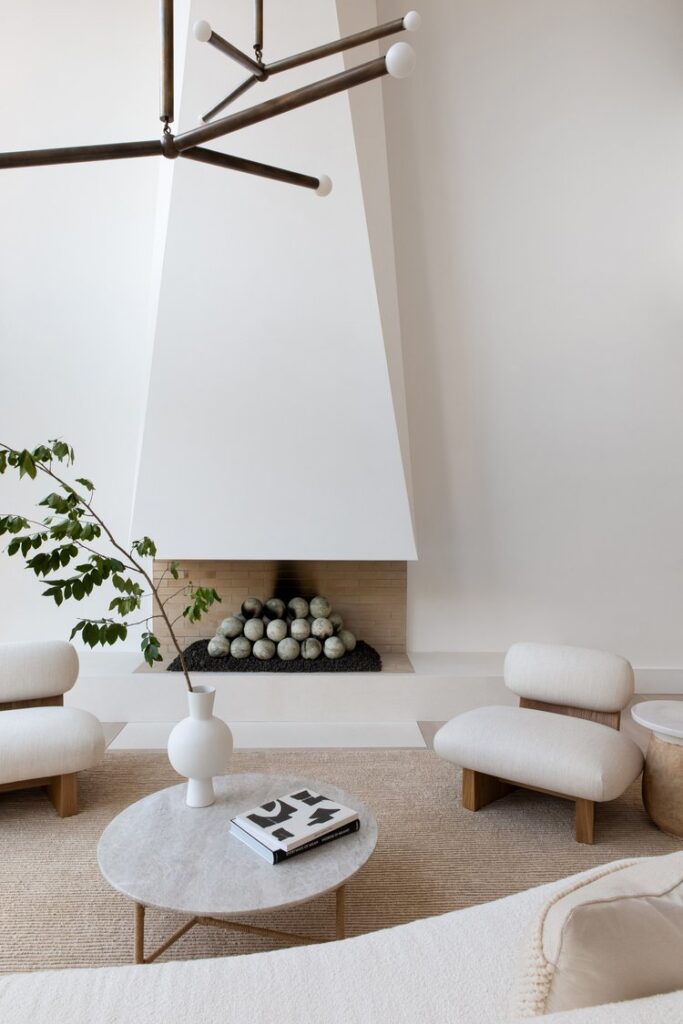 This Scandinavian living room depicts how little distractions humans actually need to be happy. In many cases the simplicity we find in clear interior and nature is enough to calm our minds and encourages us to focus on our wellbeing. This living room achieves this with just a few elements such as matching white lounge chairs and sofa, a soft sand-colored rug, and a round marble coffee table. These neutral tones have the benefit of removing any unnecessary visual commotion and they allow smaller features to stand out. In this case such features include a delicate house plant, the angular chimney, and metal light fixtures.
If we observe this composition as a whole, the living room squires a new personality. Rather than basing its charm in the absence of décor or accessories, this interior focuses on adorning the minimalist design with the beauty of the natural environment. The open layout and floor to ceiling windows welcome the greenery outside and breathe a different color into the room. This way the green tones form the garden complement the flower arrangement indoors, the light wooden shade of the free-form side table, and the delicate wall art that perfectly reflects the relaxing aura of this interior.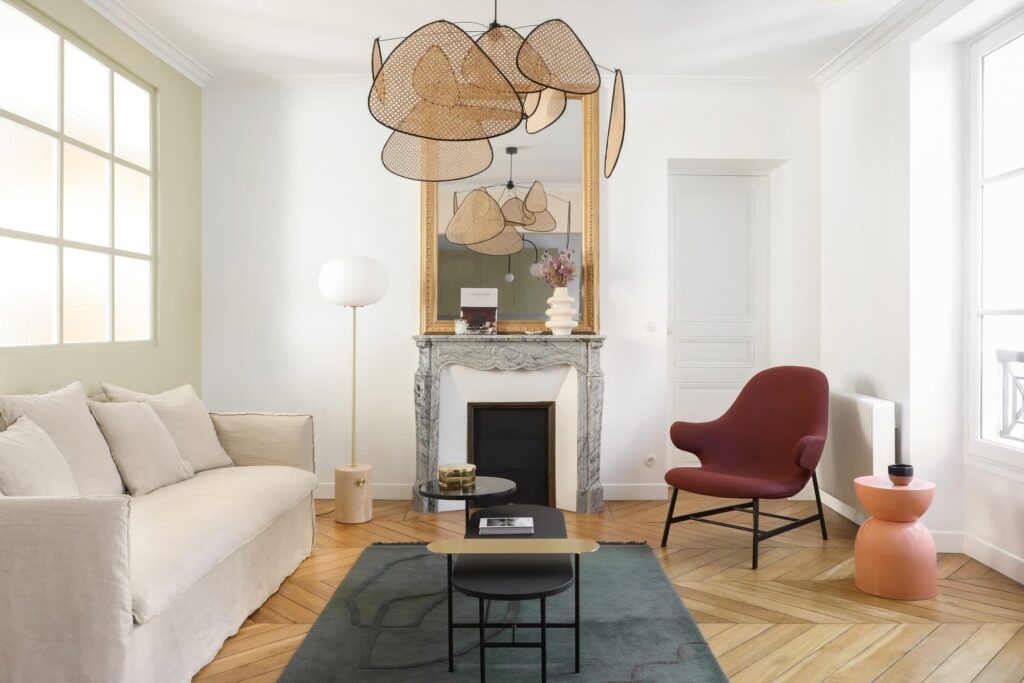 Among the well-curated living rooms we have displayed today, is there one in particular which has inspired you, and if so, how has it done so?
As we have mentioned before, the way we design our living room will not only reflect our personal identity and taste but it will also encourage creativity, relationship-building, provide comfort, and enhance our quality of life. Therefore, whichever design we select, we must first ask ourselves what kind of tone and ambience do we want to set for our everyday lives?