Humanity's achievements are often narrated according to a linear categorization, we use time to organize our lives while also attempting to make sense of the past. Nowadays we have even turned to numbers to reach estimates that reveal information about our future; however, to have a better idea of where we are heading it is easier to simply look at the changes that are constantly occurring around us. The evidence that foreshadows how the coming years will look like is visible in the new trends, movements, the modifications to our surroundings and our own reactions to them. No person, city or home stays the same, Miami is an example of this; its sole architecture tells the story of humans across different epochs. We admire the geometric symbols of art-deco etched into the façade of pastel-colored buildings and the modern glass sky-scrapers that line the neighborhood of Brickell. Today we are living an era characterized by Smart technology, bold designs and efficiency. This is the future and here are some of the upcoming buildings that signal its arrival.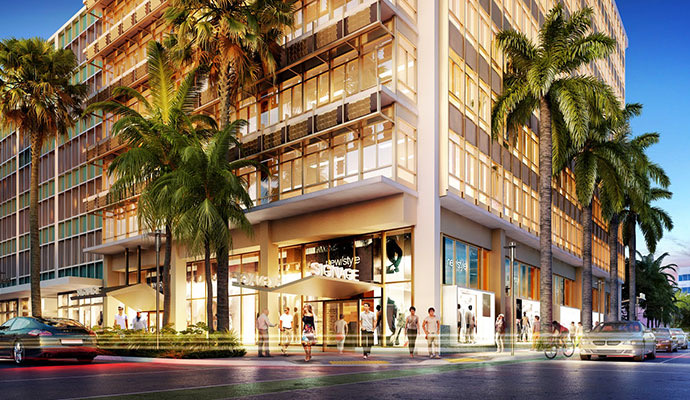 2021: YotelPad
Stantec Architects and the Aria Development Group together with AQARAT are about to unravel a 30-story tower known as YotelPad in Miami Downtown. The public and future residents can expect a modern masterpiece lined by floor-to-ceiling glass windows, extensive balconies and a lavish amenity deck. Elegance and dynamism will combine to produce an interactive space that reflects the contemporary appeal of Miami. Residences will feature spacious floor plans that lead to extensive windows with unobstructed views of the city. The interior design will be further highlighted by custom European kitchen cabinetry with stone finishes, Smeg Designer Italian appliances, Grohe and Toto bath fixtures and a smart lock system.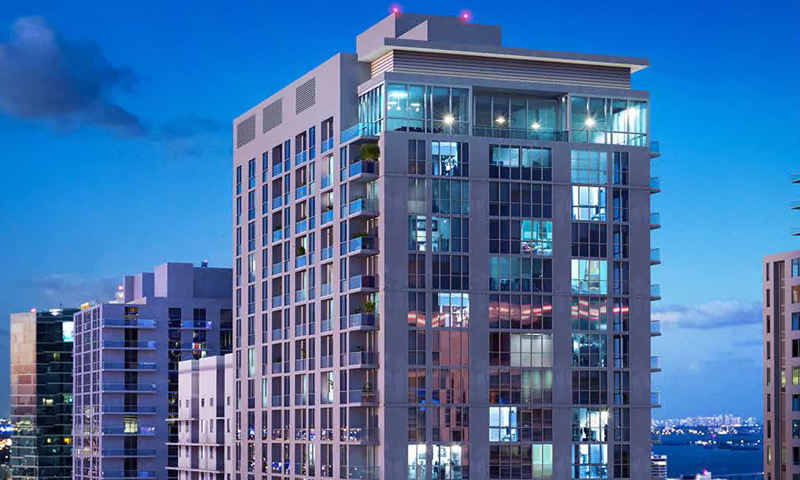 Residents can further indulge in the building's deck pool, hot tub and in any of the available bars (full-service bar and organic matcha bar). An up-to-date fitness center is also provided as well as a Skytop lounge including a game area and chef's kitchen. The amenities even comprise private meeting rooms with co-working space and Transit Screen displays of mobility options in real time. All of the residents needs are taken into account and covered by state of the art conveniences.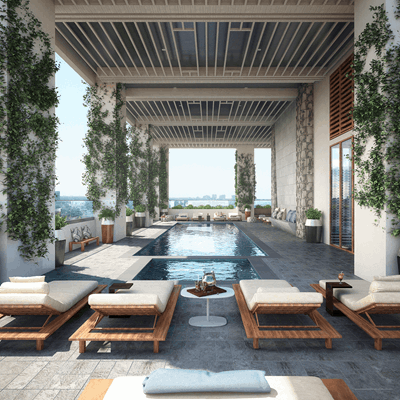 2021: Smart Brickell
As its name suggests, Smart Brickell takes modern design and technology a step further to create a luxurious experience for residents based on efficiency, boldness and elegance. This 26-story tower combines the expertise of architect Hernando Carrillo, the Habitat Group Development firm and Arquitectonica interiors. As the first Smart project in Miami, this development will lead the change in our modern take on life while demonstrating the countless benefits of a symbiosis between technology and architecture. As its creators have stated, the idea behind this is the following: smart life, smart design and smart tech.
Residents will soon be able to admire from close the carefully planned Arquitectonica design that pampers inhabitants with city-view terraces that are accessible through sliding glass doors and modern smart features that make life increasingly simple. Each condo will have access to smart Wi-Fi features that include a Nest thermostat, Lifix Wi-Fi, Amazon/Alexa home and personal assistant. Additionally, the building will also be equipped with stately amenities that endorse an avant-garde lifestyle, these shall include: resort-style pools with a sun deck, water lounge chairs flanking a waterfall, an amenity deck with a landscaped recreational area, spa and wellness center, a lounge bar, business center and an event room. These are only some of the features that embellish Smart Brickell, the rest are for us to discover as soon as its doors open.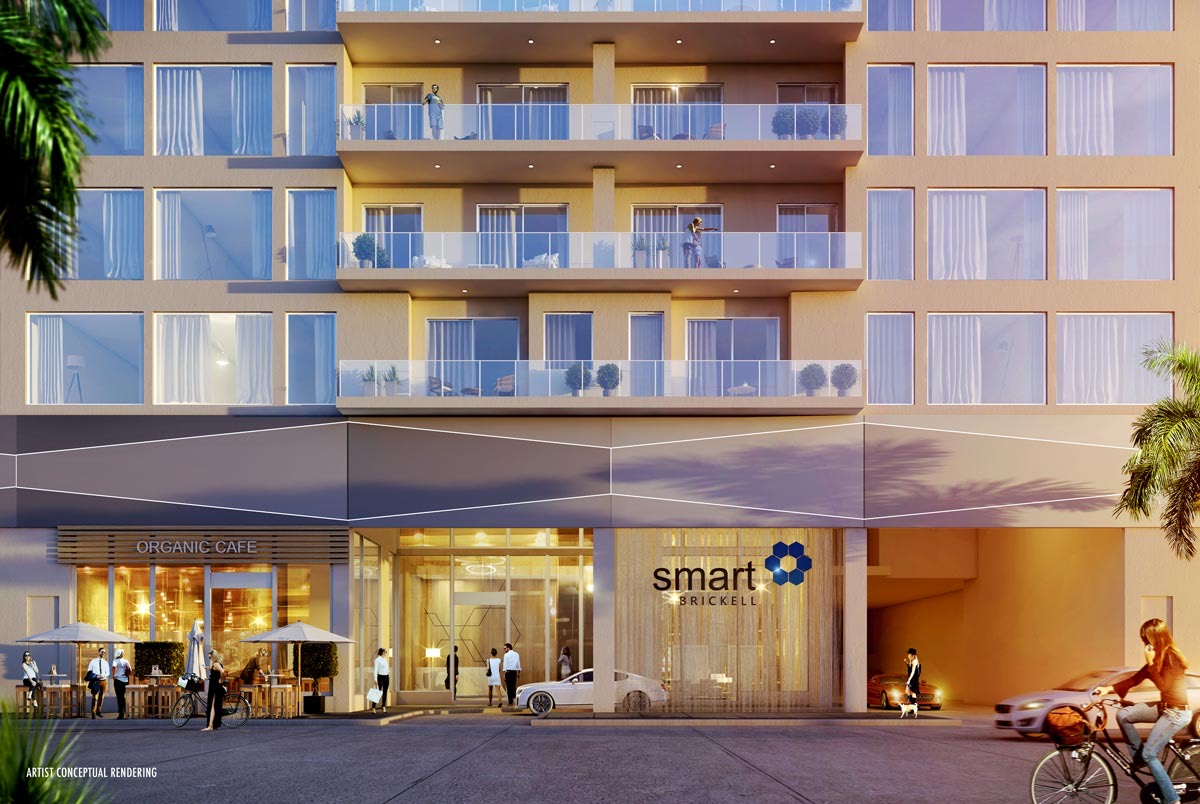 2022: 57 Ocean
2022 promises to bring 81 tropical luxury condos rising above an 18-story tower on Miami Beach's Millionaire's Row. The building designed by Arquitectonica and developed by MultiplanREAM is about to become a tropical dream for the future residents who will have easy access to Miami's International Airport and the treasures offered by the neighborhoods of South Beach, Downtown, Design District and Wynwood. The structure and interiors take inspiration from the natural beauty of the city's landscape and from the vibrant hues of the ocean. Residences will accommodate 12-foot extensive terraces with wood-like ceiling accents that lead to clear ocean and city views. The 10-foot ceilings are made to give the impression of spacious interiors that can hold sophisticated master bedrooms with natural stone floors, wall tiling, double vanities, a floating tub and double spa showers. The rest of the interiors will be lined with a luxury Italian kitchen, bathrooms by Poliform, Sub- Zero refrigeration, impact glass windows, marble countertops and a waterfall island that adds the final touch of magic.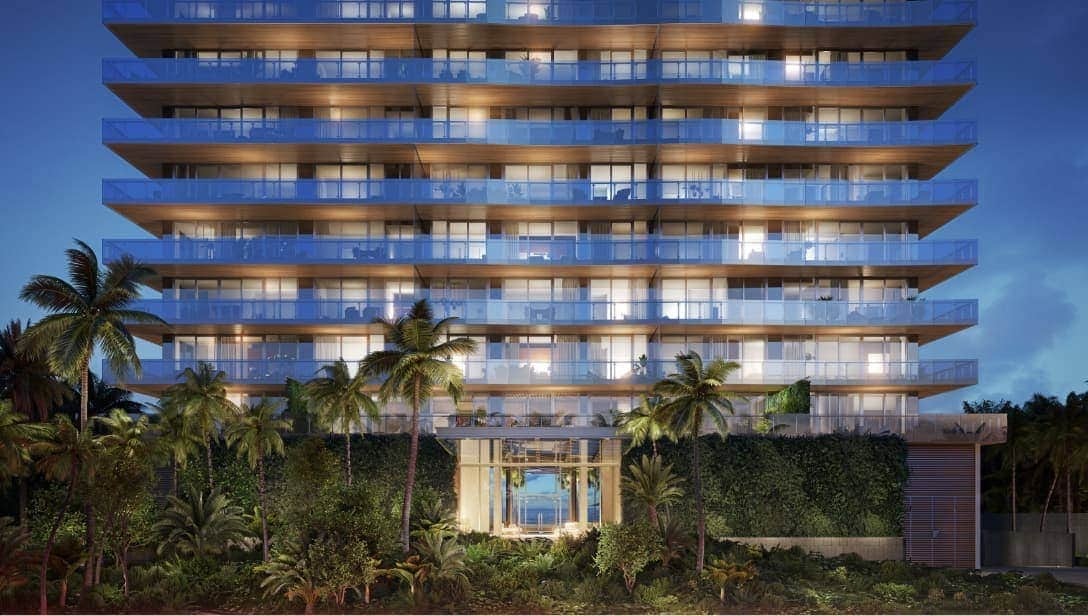 The exclusivity and cadence of the building will be self-evident from a first glance. As soon as residents and visitors step into this tropical, contemporary realm they will notice the vibrant landscaping and vertical gardens that lead to a grand lobby bedecked with natural stone. A few steps further lies the pool and meditation gardens that end precisely where direct access to the Atlantic Beach and Miami Beach Walk. Furthermore, the developers of this extravagant building have also planned the incorporation of a modern fitness center, a healthy snack and juice bar, lounge area, a children's activity room and gourmet concessions that can be served on the poolside and beach.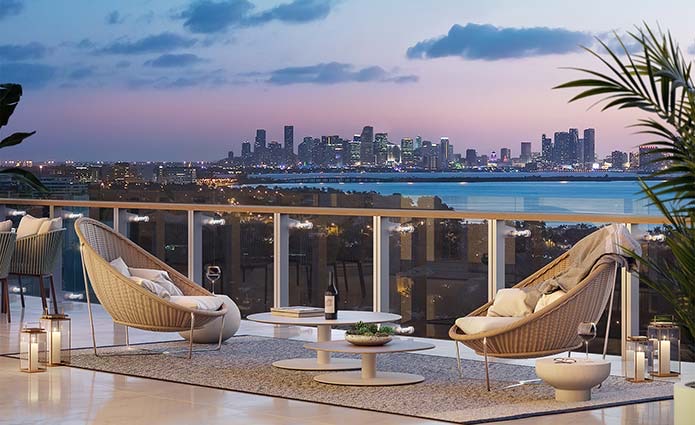 Buildings like YotelPad, Smart Brickell and 57 Ocean are beginning to narrate the first chapters of our future. These architectural giants and pioneers of modern design are evidence of a fast-approaching lifestyle based on efficiency, uniqueness and technology. It may not be the same in every city but we can tell that Miami is heading in the direction of smart design and luxurious trends that push the boundaries of our imagination.