In Greek mythology the Elysee was known as an enchanted place in the underworld where the souls of heroes and virtuous men could rest. The world of the living which we inhabit also has its own versions of this alluring space; there is the famous Champs Elysees Avenue in Paris which thousands of tourists flock to every year just to get a glimpse of a grandiose past. Today; however, there is a new Elysee located in Miami's prestigious community of East Edgewater. This modern 57-story tower rises like a pillar surrounded by some of Miami's most inspiring attractions including the Design District, Wynwood Art District, and Miami Beach. The residences designed by Arquitectonica and embellished by Jean-Louis Deniot are a contemporary representation of ancient Greeks' dreams of their heroes' luxurious quarters.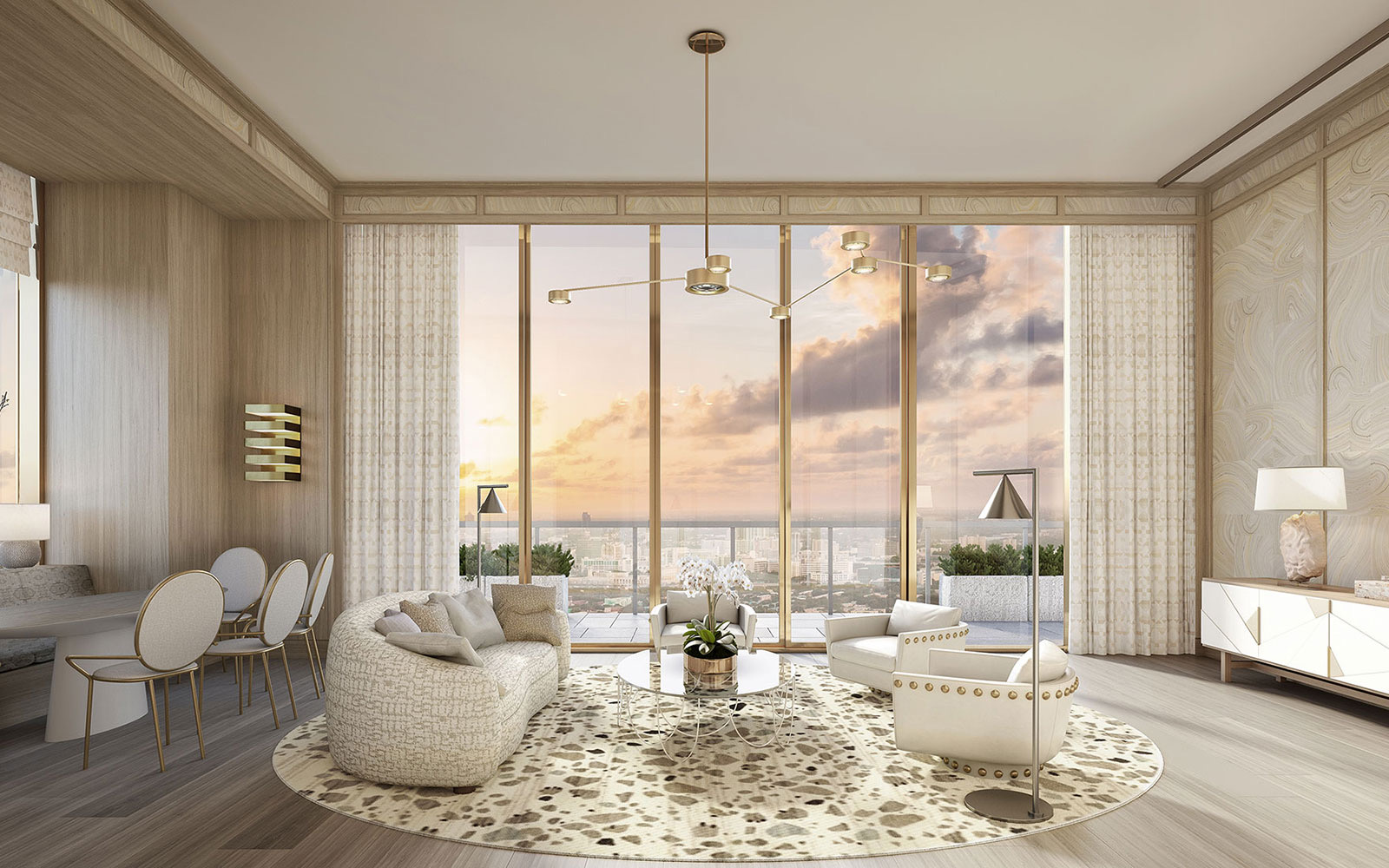 The architecture
The sleek building housing up to 100 units reflects the work of the globally acclaimed team of architects led by Bernardo Fort-Brescia. Some of their previous works include the Infinity Towers in San Francisco, the Microsoft Europe Headquarters in Paris, Festival Walk in Hong Kong, and the American Airlines Arena in Miami among other creations. Arquitectonica's expert hand is visible in the elegant tower that seems to imitate a superhuman torso as it widens towards the top and ends with an elongated base. The main structural elements include a 13-foot ceiling lobby, floor-to-ceiling impact resistant windows, sliding glass doors, and two 8-foot terraces on East & West with direct views of Biscayne Bay, Miami Beach, and Downtown.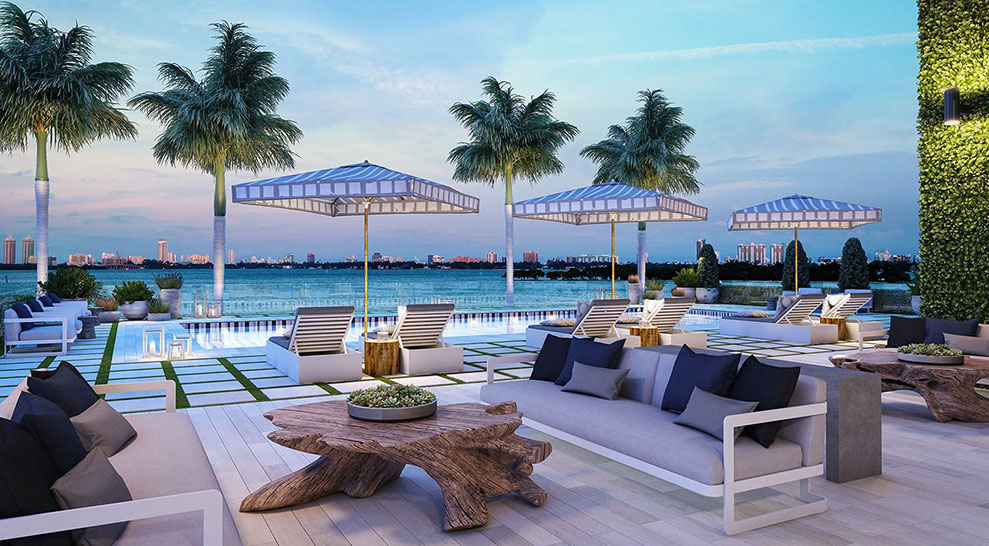 About the interior designer
To top this modern-day masterpiece, the interior design of each residence and common area is left to the careful eye of the legendary Jean-Louis Deniot. As one of the most talked about designers today, his works have become the topic of attention for numerous international publications which have featured among his most famous projects: private homes in Beverly Hills, the Waldorf Astoria New York residences and amenities, a grand home in Moscow, and family residence on Hong Kong Bay. His prevalent style seeks to bring elegance, modern design and personal wellbeing into a harmonizing dialogue. As the Elysee tower demonstrates, Jean-Louis achieves this through a neutral color palette, soft tones, rich textures and ideal lighting prepared for every occasion. Each design moves across a classical aesthetic and a contemporary approach; always avoiding the typical standards by introducing some unexpected dramatic elements.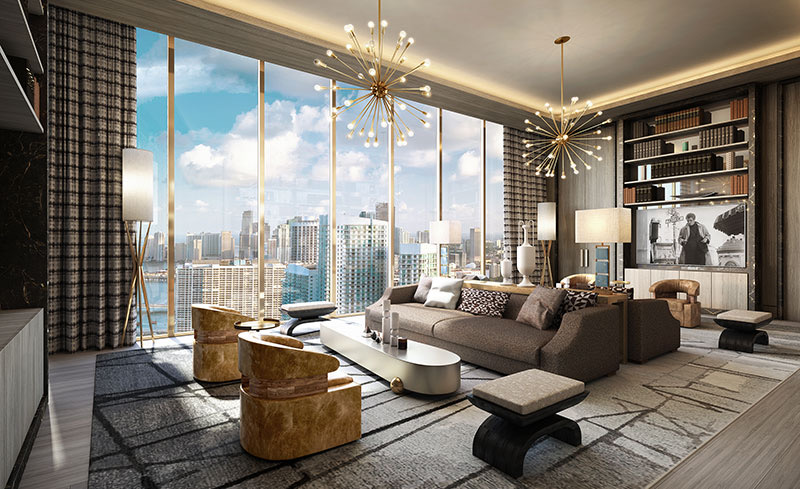 A look at the interiors
Elysee residences distinguish themselves for their convergence between extravagance and minimalism; two approaches to décor that are commonly on contrasting sides. The base elements such as flooring, ceiling and walls exhibit a unifying assemblage of creamy white tones that create the impression of bigger and brighter spaces. This simple yet elegant scene is topped with rich fabrics and modern furniture in different shades of blue alluding to the appeal of the surrounding ocean. Beyond these private spaces, there is an equally mesmerizing composition characterizing all shared spaces such as the lobby, theatre, grand dining room and library. Geometric shapes are the main agents in the rendering of these interiors; the arrangement consists primarily of extensive carpets with linear or circular patterns in contrasting colors of black and white that take over the spotlight and create a bold statement. The effect is heightened by the use of unique wallpaper for each room; thus introducing a sense of individuality and breaking with a monotonous pattern.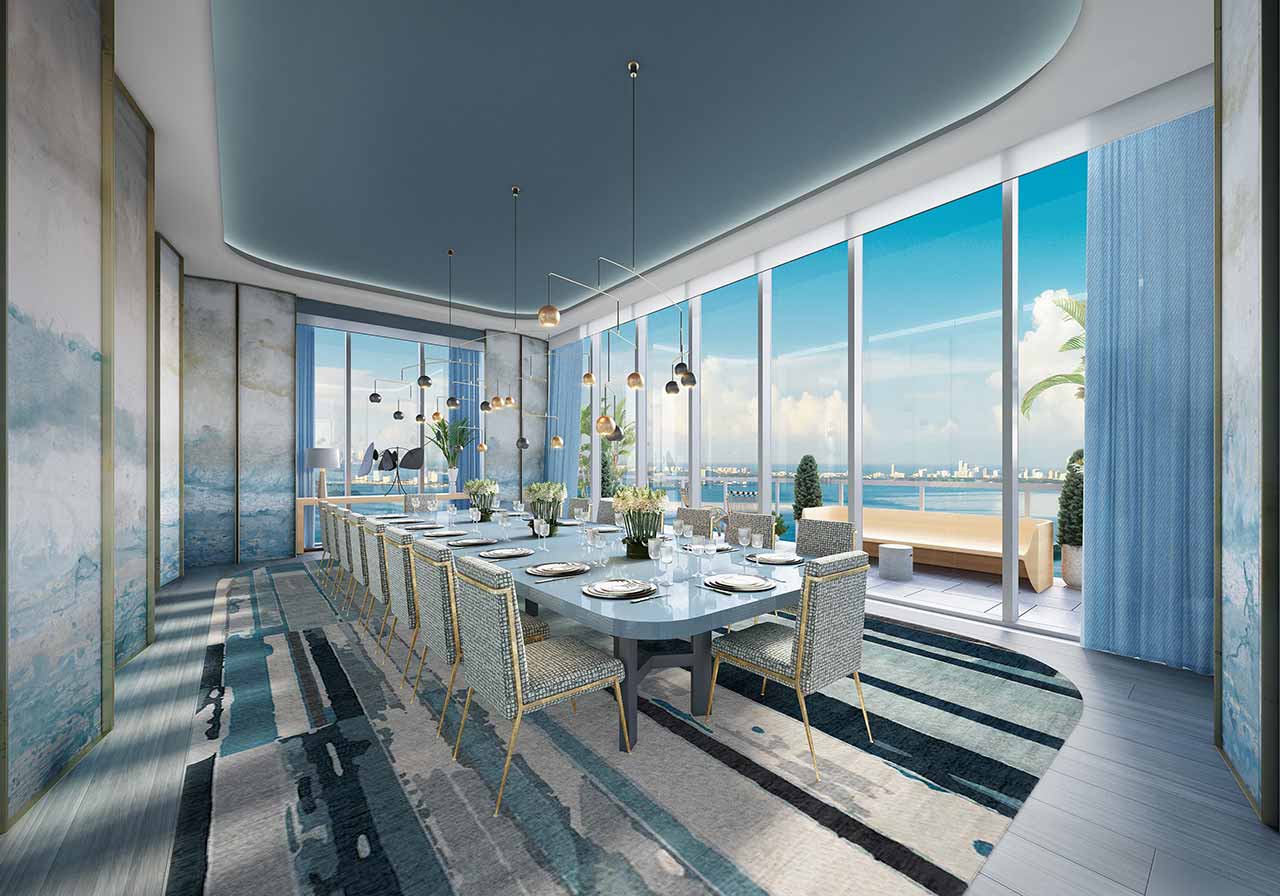 The amenities
The structural splendor and interior design of Elysee Miami also create the perfect setting for first-rate amenities which elevate the tower's prestige. These indispensable extras include a 75-foot resort pool, summer kitchen and BBQ area, Fitness Center & Yoga Studio, a dedicated spa, as well as a children's room and teen room. For special events, residents also have access to an extensive living room with a Steinway piano, a grand dining room that can fit up to 30 guests, and a library that transforms into a theatre with screening room projector. All of these features prove that the Elysee tower is indeed a world of its own, offering its inhabitants a taste of heaven.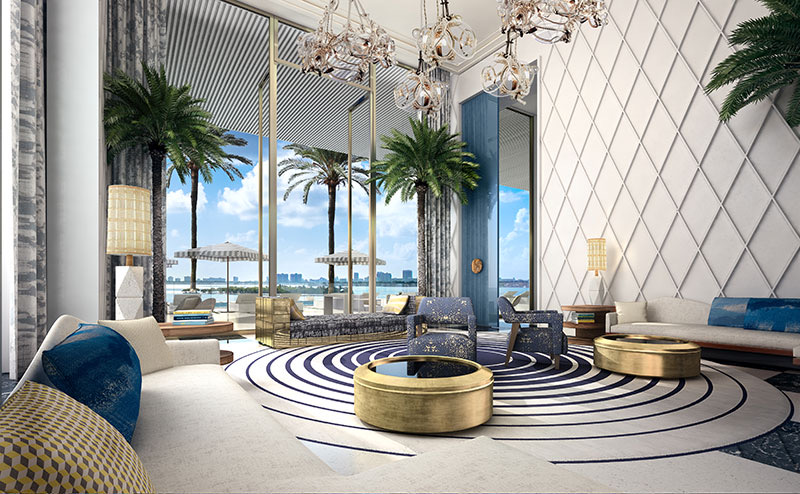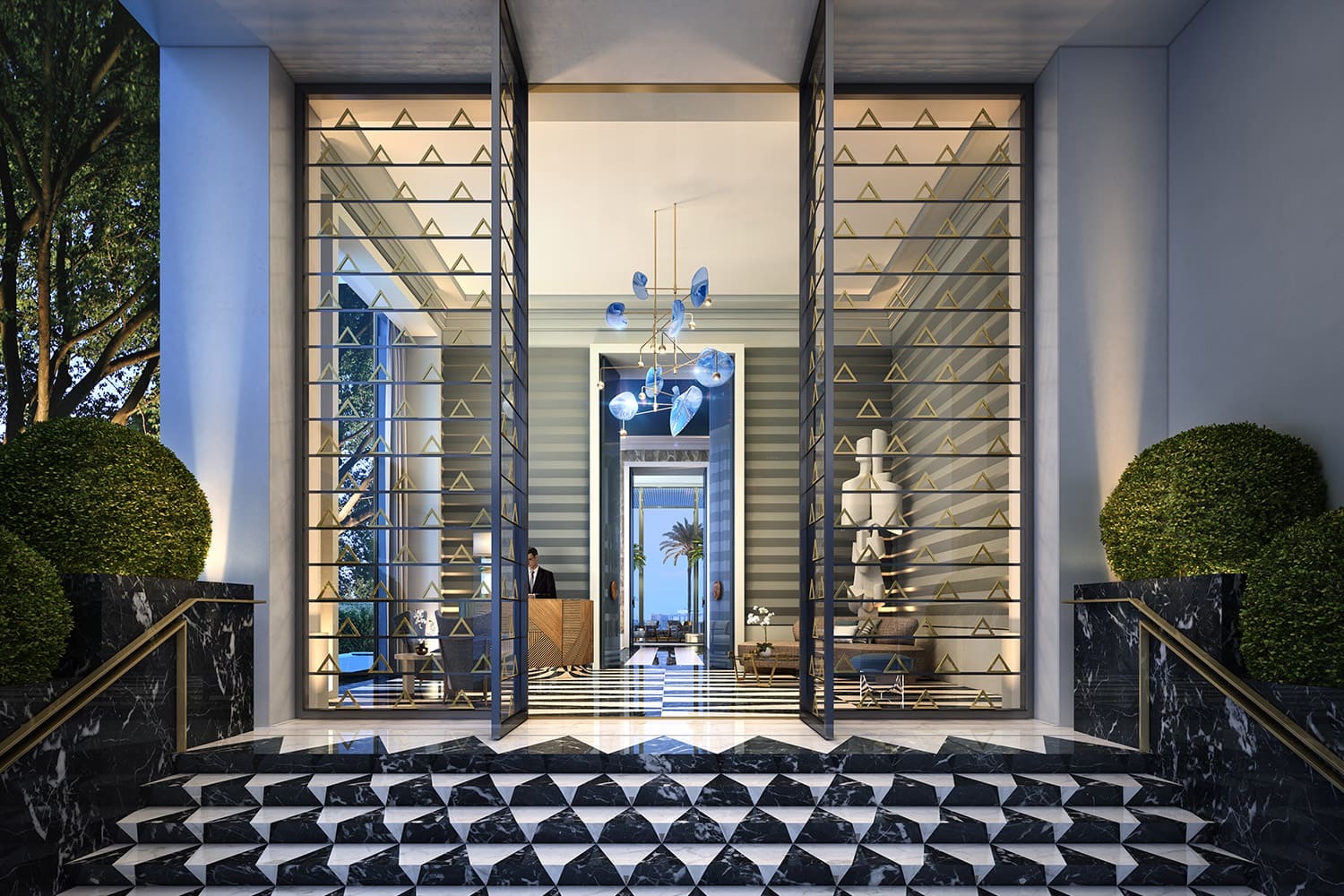 The era of Greek myths has come and gone leaving behind a legacy of classic ideals that inspire contemporary designers, architects, and dreamers. Elysee Miami is the perfect example of the splendid representation of such aspirations that live eternally in the works of different generations. Perhaps, humanity has been slowly building the foundations of its own paradise on Earth and creations such as the Elysee in Miami and Paris are proof of this.