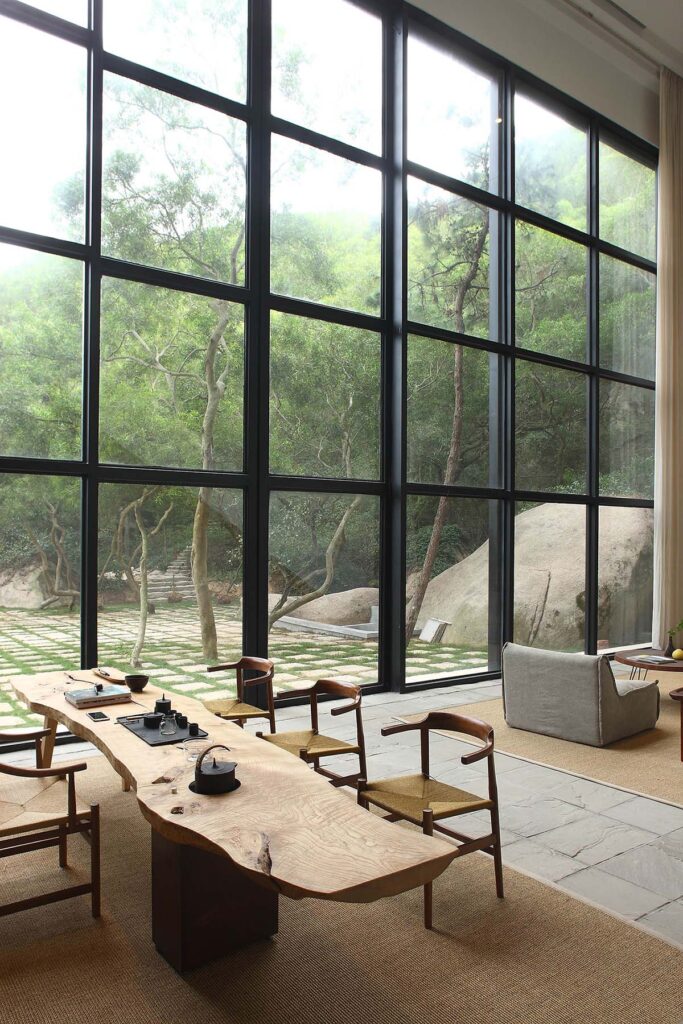 In an ideal world, transparency would govern all decisions and the information we revive; however in reality this is something we must still strive for. Perhaps one way of getting closer to this ideal is to start from home by learning about openness, naturality, and modernity from something as simple as glass. This material which is known to suit various design styles, deserves to be more than a visually appealing backup source for our interior design. Its durability, versatility, and reflective properties highlight this material's potential to become the centerpiece for your home and a daily source of inspiration. 
Finding the perfect pair
Glass by itself already holds an intriguing and delicate quality that attracts light as well as our gaze towards it. For this reason it can easily embellish surfaces such as wood which balance it out with a warm and inviting touch. For instance, imagine using a glass-top dining table with a dark wooden base that juxtaposes the transparency and sleekness of glass with the study news and organic texture of wood. This combination provides our interior with a cap temporary yet cozy dining space that can fit perfectly with various design themes from traditional to contemporary.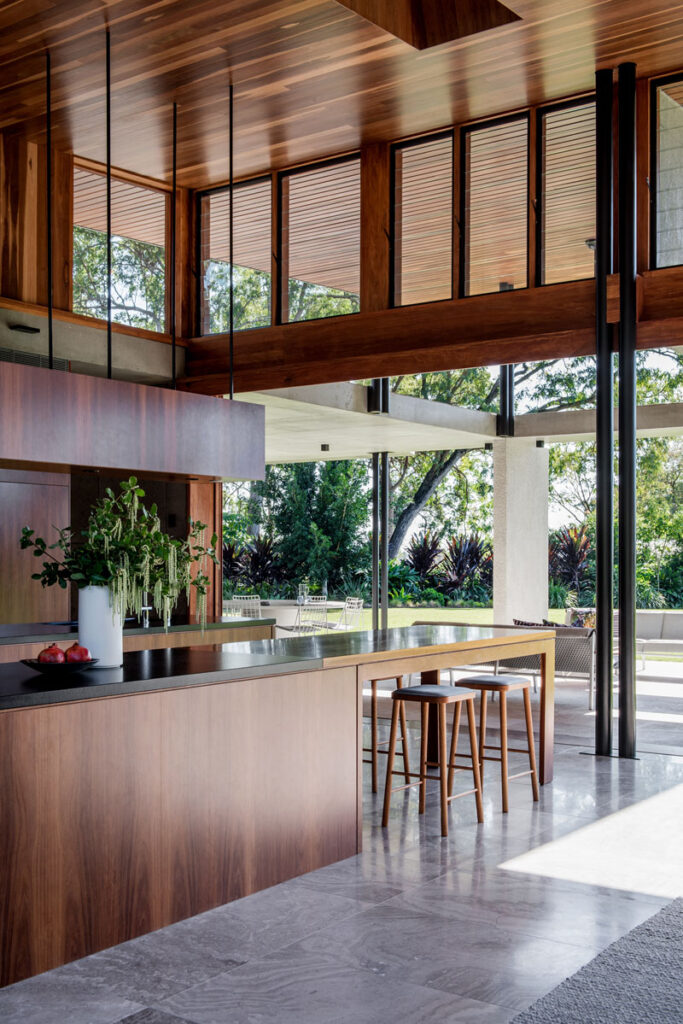 As a next candidate we can take a look at metals such as stainless steel or brass which yield a sleek and industrial look. Unlike wood, this material is best suited for a particular style of design that veers from traditional. For instance, the enormity of a glass room divider can be tamed by adding small metallic details such as modern lighting fixtures or furniture with gold accents which also create a modern, minimalist aesthetic. Both materials' reflective qualities establish a visually striking design with a visibly functional side.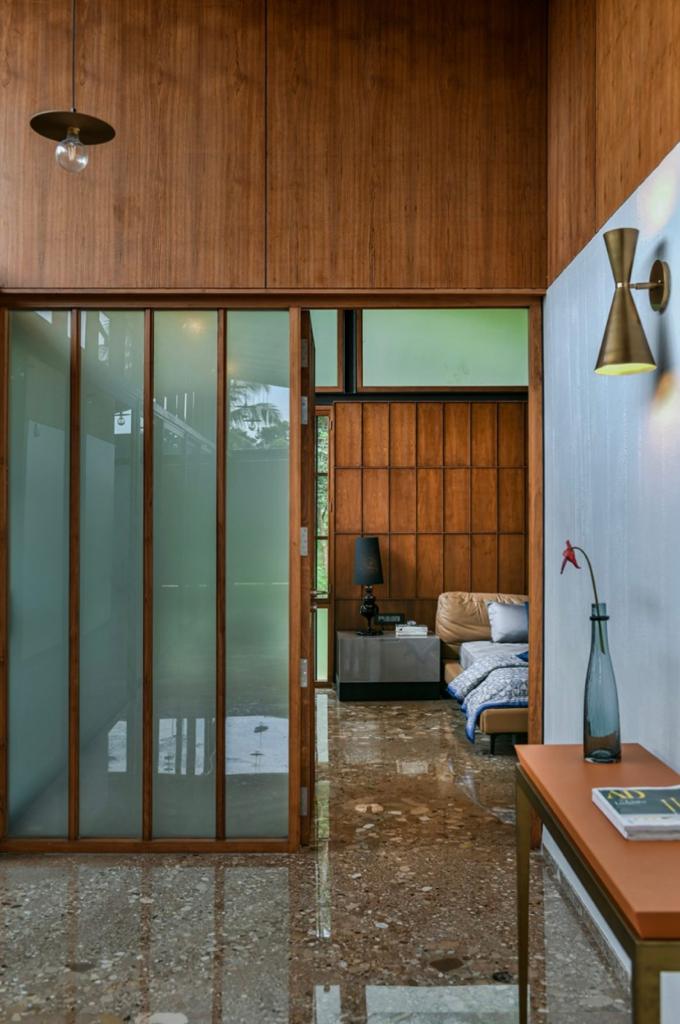 Stone and textiles
There are two approaches one can take to pairing glass: a soft-hard contrast or the combination of sturdy surfaces. On the one hand, glass and textiles add a touch of softness and tactile interest to spaces besides the existing visual focus provided by glass. Meanwhile stones like marble or granite lead to a timeless and more luxurious effect where the opulence of both materials can be celebrated. Thus, whether it is through combining glass coffee tables with fabric ottomans or choosing dark stone floors to contrast with glass doors; one can redirect the balance between hardness and softness in the direction that best suits the interior's theme.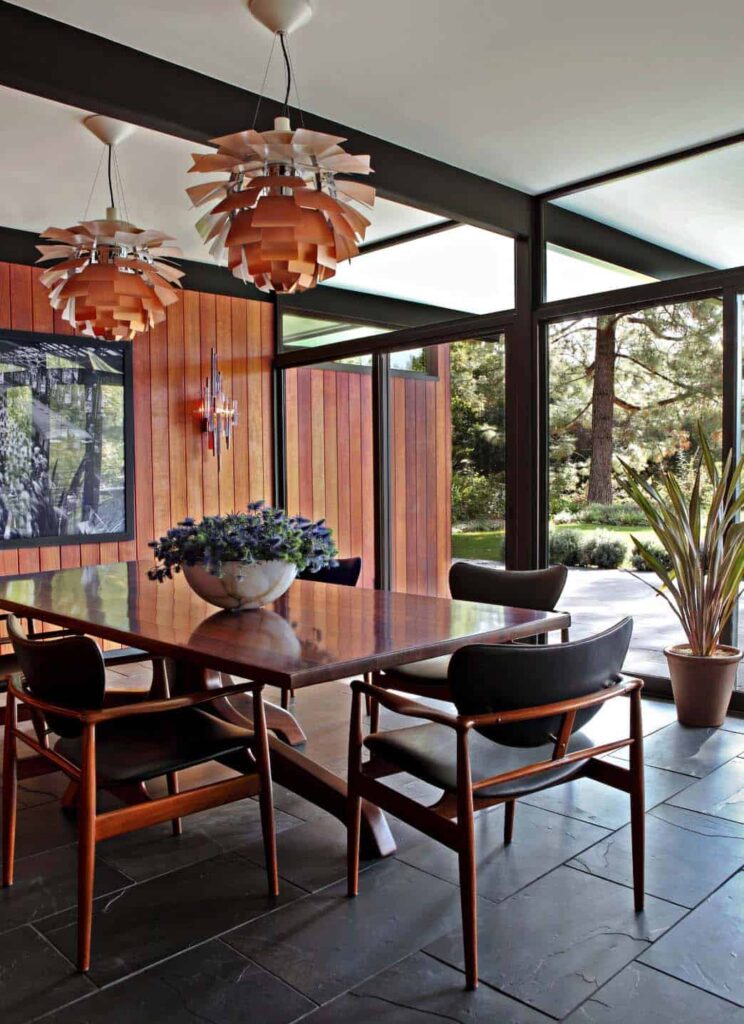 Concrete and ceramics
One is sturdy and the other delicate: both concrete and porcelain or ceramics are ideal pairings for glass surfaces for different reasons. For instance, the industrial nature of concrete accentuates the modern, urban character of a space while glass helps soften its harsh aesthetic. However, this is the opposite case for the combination of glass with ceramics or porcelain which already display a delicate and sophisticated aesthetic. In this case, one can use glass mosaic tiles alongside ceramic to create a contrast in texture and sheen. This subtle difference rewards our sight without overwhelming the decor.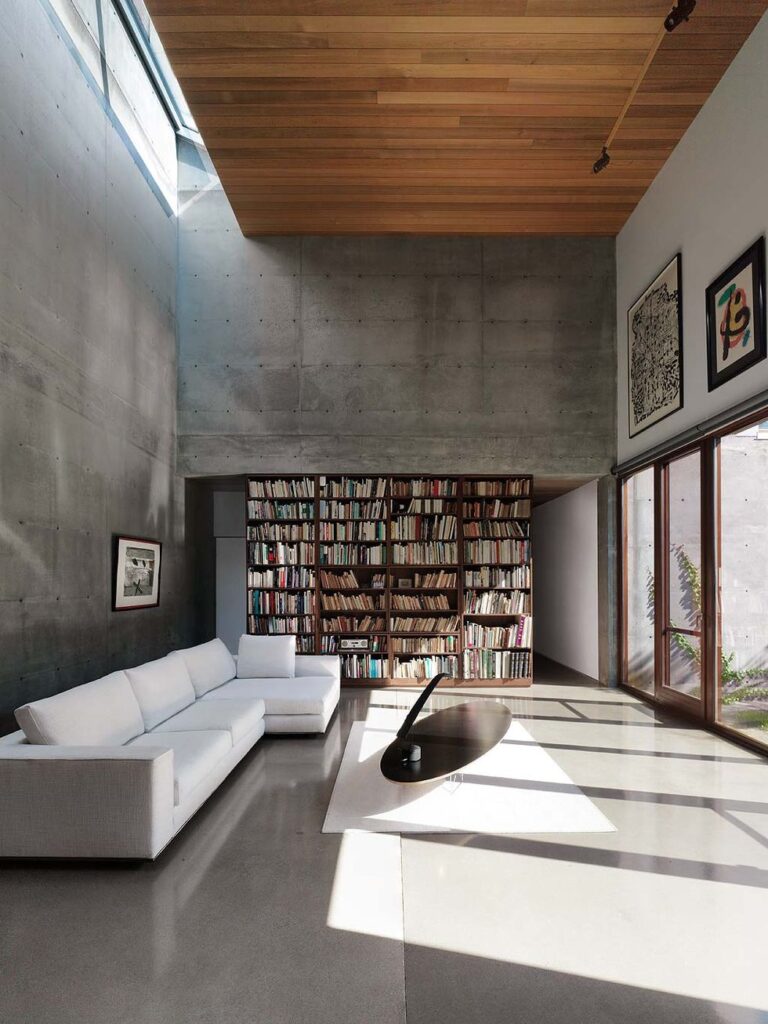 Beyond ordinary glass interiors
What better way of making a stamens than by choosing the oversized approach to installing glass. For example, glass flooring or ceiling panels alongside a floating glass staircase can create a surprising and dramatic focal point while adding a sense of openness and modernity to your home. This feature also comes with an additional aesthetic function as glass floors and ceilings can showcase a special underground collection or become the source where natural light can filter through from above.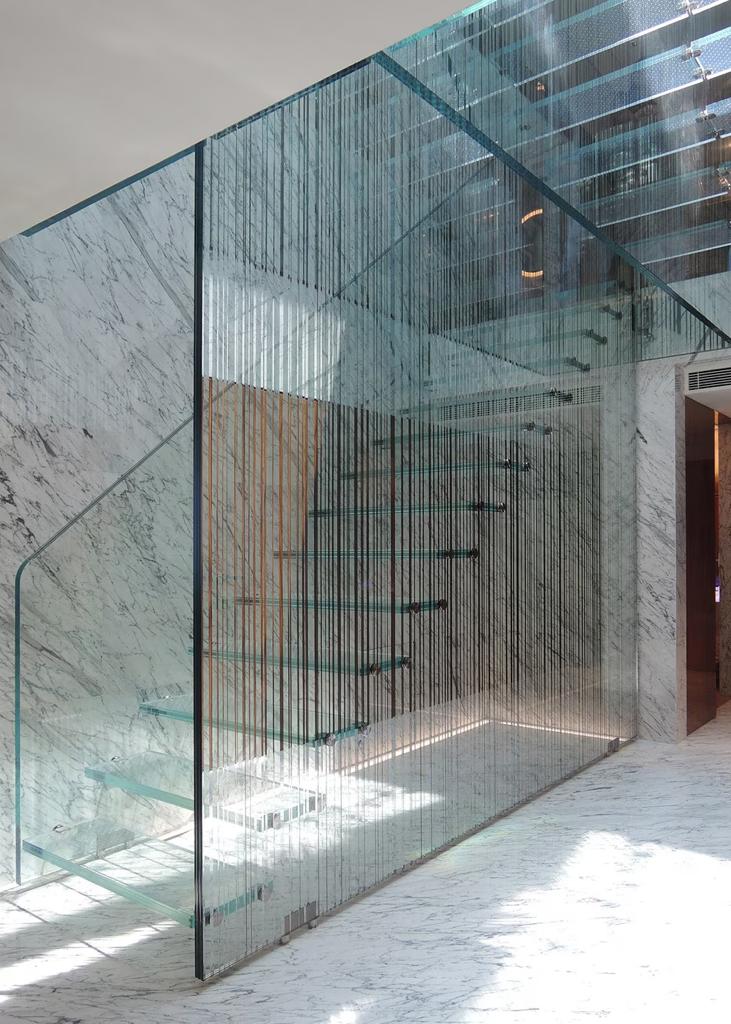 Playing with texture
Glass room dividers are not an unusual feature in contemporary interiors as they help not only in separating spaces but also adding an artistic element with intricate or frosted surfaces. However, if you chose to go the extra mile to make your room more unique, consider using textured or colored glass in unexpected ways. For example, using colorful glass panels in room partitions or stained glass can create a captivating effect and transport you to a different time and space.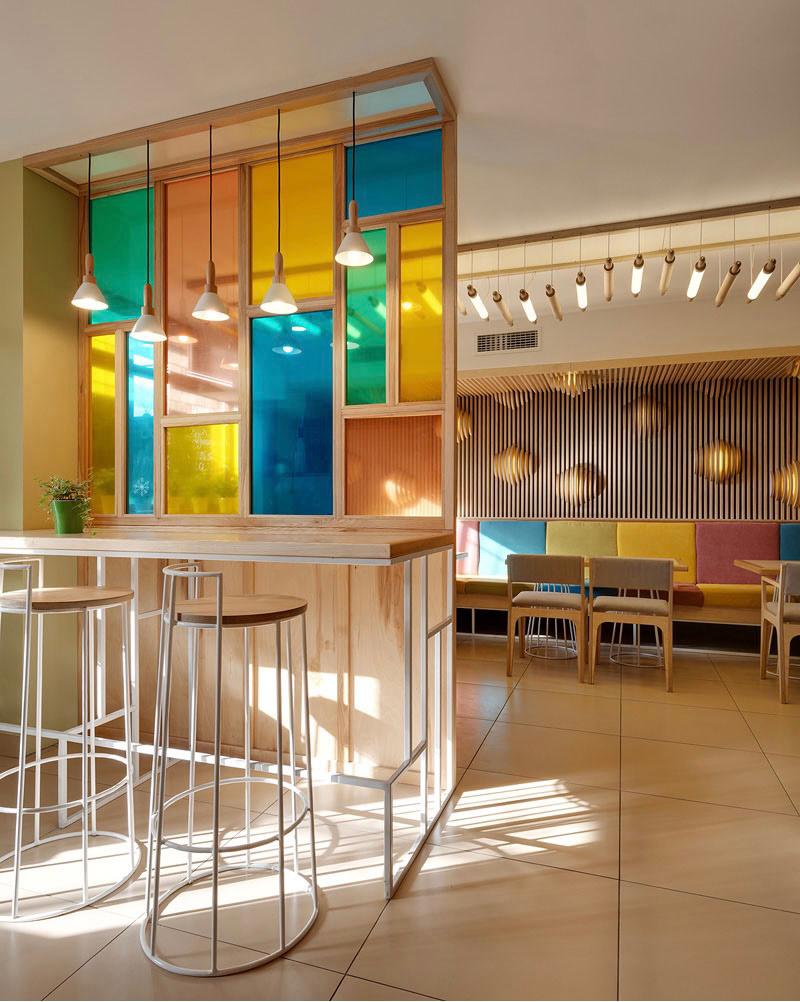 An artistic element
Commissioning glass artists to create a custom art installation can serve to support local artists and as a way of introducing a strong focal point in your space. These could be large glass sculptures, backlit glass panels, or intricate mosaics that merge into walls or ceilings. Nonetheless, if you want to avoid the hassle of commissioning an installation, another option is to consider displaying artwork or photographs between two layers of glass instead of using traditional frames. This minimalist approach gives off just enough elegance and sophistication to reveal your commitment and eye for beauty.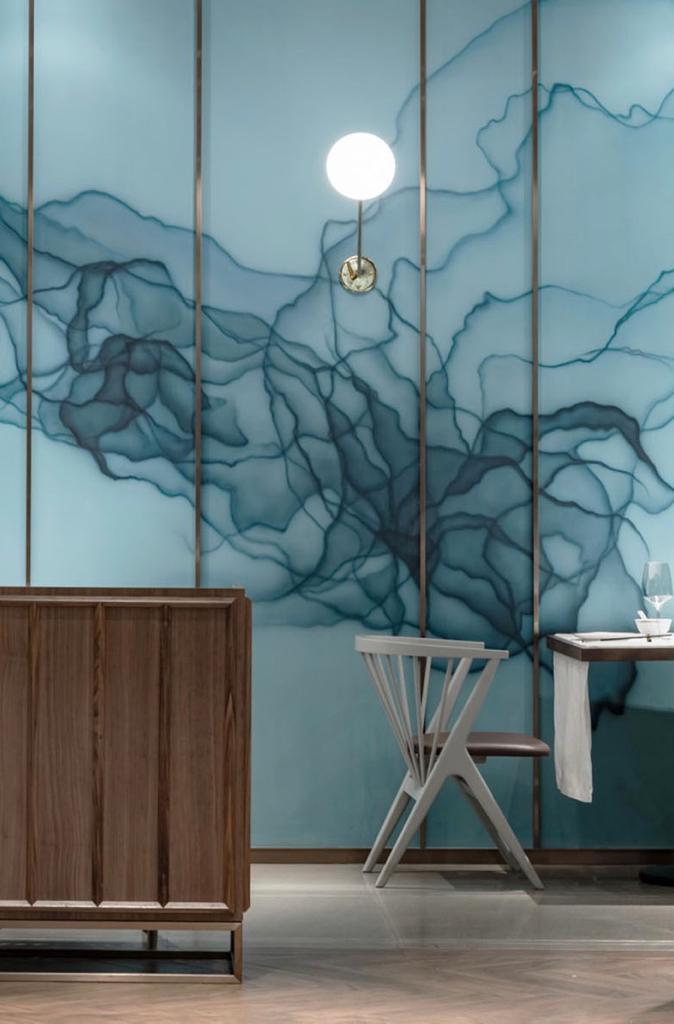 Furnishing with glass
Glass furniture has been a part of our interiors for generations; however modern day designers now provide us with countless of unique and bold pieces that can grace any interior with their contemporary appeal. For example, glass dining tables, coffee tables, or sideboards with unconventional shapes or artistic elements can also be complemented by a modern glass or electric fireplace with a glass enclosure to add an even dreamier and surprising effect. All of these elements have a striking and functional element that makes them relevant to all interiors.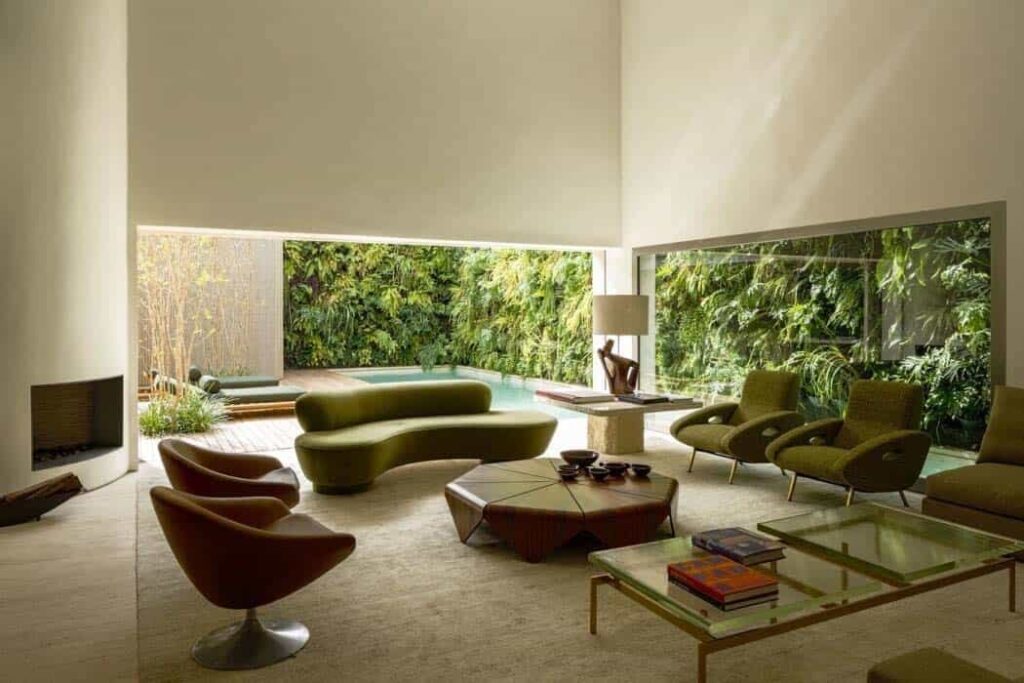 Accentuating walls and lighting
In our growing urban environments a way to refresh one's mind and sight is to open our doors to our surroundings for example by installing full or partial glass accent walls. This will make your space feel instantly larger and brighter as natural light seeps through without any obstacles. Meanwhile, if we also invest in unique glass fixtures for cozier occasions, this can also help transform our interior into a more personal and artistic space. For example, chandeliers, pendant lights, or sconces with unconventional shapes and colors can become the sculptural works of art that define the tone of your home. 
Crafting glass interiors
Glass is and has always been a creative material for interior design as it offers a unique mix of transparency, reflectivity, and versatility that fits various styles and materials. Besides infusing a space with light, a sense of depth, and elegance, it also fosters a feeling of openness that inspires us to craft bold and imaginative spaces where our style can be clearly expressed.
How will you style your glass interior?