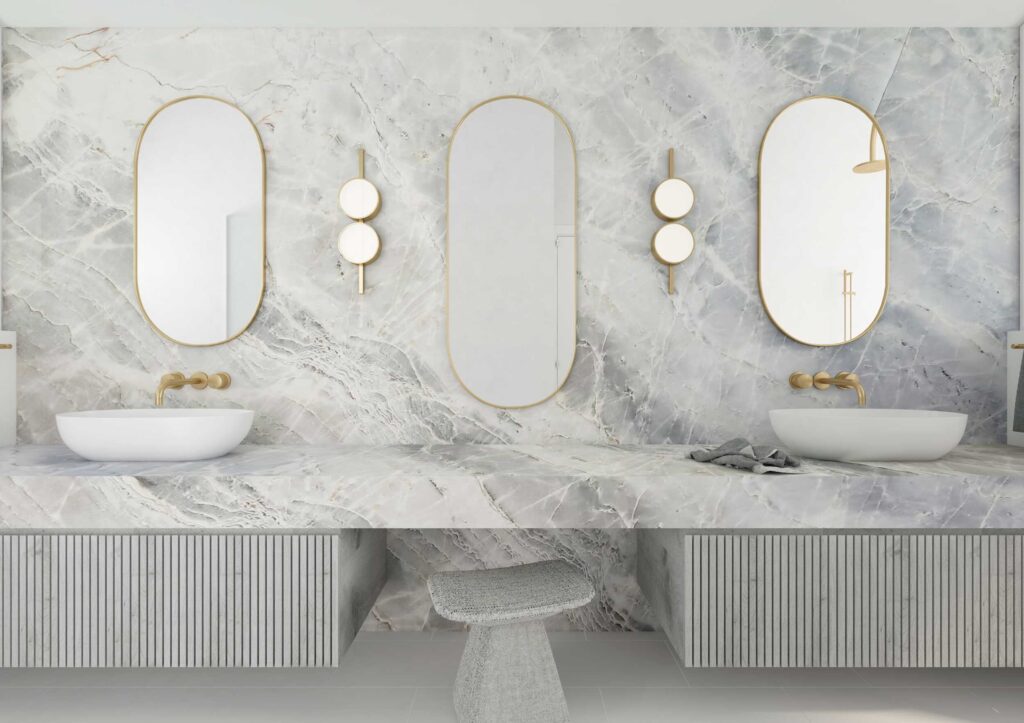 Let us talk about one of the most essential spaces that comprise our everyday lives and yet are often overlooked in conversation; this is none other than our bathroom. In fact, the topic of today can be surprising, somewhat unexpected and perplexing; however, given how important this setting is for our health, self-care routine and peace of mind, it is only fair to acknowledge how their design can also affect our perception of them.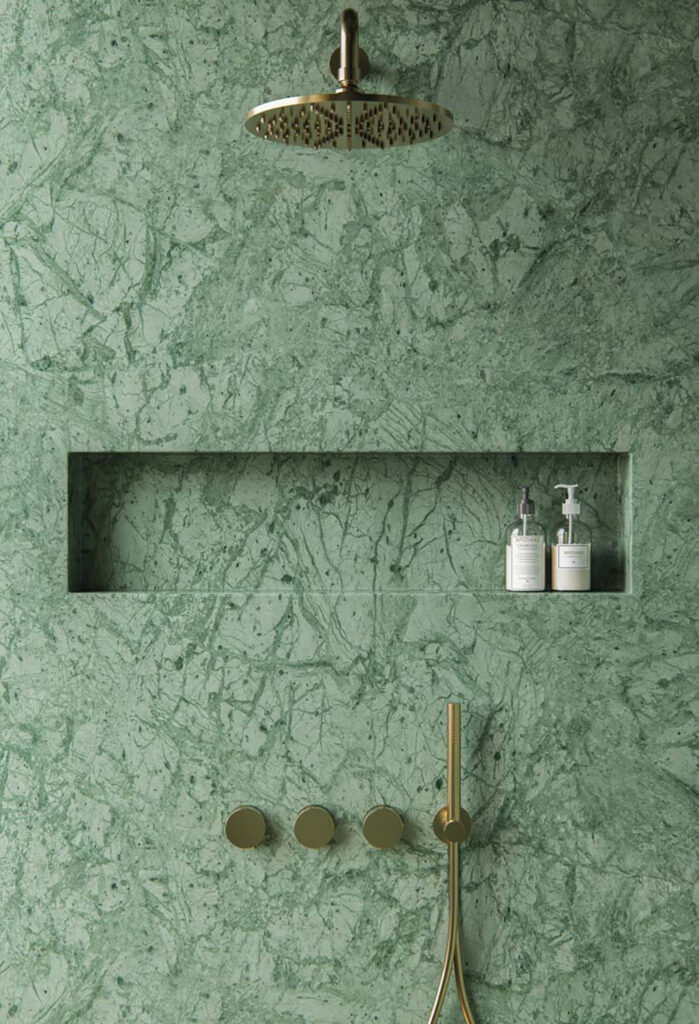 The image that should come to mind is not that of a plain white tiled bathroom with cold stone surfaces and a small window but rather a space emanating cleanliness and luxury like that of the Ancient Greek and Roman bathhouses. Indeed, given that the history of bathrooms began with such extravagance it is only natural that they should retain their beauty and style under a modern twist today.
To help you visualize our goal, we bring you three of the upcoming trends that are breaking the mold of standard bathroom décor by aiming for beauty, comfort and indulgence.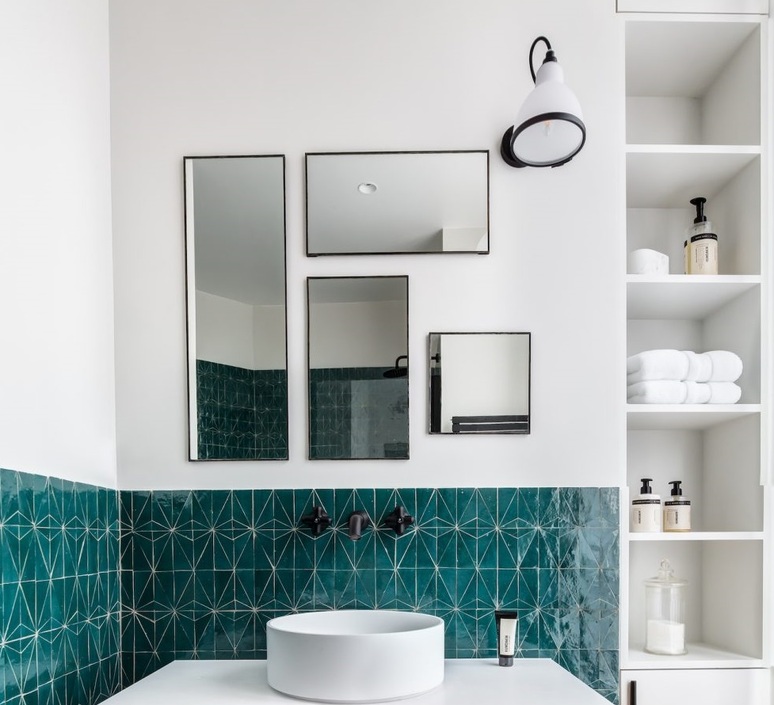 Efficiency through environmental consciousness
This trend recognizes the ethical implications of contemporary design and its obligation to create spaces that can last a long time without adding to our environmental footprint. Modern technologies today have given us the means to practice sustainability at home without having to sacrifice beauty, style or energy. Some of these technologies include electric radiant heat flooring, automatic bath ventilation, motion-sensing faucets and low flow shower heads that reduce our consumption of excess water.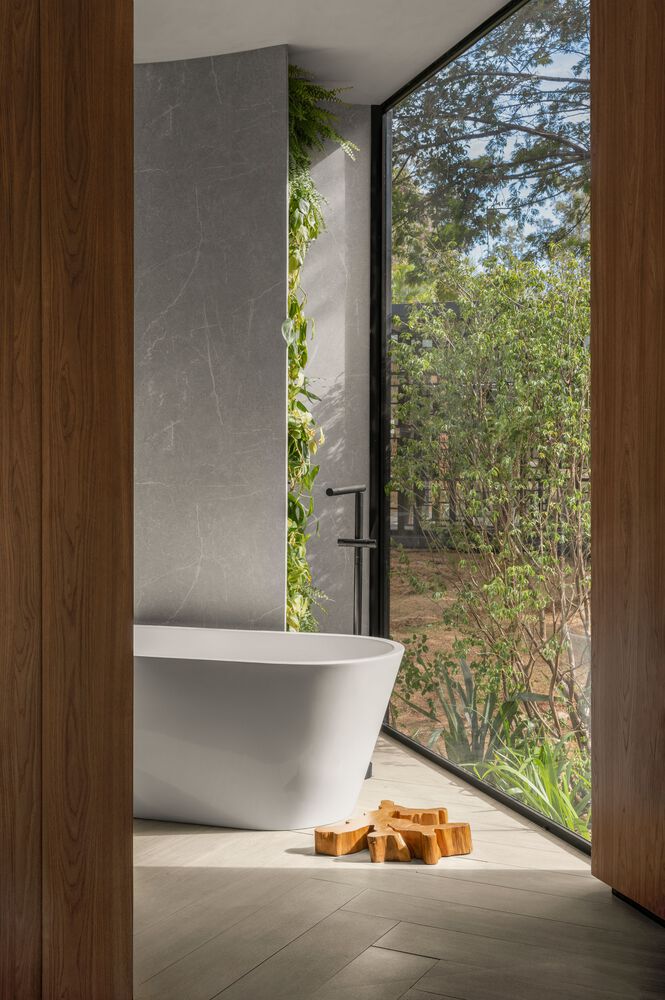 In addition, the construction of a sustainable bathroom must begin with the choices we make, considering product labels, paints, types of materials and their origins. Even the building materials we select can have a positive impact: products like glass, timber, metal, bamboo, straw and porcelain are some eco friendly starting points. Instead of opting for vinyl flooring for example, there are eco-friendly choices such as tile and stone which can even add more elegance to interiors.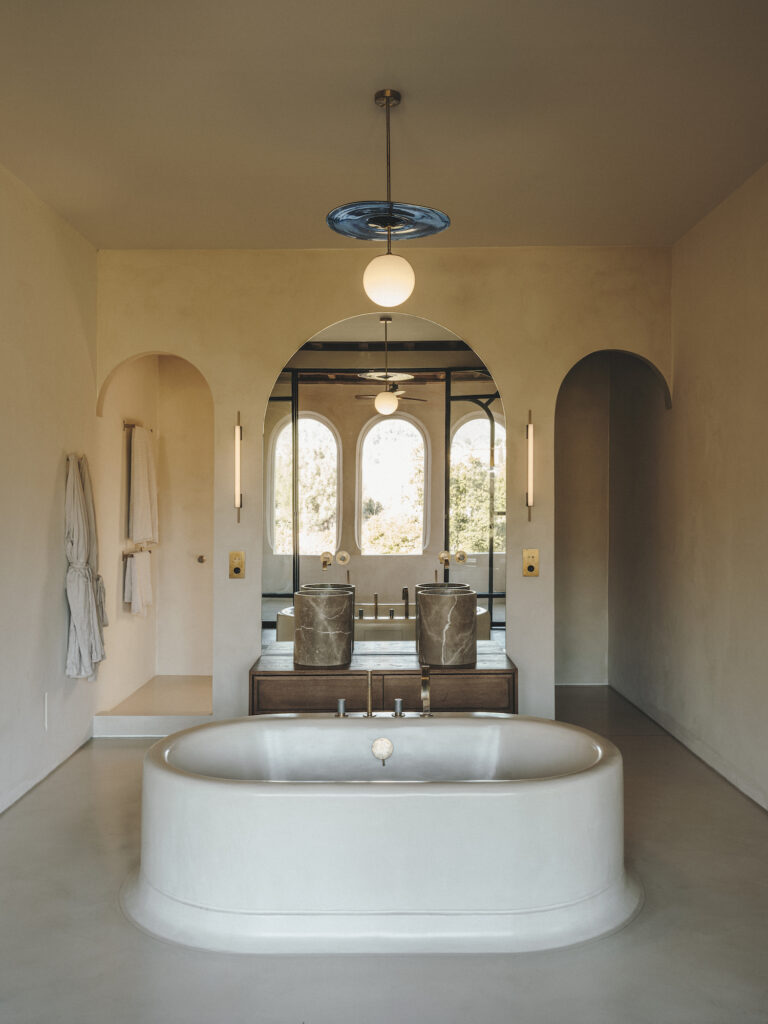 When it comes to paints it is also best to avoid Volatile Organic Compounds (VOCs) which are harmful not only to the environment but to humans as well. Therefore some sustainable brands to have in mind include the following: German company Kaldewei dedicated to reducing plastic waste, the Finnish Woodio minimalist designs for washbasins, washstands and toilets, Hydraloop's filter less water recycling solution, and the Swiss LAUFEN manufacturer catering green and contemporary technology for our bathrooms.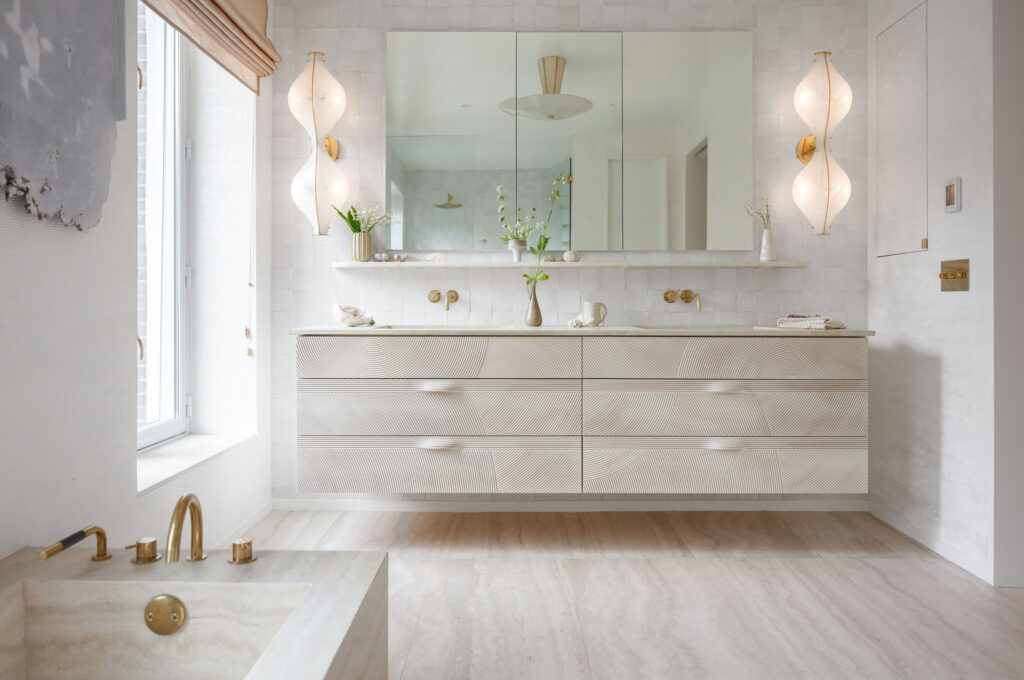 Aiming for the spa experience
While having sustainability in mind, another major aspect to focus on is our own well-being. After a long week of work our body inevitably accumulates considerable tension from the stress of previous days. What better way of releasing this tension than engaging in a full self care routine worthy of a spa day from the comfort of our home? Bathrooms should be more than brief pit stops between activities, they should be personalized spaces that cater to our individual needs.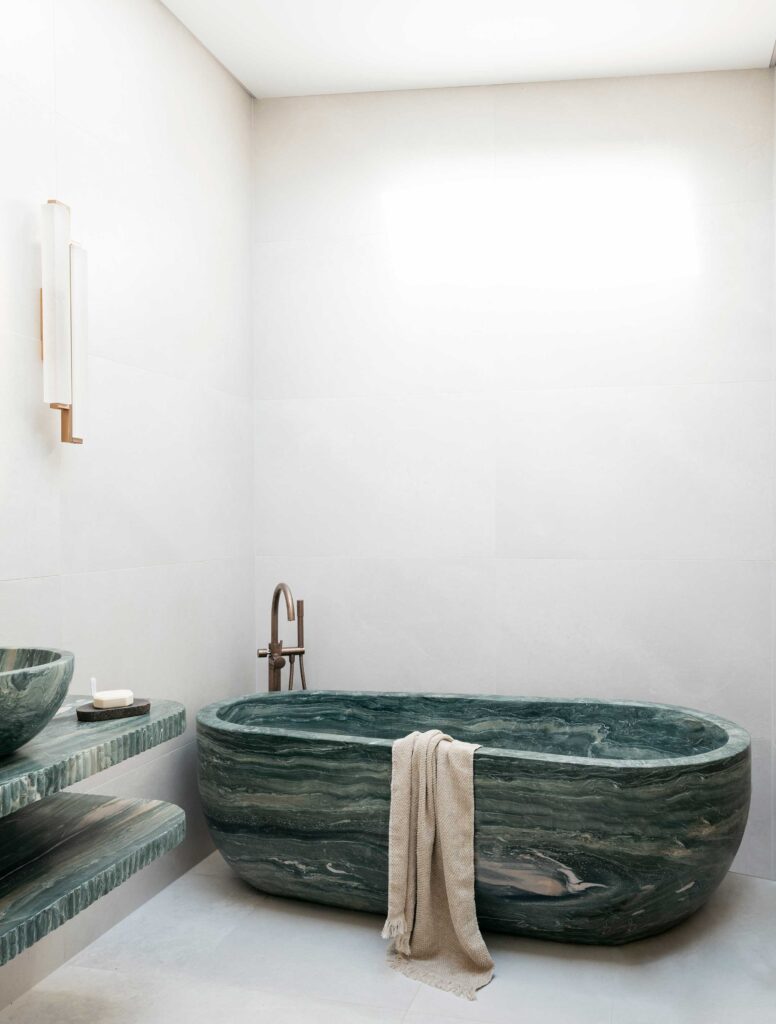 One way of achieving this is by selecting the most comfortable shower design. This can include a marble soaking bathtub strategically placed as the bathroom's centerpiece, steam showers, smart lighting that can be regulated to your needs, a shower bench to encourage a moment of rest, and high quality textures that invite the human touch.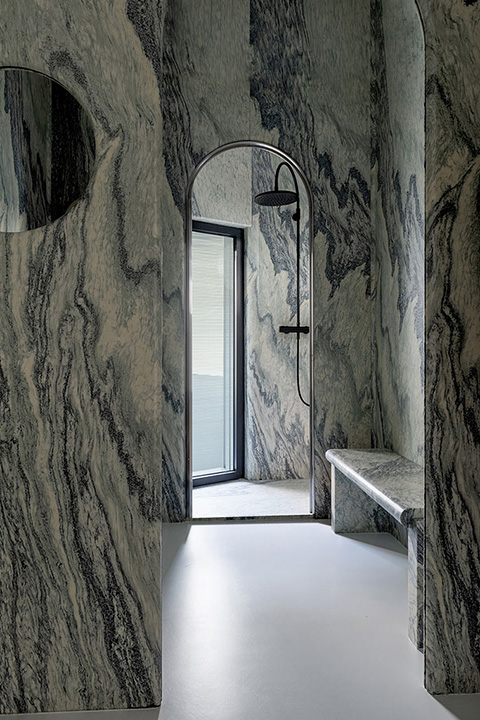 While looking at the individual interior elements we must not forget the importance of also having a good view to immerse ourselves into. One option is to make full use of broad side glass doors overlooking the sunset over the ocean, the dancing lights of a city at night, or the changing colors of the seasons present in nature. If none of these is available, one solution is to bring the tranquility of nature inside with elements that remind you of it: indoor plants, wooden fixtures, earth colors, stone or with windows that allow natural light inside.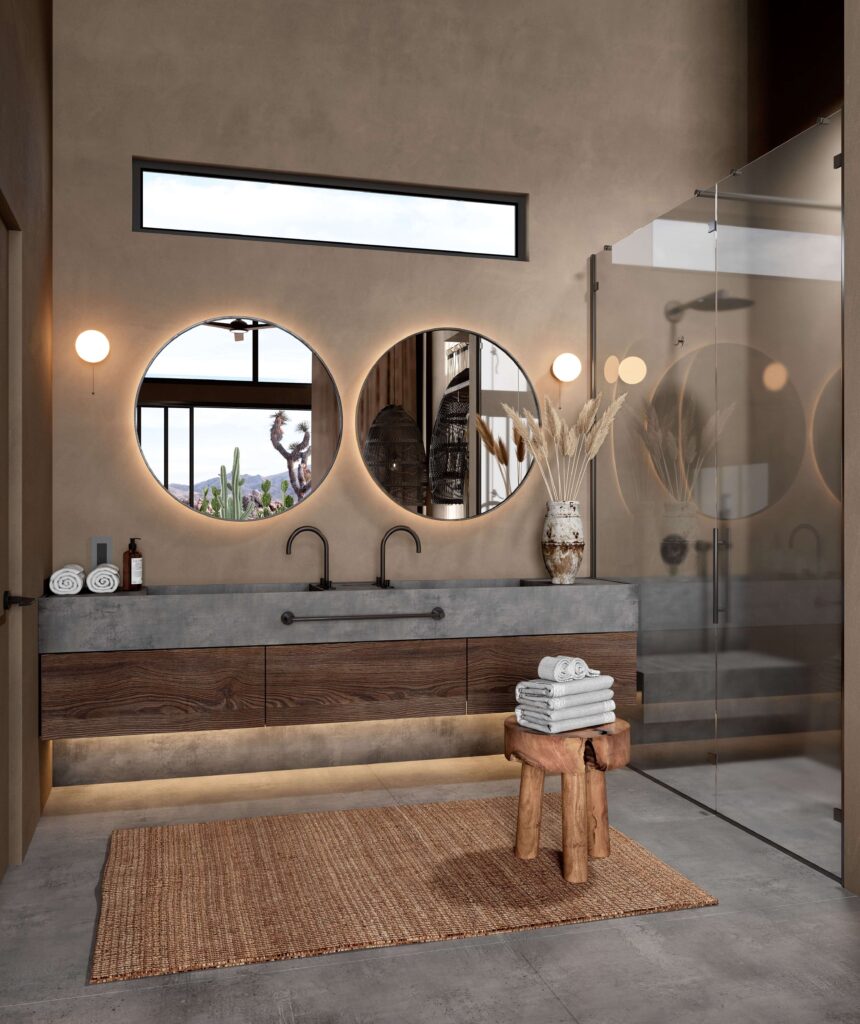 Symmetry before opulence
Symmetrical arrangements are found everywhere from the natural patterns in plants and animals, to the purposeful compositions in classical paintings and architecture. One of the reasons humans are so fond of symmetry is because not only does it soothe our mind but it can also command a person's gaze to specific areas or elements that we want to be noticed. Such focal points in the bathroom can be a sleek walk-in shower, a glossy bathtub or an oversized mirror with back lighting.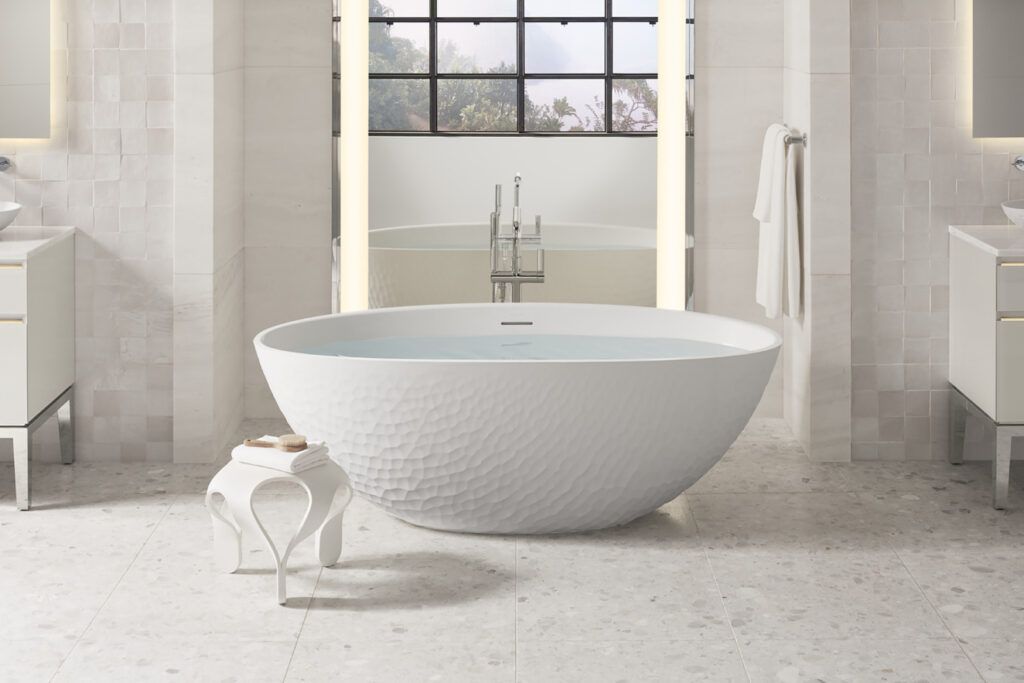 The way to achieve this is through consistency; by keeping the same amount of space between wall fixtures and the vanity area, using right angles to accentuate a geometrical pattern, and selecting a comfortable and harmonious height for windows and light fixtures.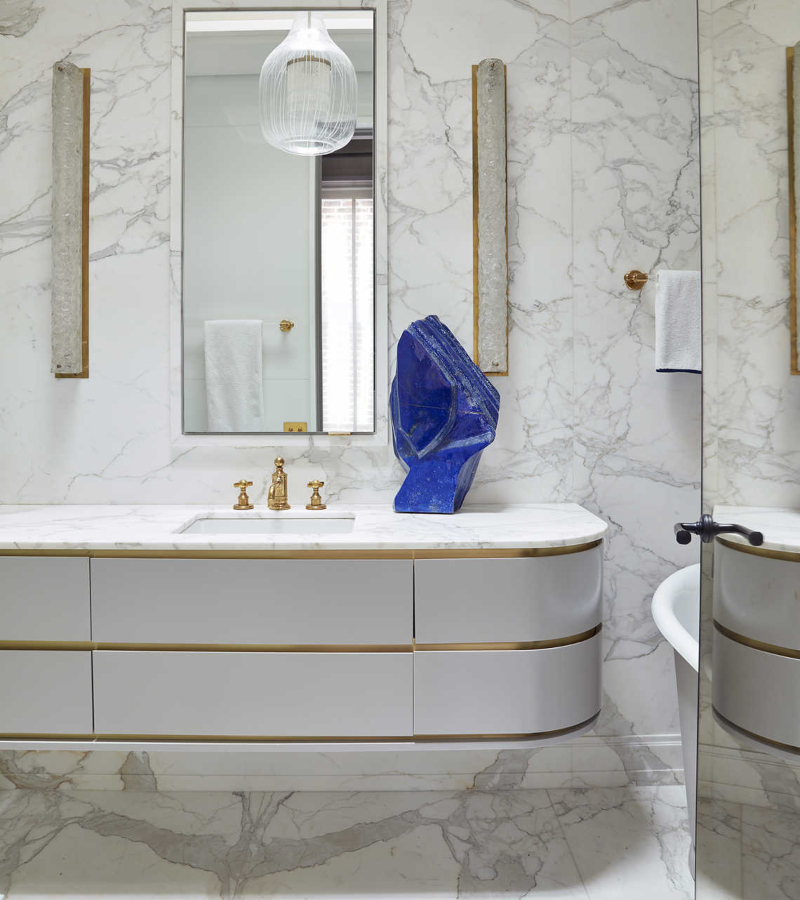 Whether you are decorating with chandeliers, pendant lights, or flush mount ceiling fixtures, these should be aligned carefully with the corners and surfaces of your bathroom furnishings in order to create a fluid and congruent composition of lines. You will be surprised by how much a balanced design can impact the allure of your bathroom.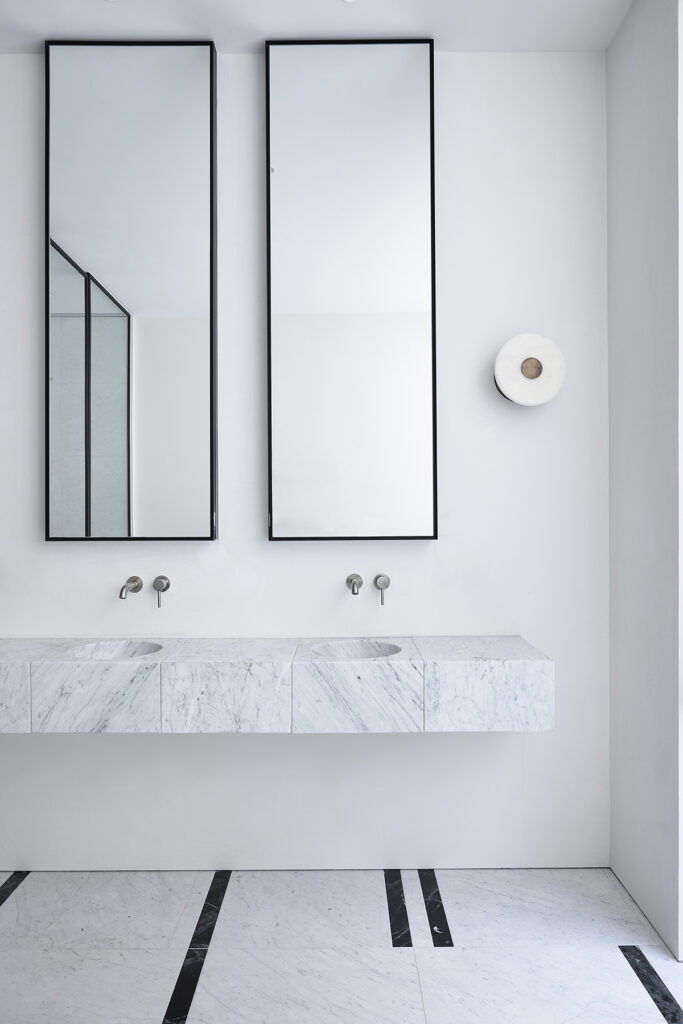 A note on bathroom design
The trends we have discussed today are only a few of the approaches one can take today to acknowledge the potentials of bathroom decor. The most important message we want you to take from this is that taking time for your well-being often starts with the spaces we choose to spend this time in. Therefore, having a comfortable, inviting and charming bathroom is a decisive factor to determine the kind of experience you want to have during your private time so why not make the most out of it?