One of the World's Finest Residences can be found in Miami Sunny Isles Beach. The beachfront estates have been rated a Forbes Five-Star and an AAA Five-Diamond Hotel in addition to gaining international recognition for its classic praise to art, luxury and architecture. This description belongs to The Estates at Acqualina, developed by the Trump Group whose influence in the city's architectural growth has been rapidly increasing.
In addition to the world-class amenities, impressive structural features and buoyant surroundings, the Acqualina community also counts with another attribute that sets it apart from other top-rated residencies. The towers' interiors have been embellished by an exemplary character from the fashion industry, a man with an unparalleled eye for design: the Kaiser, Karl Lagerfeld.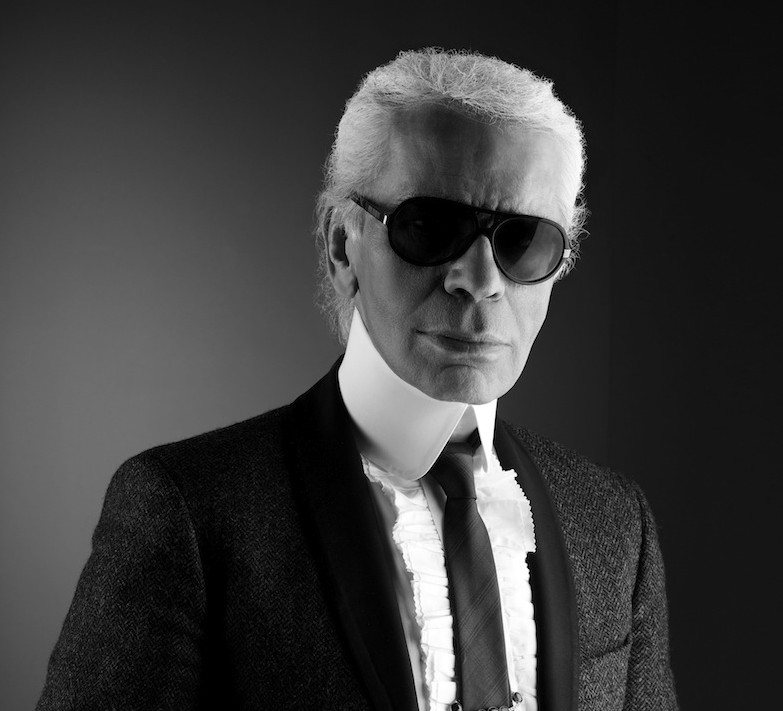 The multitalented designer, fashion campaign photographer, editor, and artist who recently passed away on February 19. 2019 in Paris, has left behind him a monumental legacy that encompasses more than one artistic field. The Acqualina development was the first condominium project in the United States to display part of Lagerfeld's creative gift through the finishes, custom features and furnishing which he envisioned as part of a "Modern over-scale project". The Estates are evidence of a man's quest to capture art in all its expressions and the Trump Group has made this possible by welcoming his singular style in the creation of unique interiors.
"Whether it's the entrance to the hotel, the fountains, the front on the street, whether it's the extensive landscaping or the infinity pool or the interiors, we really focus on each feature, and we make a feature out of each of these,"- Jules Trump, developer and owner.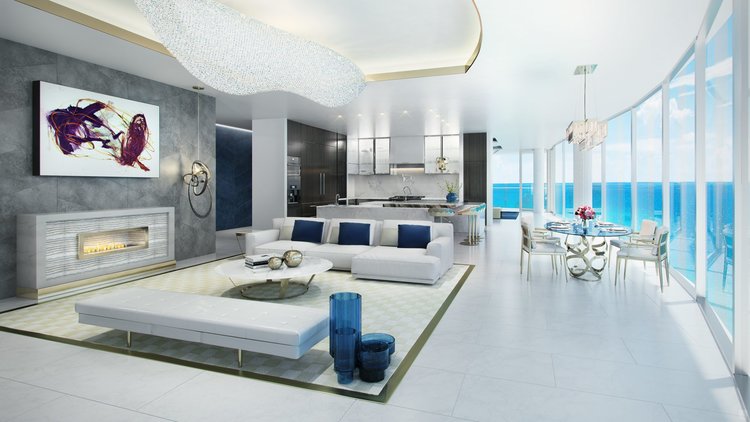 Sky and water mold the surroundings of Acqualina residents. The location of the two 50-story towers ensures that all 247 sophisticated residences count with unobstructed views of the stunning Atlantic Ocean in all its different phases of splendor, from morning until nightfall. Visitors and residents have direct access to these sights from their bedrooms, living and dining rooms and even from the master baths thanks to the expansive windows which make up part of the buildings' sleek and elegant composition. Rather than displaying the estates' structural features as independent components, the towers were designed to coincide with their surroundings and to strike a balance amongst each other. This harmonious effect is marked with a layout consisting of a connecting Palladia Villa followed by a sequence of slender columns, European-inspired loggias and abundant gardens which appear transported from a fairytale.
Karl Lagerfeld's name overflows one's mind with a myriad of his accomplishments, most of which have to do with fashion houses such as Balmain, Fendi and Chanel. Another image that will remain forever embedded to his name is that of his personal style- a sharp monochrome suit and tie, the sleek silver ponytail and black sunglasses. Today we give you one more picture to envision when you hear a reference to this legendary figure; however, before diving into the luxurious interiors of the Estates at Acqualina, we must begin by deciphering the nature of the man who has endowed them with life.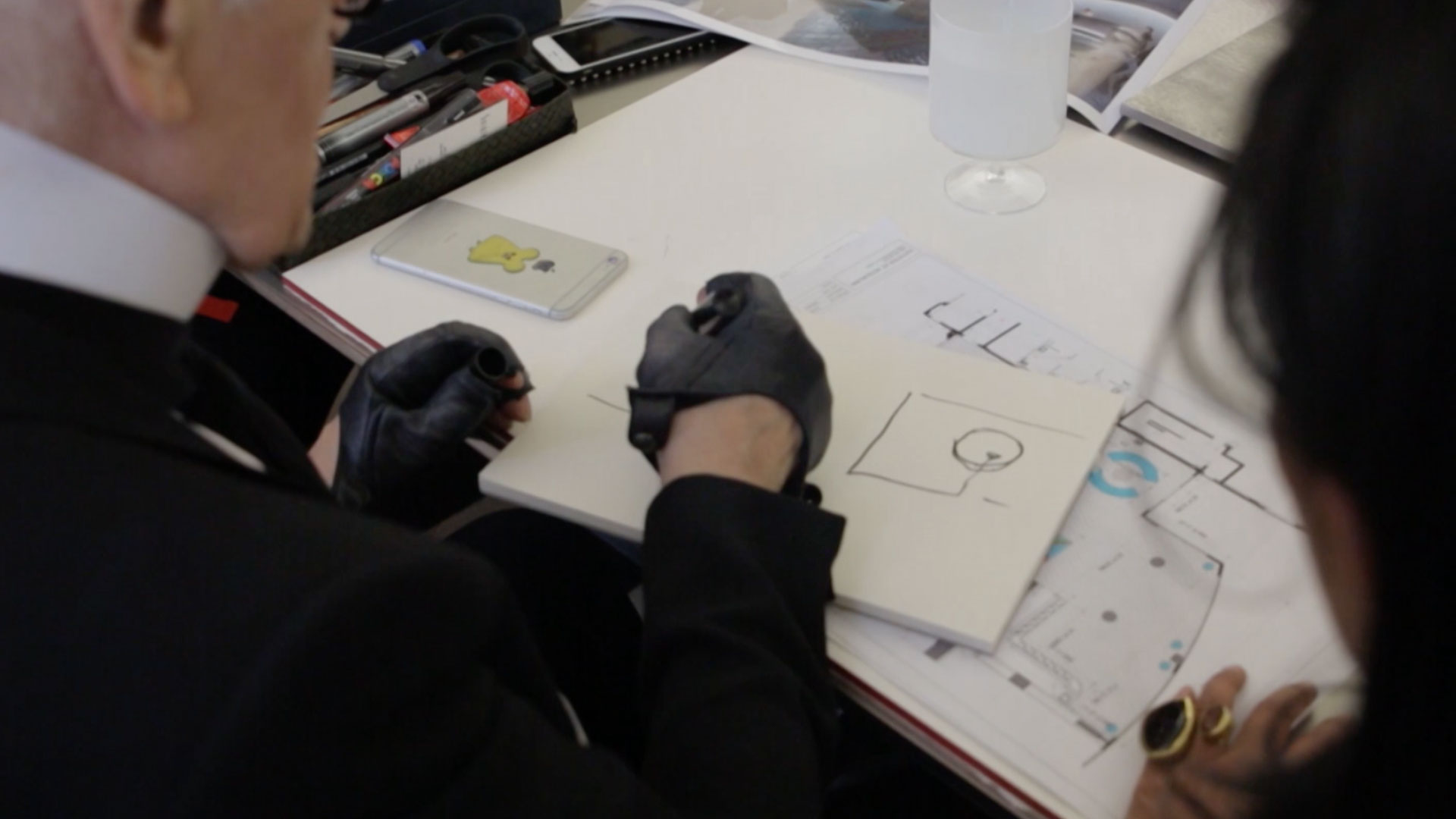 This description has its beginnings in a time when there was no fashion 'Kaiser', only an ambitious young man from Germany with a passion for design and a prolific talent that led to the start of an early career. At only 16, Lagerfeld was already working in France for Balmain and later on he became one of the first fashion freelance designers; displaying an active and progressive nature that led him to work for numerous brands such as in Germany, France, England and Italy. His role as creative director for the Chanel and Fendi fashion houses and the revolutionary impact he had in both brands earned him international recognition as an esteemed figure in the contemporary fashion culture. The creation of his own brand in 1984 has also introduced today's public to modern designs that merge the timeless elegance of Parisian styles with a pop twist featuring stylish rock clothing. This cutting edge philosophy has been precisely what the Estates at Acqualina aimed to provide their residents with through its incomparable interiors.
"In Miami, I was inspired by Art Deco, but filtered through my taste so it doesn't look like what you'd expect. The colors arc pink and gray, and the floors are metal, and of course, there are fountains- I love fountains. I also love crystal chandeliers like a cascade."-Karl Lagerfeld.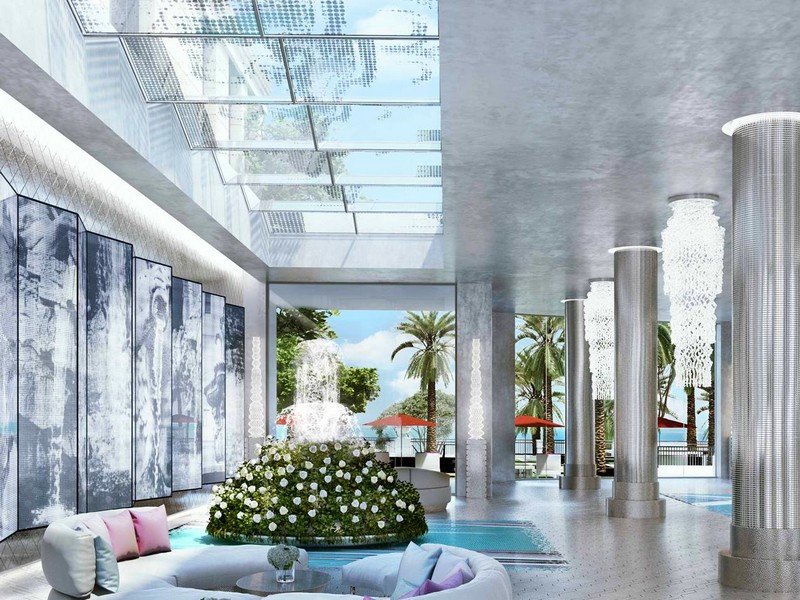 A first-hand glance at the towers' lobbies is enough to transmit the sense that one stands surrounded by the product of exceptional endeavors carried out with a striking attention to detail. A predominant silver tone is etched into the wide ceiling, sleek columns and the patterned walls and floor; thus casting a shimmering effect as the daylight seeps from the glass panels that stretch above the reception area. In a similar manner, delicate, round mirrors reflect the light that emanates from the floor-to-ceiling windows that provide a thin boundary between the modern interiors and the exuberant greenery of Miami's tropical ecosystem. Part of this natural element still manages to permeate among the lavish whites and greys in the form of a fishtail sprouting fountain styled with an abundance of white roses. The indoors' grandeur is further magnified by the addition of elaborate Swarovski chandeliers and oversized black and white photography hovering above the arrangement of modern lustrous sofas.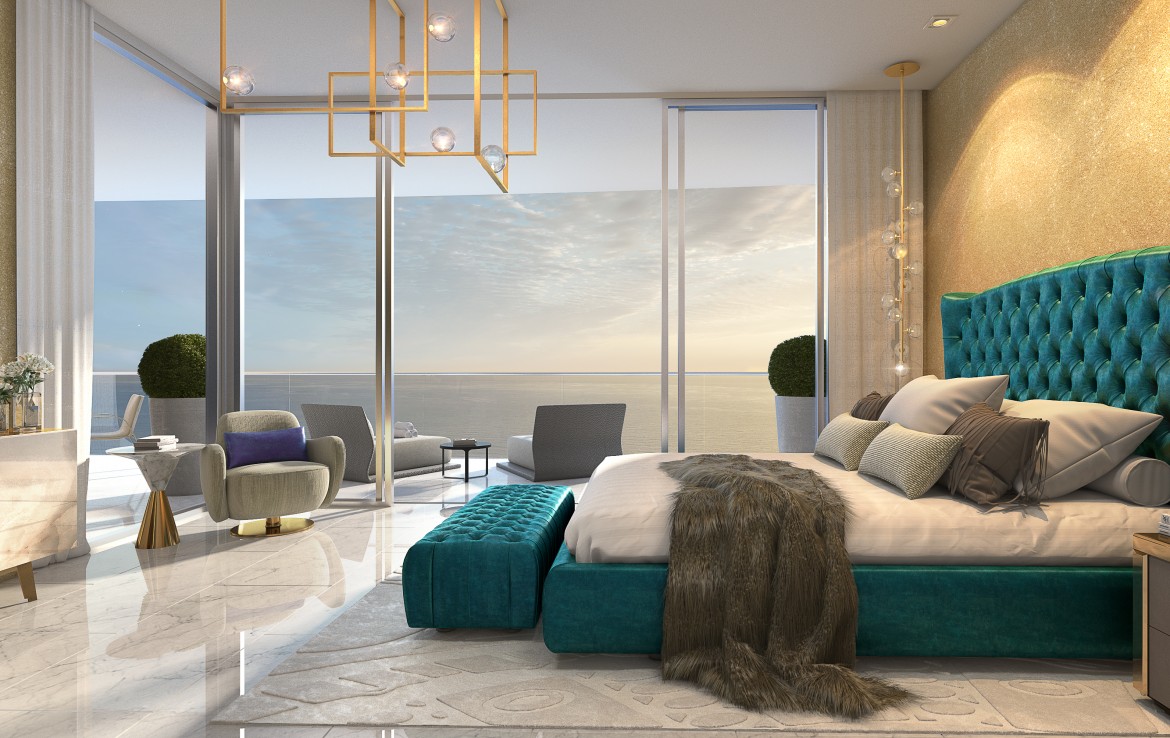 Beyond the luxurious space conceived by Karl Lagerfeld, one-of-a-kind residences await the viewer. Interiors play with unexpected texture combinations relying on stained marble, dark polished wood, and glass among other materials. Common areas and residences are lined with contemporary artwork, onyx countertops, custom-furniture and upgraded appliances. Single-family homes and penthouses include additional features such as a private pool, spa and sauna stretching across the curved balconies. A list of the development's amenities seems unending: it counts with numerous diversions provided by an ice-skating rink, a movie theatre, bowling lanes, sports courts, multiple swimming pools (including infinity pools), and even a Formula One racing simulator. The Villa also offers space for the 10,000-square foot restaurant, a Speakeasy, spa and fitness centers and the Mediterranean-inspired sculptured art gardens.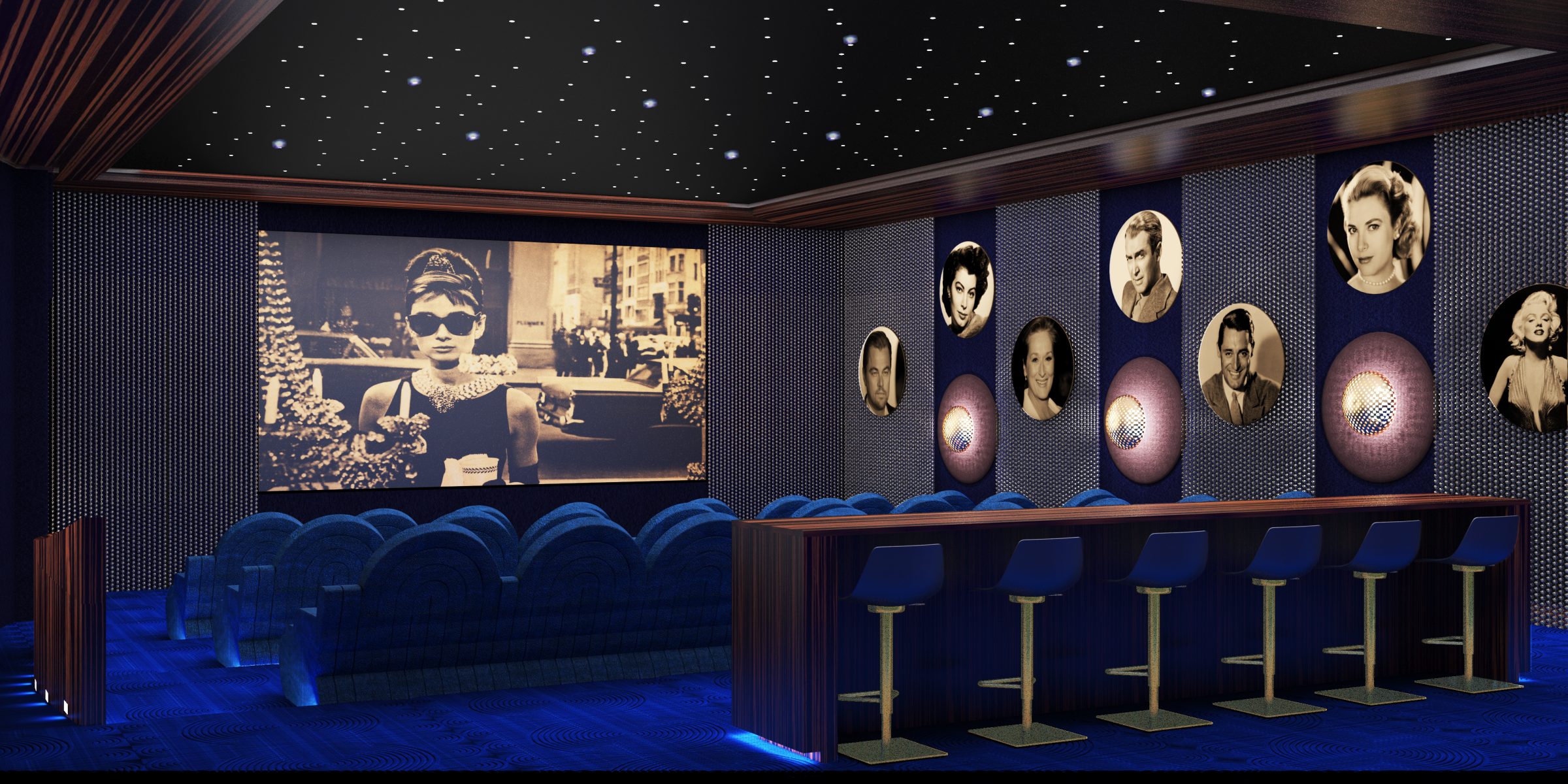 Although the Acqualina lobbies have not been Lagerfeld's sole interior design project, they did allow him to dive deeper into a world that coexists with fashion and is yet considerably different. In turn, the Estates gained a significant trace of his uniquely modern style which today not only enamors anyone who comes across its splendor but it also offers residents a one of a kind luxury experience. Lagerfeld proved that he had more to offer to the public than what his profession had originally prepared him for. He did this by approaching space as he would fashion; both as representations of the human essence and its undeniable link to creativity.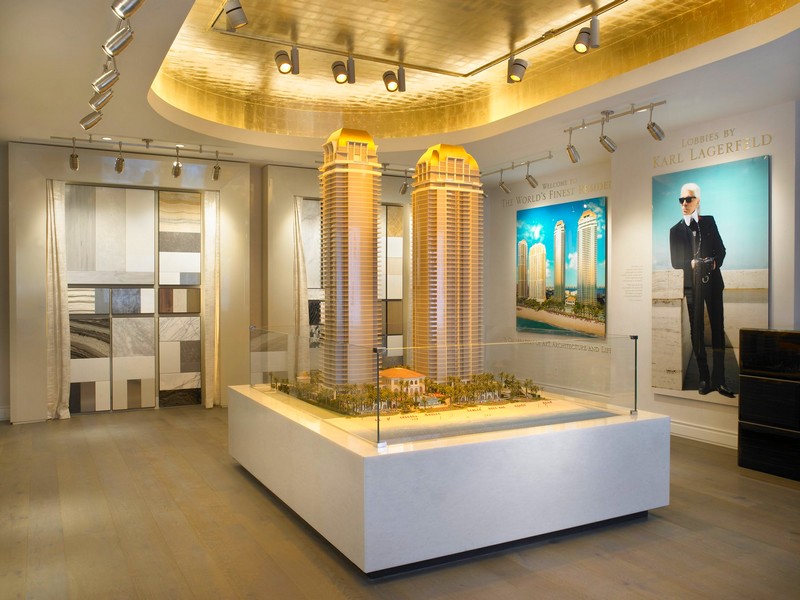 "Fashion is one thing, but I approach interior design as if I'm making it for myself"-Karl Lagerfeld
The Estates at Acqualina are therefore, a representation of an artist's passion for beauty through the fields of architectural design and fashion. This rare combination has not only transformed the residence development into a treasure valued by its visitors and inhabitants but it has also redefined the components of architecture and interior design by revealing their undeniable connection to the world of haute couture.