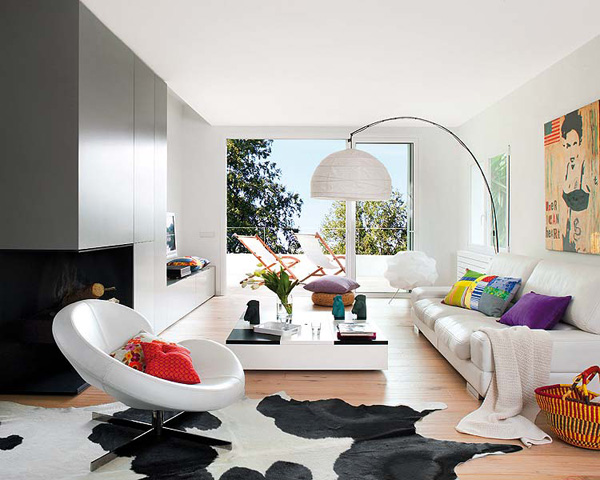 There is not a better feeling than completing a project such as your old home into a new modern spectacle; relieved that the budget attached was well spend.
The house, I am presenting today, has been recently renovated and is fully adapted to the modern way of life. The design of this outstanding two-storey villa, is located in Barcelona, Spain and is created by architect Joan Arnau Farrás of studio 05 AM Arquitectura.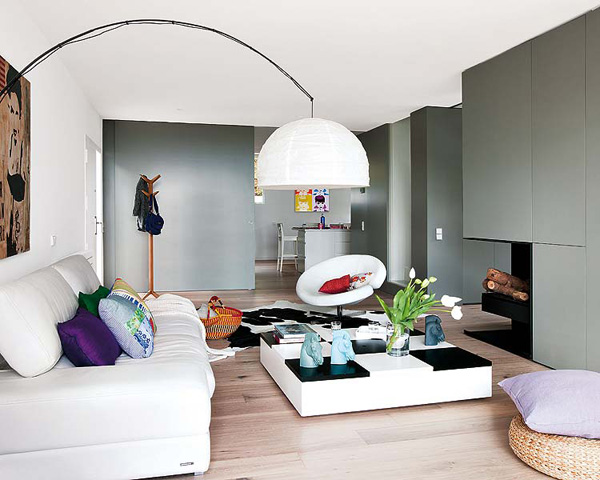 Unique custom furnishings adorn the interior spaces while the external part of the house delights the senses with the fresh air, warm sun and beautiful views of Barcelona. Inside, the white walls and oak parquet; a unique setting of the beautiful simple-symmetries and the bright colored decor . Black and white cowhides interact harmoniously with the yellows reds and purples. Most of the main custom furnishings are kept in white giving a way to the vibrant colors to majestically thrive .
Most of the walls of the first floor were removed leaving large open spaces with a lot of light . The living room is open to the kitchen cabinet s and to the staircase that leads to the bedrooms contrasting the grey with the white . The use of the oak wood flooring brings warmth to the apartment while keeping a light palette and colors to flow. A project tastefully executed; the interior is a unique example of the use of solid and void, light and contrast , volume and linear. This is a proof that not always a new home is a better home! We love the outcome and applaud the talents created it….