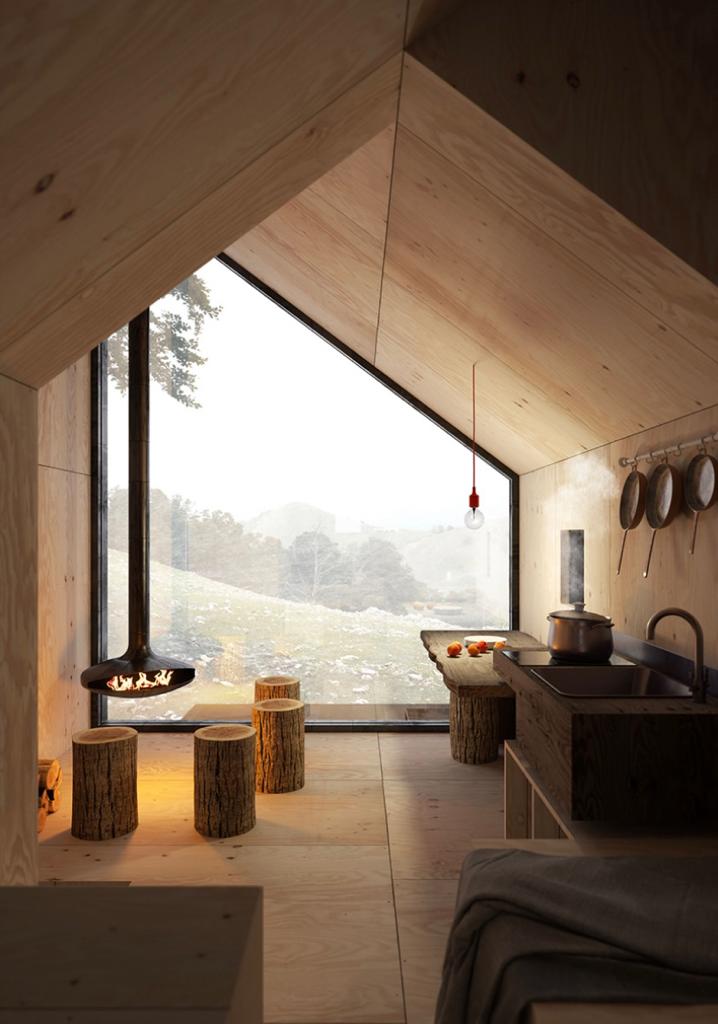 Have you ever imagined what our cities will look like 20 or 50 years in the future? Sci-fi books and movies have given us plenty of possible scenarios with towns filled to the brim with skyscrapers housing countless rooms, flying cars, and crisscrossing bridges that almost seem to have no end. Among these imagined cityscapes we can also observe a common feature with the present that reflects the innovative and forward-thinking qualities of our contemporary designers. This is none other than the capsule home- also known as a micro apartment, which offers self contained units with essential amenities within a small footprint.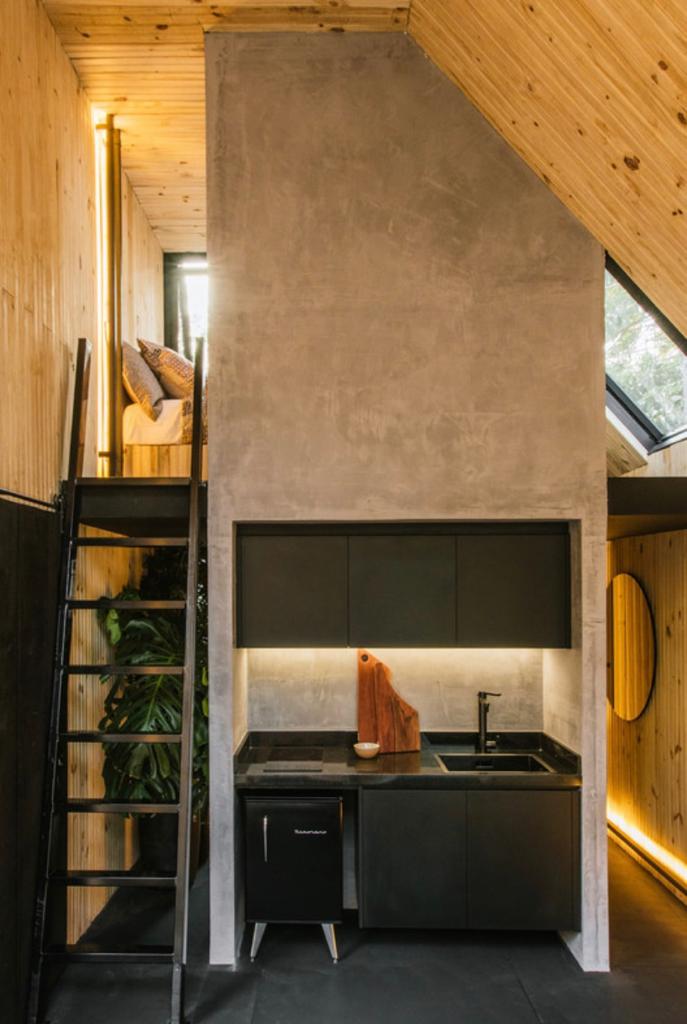 These compact living spaces that we are used to hearing about in Japanese design magazines for their popularity in mega-cities like Tokyo, are also beginning to form part of the environments closer to home. Whether as sustainable hotels, holiday cabins, or peaceful and minimalist retreats, capsule homes showcase creative design solutions that epitomize modernity and innovation by prioritizing functionality without compromising comfort or aesthetics. Thus, to paint a more detailed picture of the appeal held by capsule homes, we will look at the features that grace their smart and compact interiors.
Designing a capsule interior
We first invite you to step into the hypothetical living area of a standard capsule home and rest in the convertible sofa upholstered in a skeel gray leather. Above it rests a curated collection of books, small potted plants, and a minimalist clock supported by floating shelves. On the opposite wall we can admire the room's reflection in the full-length mirror that surprises us with a hidden compartment for shoes and accessories. The same practical approach is visible in the space-saving foldable table with stackable chairs illuminated by the warm glow of a pendant light. Adding to this sense of warmth, we also have textured throw blankets and mucions in neutral tones that invite us to relax in this comfortable seating area.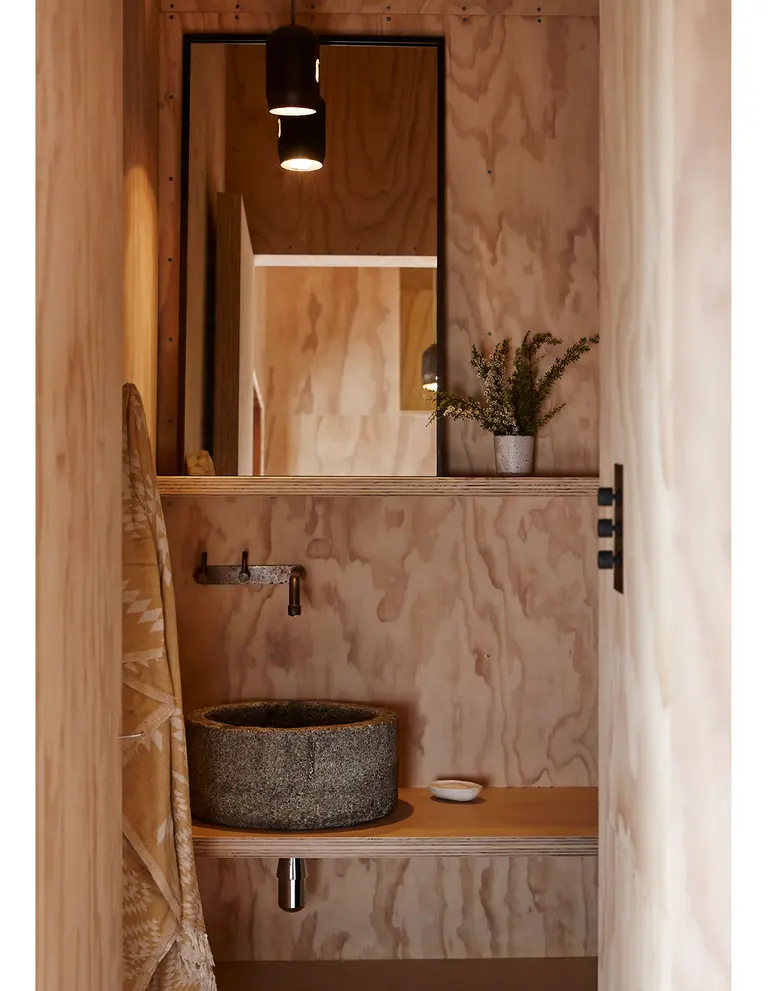 Multipurpose furniture
Among the most distinguishable features we can find in the interior described above is the use of multipurpose furniture such as a sofa that can be converted into a bed, or a dining table that doubles as a workspace. The appeal of these pieces lies in their ability to seamlessly integrate style with space-saving design offering versatile solutions that adapt to diverse needs. This type of furniture not only optimizes the use of space but also effectively reduces clutter, promoting a creative use of the available room.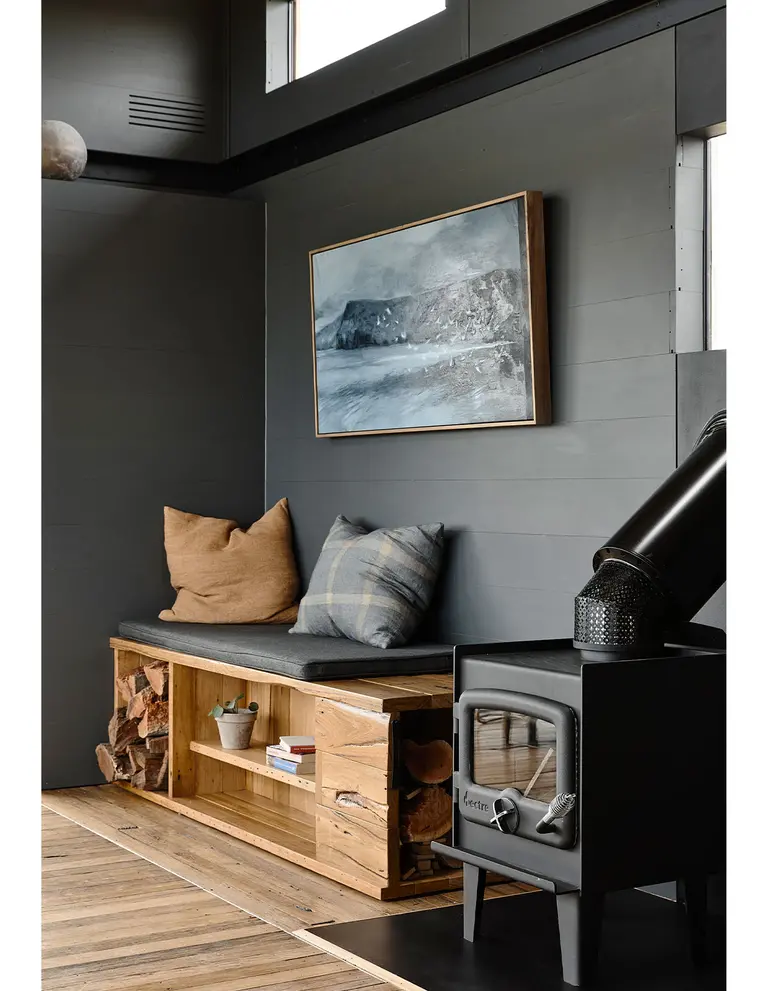 Adapting our perception of space
Rather than viewing the space within capsule interiors as limited, one can take a creative approach and consider the many possibilities that spaces actually offer. To maximize the use of our surroundings we can incorporate features such as floating shelves on walls to save floor area and provide room for books, décor, and personal belongings. Meanwhile, to modify a space through the magic of perception, one can always rely on mirrors and their ability to visually expand a room and reflect light, making the interior feel larger and more open. For example, a full length mirror designed with additional storage behind it, allows us to discreetly store away our belongings while also enhancing an interior's appeal.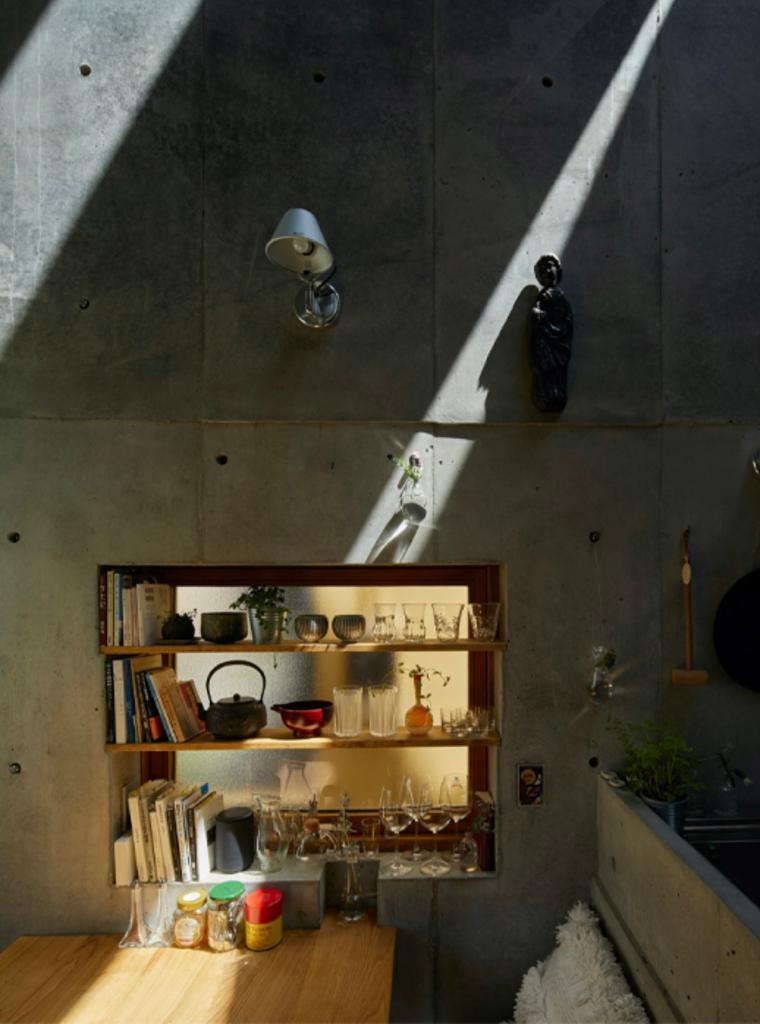 A visual approach
Just like furniture, the colors and textures of capsule interiors play a significant role in upgrading delimited spaces and establishing sophisticated interiors that resonate with our personalities. For example, a neutral color palette is often visible in capsule homes to create a sense of continuity and openness that make spaces feel more airy and clean. Smooth, neutral wall panels, furniture, and large surfaces provide a clear backdrop, making a room feel uncluttered while offering a classic touch.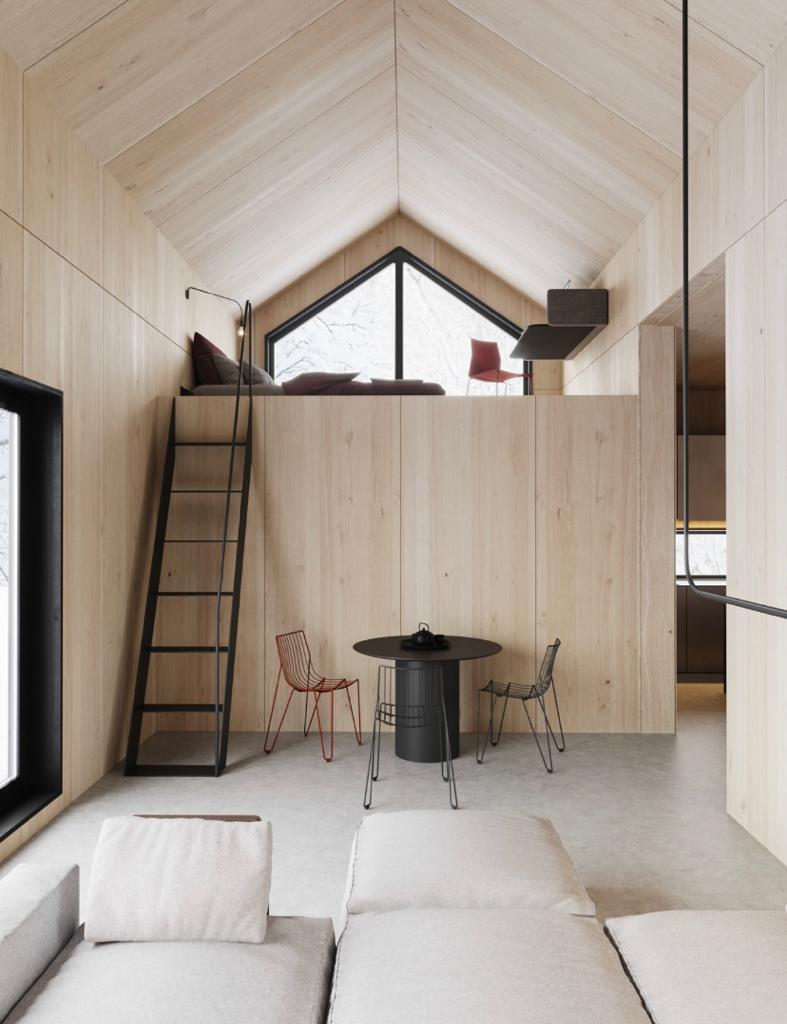 Similarly, clever lighting such as wall-mounted or pendant lights can also save floor space and create a desired ambience when combined with the right colors. Picture an industrial style interior composed of exposed light bulbs that cast a warm glow over black cabinets and lined wooden beams.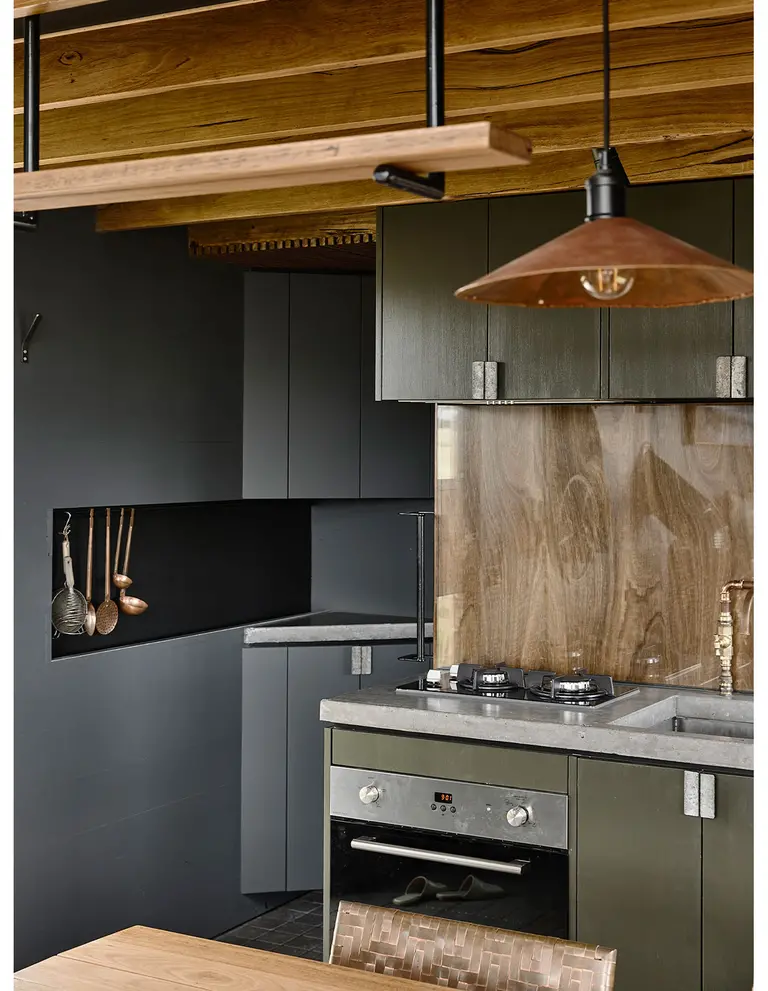 Room for extras
In some cases, having extra features can actually benefit our use of space and the comfort we feel within interiors instead of becoming a hindrance. Among these features, textiles in the form of lightweight curtains, rugs, or cushions add a supplementary sensorial appeal and warmth without overwhelming a space. Following the same logic, additional features such as foldable and stackable furniture that can free up spaces or sliding doors which create separate areas with minimal effort.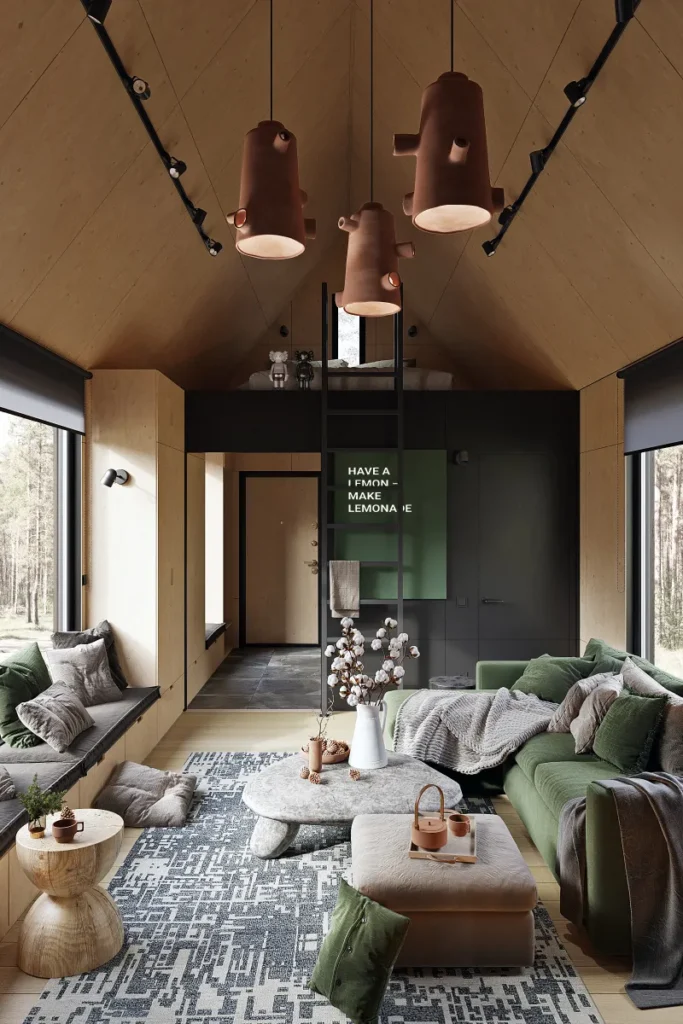 A final look at a capsule interior
This tour through a capsule home comes to an end precisely in the same place where one can drift in peaceful relaxation at the end of the day: the bedroom. In this compact space, the centerpiece becomes a raised platform bed with built-in storage drawers underneath. The monochromatic textured wall above it provides enough dynamism without overwhelming our eyes. Meanwhile, a vertical shelving unit serves as both a bookshelf and workspace, equipped with a fold-out desk. By looking closely you will also spot a hidden storage ottoman at the foot of the bed and a hanging pendant light that softly illuminates the small indoor plant that adds a natural essence to the room.
With this approach, capsule interiors provide the future solutions to the challenges posed by limited space in urban environments and a sustainable alternative to respect our natural surroundings by occupying less space. This is how we can push the boundaries of architectural and design innovation through a harmonious blend of minimalism, convenience, and sustainable living.