Miami's Brickell financial district is the epitome of a sophisticated lifestyle inspired by the modernity of the urban cityscape. Its streets are brimming with high-end shops and boutiques, fine dining and cafe options, corporate offices, and cultural activities. A vital feature that highlights this futuristic image of luxury is the architecture- thus explaining how Brickell establishes itself as an urban landmark thanks to the innovative buildings that foreshadow the promising fate of design.
The 45- story Flatiron located in the core of Downtown Miami is one of such major contributions to the district's contemporary scenery. Its delicate curvilinear form not only embelishes this popular neighborhood and the skyline but it also sets the stepping stones for the next wave of visionary minds who are eager to strengthen Miami's cosmopolitan environment and businesses.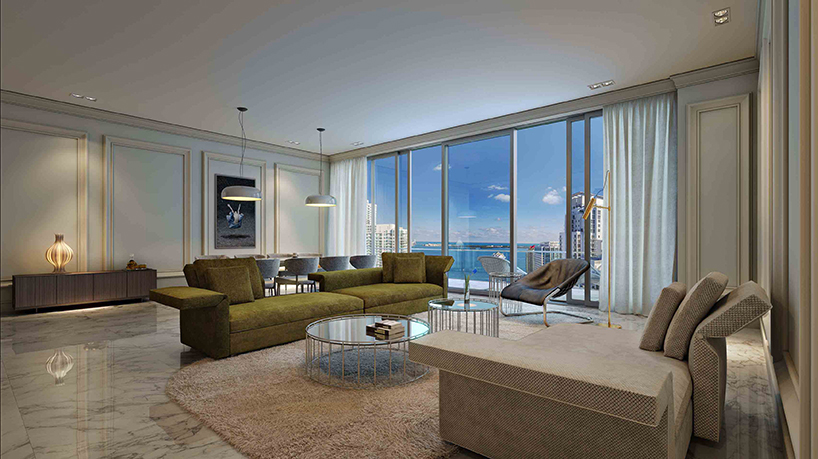 At 736-feet high, Flatiron offers its residents unobstructed bay views as well as sights of the animated Mary Brickell village and the Brickell City Center. This development by Ugo Colombo projects the harmony between Luis Revuelta's structural design and the interior architecture by Massimo Iosa Ghini. The outcome is a stately figure of expansive glass curves enclosing a dynamic space that lends itself to the creation of unique experiences through first-rate services, a variety of relaxing activities and glamorous furnishings.
Flatiron is, in fact, an embodiment of the long line of residential and commercial projects that have preceded it. This is visible in the way that Ugo Colombo, one of South Florida's major developers, projects his years of experience and the professionalism that characterizes his firm, CMC Group, unto Brickell's landscape. His creative flair is recognizable across Brickell Avenue, Miami Beach and Aventura with iconic buildings such as Bristol Tower, Santa Maria, the Waldorf Hotel and Casa Grande, just to name a few.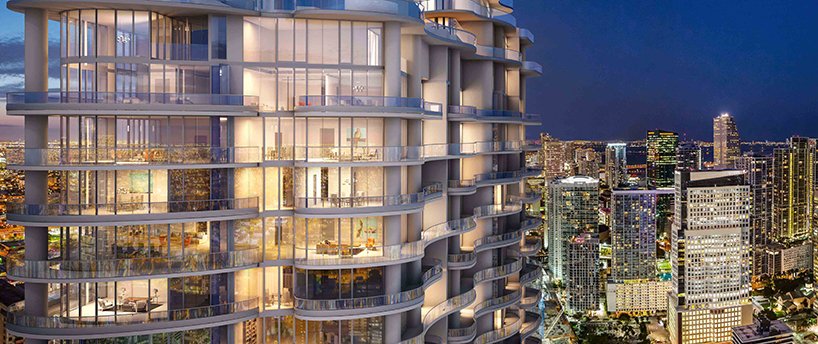 Another crucial figure, also familiar to Miami, who greatly influenced this project has been the interior architect, Luis Revuelta. Over the years his work has unmistakably impacted the city's image as a nexus for avant-garde projects. Among Revuelta's most modern designs one comes across the EPIC Residences & Hotel, Bristol Tower, Porto Vita-North, Jade Residence and Il Vilagio among others. During an interview with the Cultured magazine, Revuelta revealed a particular component that is represented in all his projects:
"I always strive to create in our buildings a sense of movement in an otherwise static, concrete object. In the case of … the Brickell Flatiron, we were able to create…an intertwining geometric design of the balconies, symbolizing a wind-driven movement effect on the façade of the building—thus creating this "kinetic feel."'- Luis Revuelta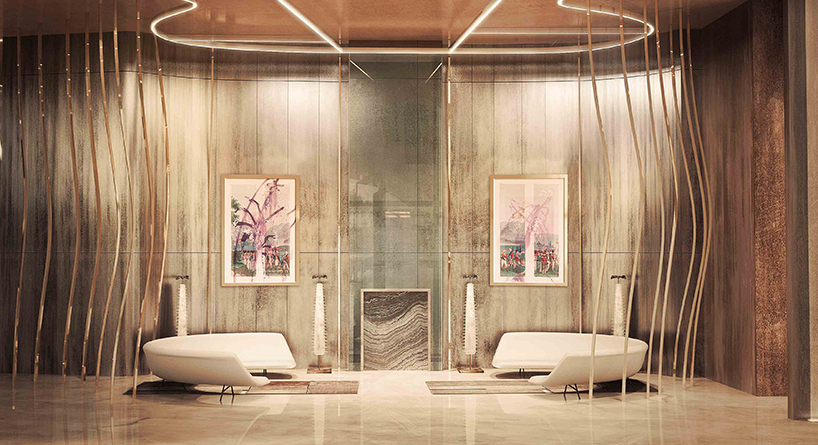 The relationship between a static form and the kinetic energy of its surroundings that Revuelta looks for in his creations is especially present in the Flatiron complex. All the possible angles of observation allow the tower to take on a different form, drawing inspiration from Miami's urban and natural components. From a distance its highly industrial and elegant appeal draws the eye of the beholder. The condos' surface imitates the sea's movement with wavelike crests formed by the elliptical balconies with glass railing and floor-to ceiling windows.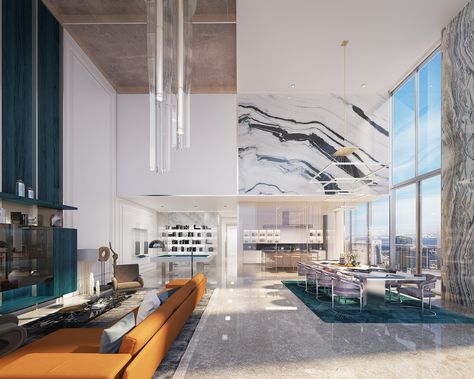 This beautiful composition is complemented by the work of interior architect, Massimo Iosa Ghini who blended the tower's interiors with the architectural elements crafted by Revuelta. His Italian-based company works on the international level with projects destined for commercial and residential spaces, museums, public spaces and structures for transportation. Among his most popular designs one can find the Ferrari stores across Europe, Asia and in the United States, the Boscolo Group New York Residence in Budapest and the Garage San Marco in Venice.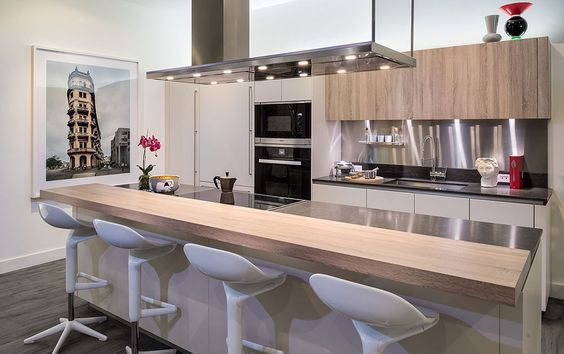 Ghini's approach as seen in the Flatiron development shifts the spotlight to the smallest of details- from the incorporation of custom designed cabinetry, stainless-steel appliances and Italian fixtures to the use of more more visible elements like marble flooring, lighted mirrors and hurricane proof glass doors. Everything comes together in the formation of surreal public spaces that play with movement and light to create a futuristic yet welcoming environment. Likewise, glass, metal, and wood coexist in this hypnotizing configuration encapsulated within each residence. The overall composition explores the singularities of modernity and translates them into a something tangible and visually appealing; nonetheless, it does not lose sight of the primary idea of 'home': a refuge unique to each person that shelters a collection of personal memories and experiences.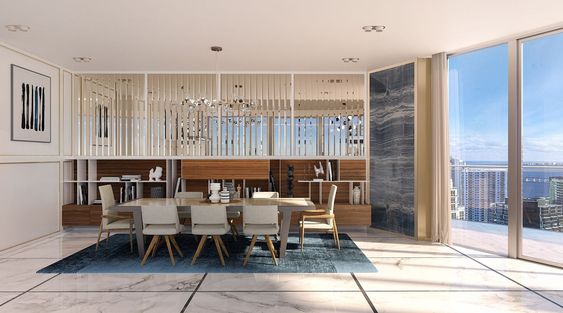 "When planning a project, we begin from the inside. We pay particularly close attention to detail…We build our projects with the end user's best interest at heart. Our goal is to design a home and an enjoyable living space."- Ugo Colombo
The design of this ideal living space culminates with the incorporation of high-standard amenities that seem to be inspired by a utopian concept of the future. The building's rooftop alone counts with a number of conveniences such as the Sky Spa and a gym which allow residents unwind and focus on their health while enjoying Miami's best views. Likewise, the rooftop pool and garden generate a lively and wholesome ambience that situates residents in a natural paradise. Other sophisticated features can also be found in the 17th and 18th floors including a theater, an exclusive clubroom, lounge area, billiards room, children's pool and playroom and an outdoor lap pool.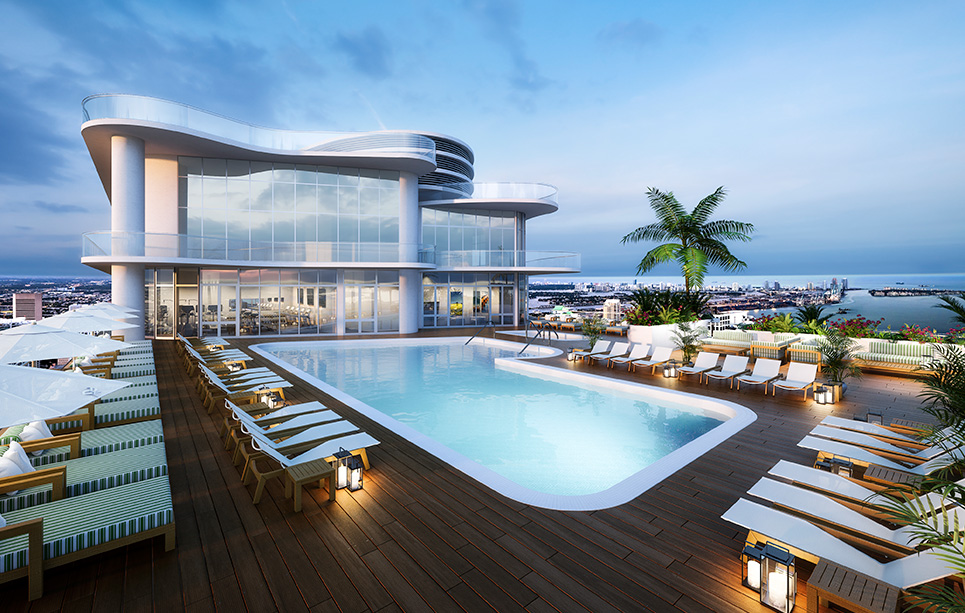 Admiring from afar such developments of remarkable character is simply not enough. Their sumptuosity and prestige might make them seem like visions ahead of our times and in a way they are, but this only means that the future is closer than it seems. One must embrace buildings like Flatiron as contemporary symbols of the present and take part in the modern reality they are helping construct.
"Ever since we delivered Bristol and Santa Maria, and later EPIC, Brickell has been emerging as one of the most desirable residential neighborhoods in the world. Today, Brickell is a cosmopolitan district that embraces Miami's unique breed of tropical urban living." – Ugo Colombo