We may not always be aware of it but every day we find numerous ways of honoring what was once an idea, someone's first sketches, blueprints and eventually something to call our home. One can sink into the linen bed-sheets of a queen-size bed overlooking the sapphire blue ocean and rest with the soothing sound of the tide or enjoy an exquisite dinner at a hotel's world-class restaurant; both are different ways of appreciating the comforts a building has to offer. Miami provides countless of such opportunities with luxury condominiums and recognized hotels that transform the city into a modern sanctuary for its inhabitants. The SLS Lux and SLS Brickell hotel are quality examples of architectural works of art that that grant people several opportunities to enjoy the best that design, art and lifestyle have to offer.

The Related group and Sam Nazarin have brought to the Brickell neighborhood the unparalleled masterwork of Arquitectonica, interior designs by the Yabu Pushelberg and partnership and Philippe Starck and contemporary art from figures like Katja Loher, Fabian Burgos and Fernando Botero. Separated by a few blocks, the SLS Lux skyscraper and the SLS Hotel & Residences are located in the South Miami Avenue and surrounded by prominent shops and restaurants from the Brickell City Centre and Mary Brickell Village. The towers are also conveniently positioned at the center of the brimming cultural life near the Museum Park, Design District, American Airlines Arena and with quick access to the Miami International Airport.
Envisioned and developed by Sam Nazarian in 2002, the SBE lifestyle hospitality firm creates and supervises some of today's most notorious hotels, residencies, nightclubs and restaurants. Among the list of 20 hotels and 130 entertainment and food outlets, some of its most popular proprietary brands include the Delano, Mondrian, Redbury, Hyde Hotel & Residences, Hyde Lounge and Skybar, and The Bazaar by José Andrés. The luxury services Sam Nazarian offers can be found in his various SLS hotels in Beverly Hills, South Beach, Las Vegas and The Bahamas.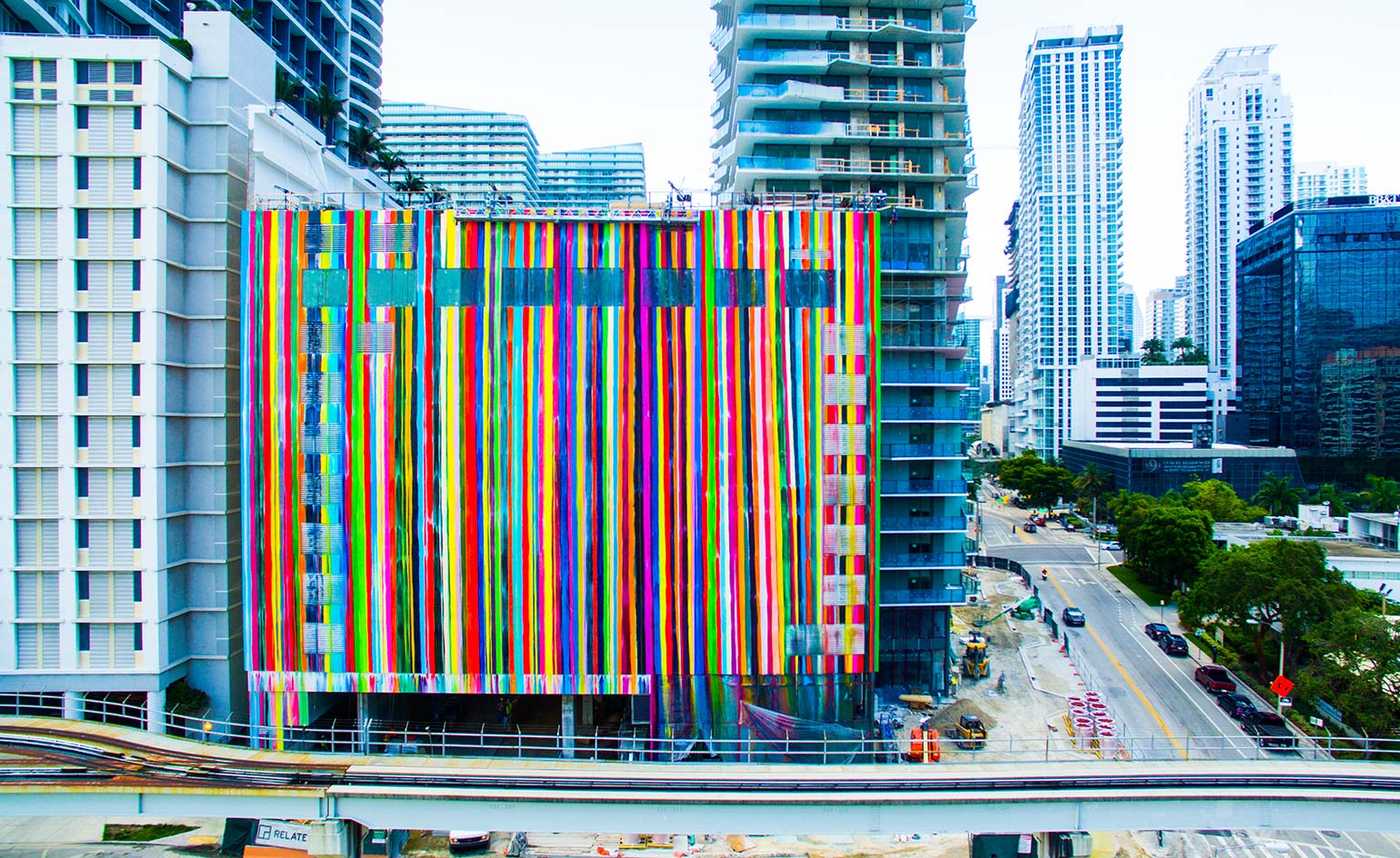 What to expect of SLS Brickell
A partnership with Florida's renown Related Group developer, led by Jorge M. Perez, resulted in the creation of the SLS Brickell; one of Miami's top destinations for visitors in search of a relaxing paradise endowed with the benefits of the urban landscape. Residences and the hotel's 124 rooms envelop quests within Philippe Starck's refined interior design. Every surface of the spacious interiors is efficiently arranged with an open-concept kitchen, floor-to-ceiling glass walls, walk-in closets, sleek furnishings and porcelain floors. Guest rooms are administered with all the comforts of a high quality hotel: elegant furniture covered in linen and clear colors, wide balconies overlooking the city and waterfront, and soft lighting to complement the natural sunlight.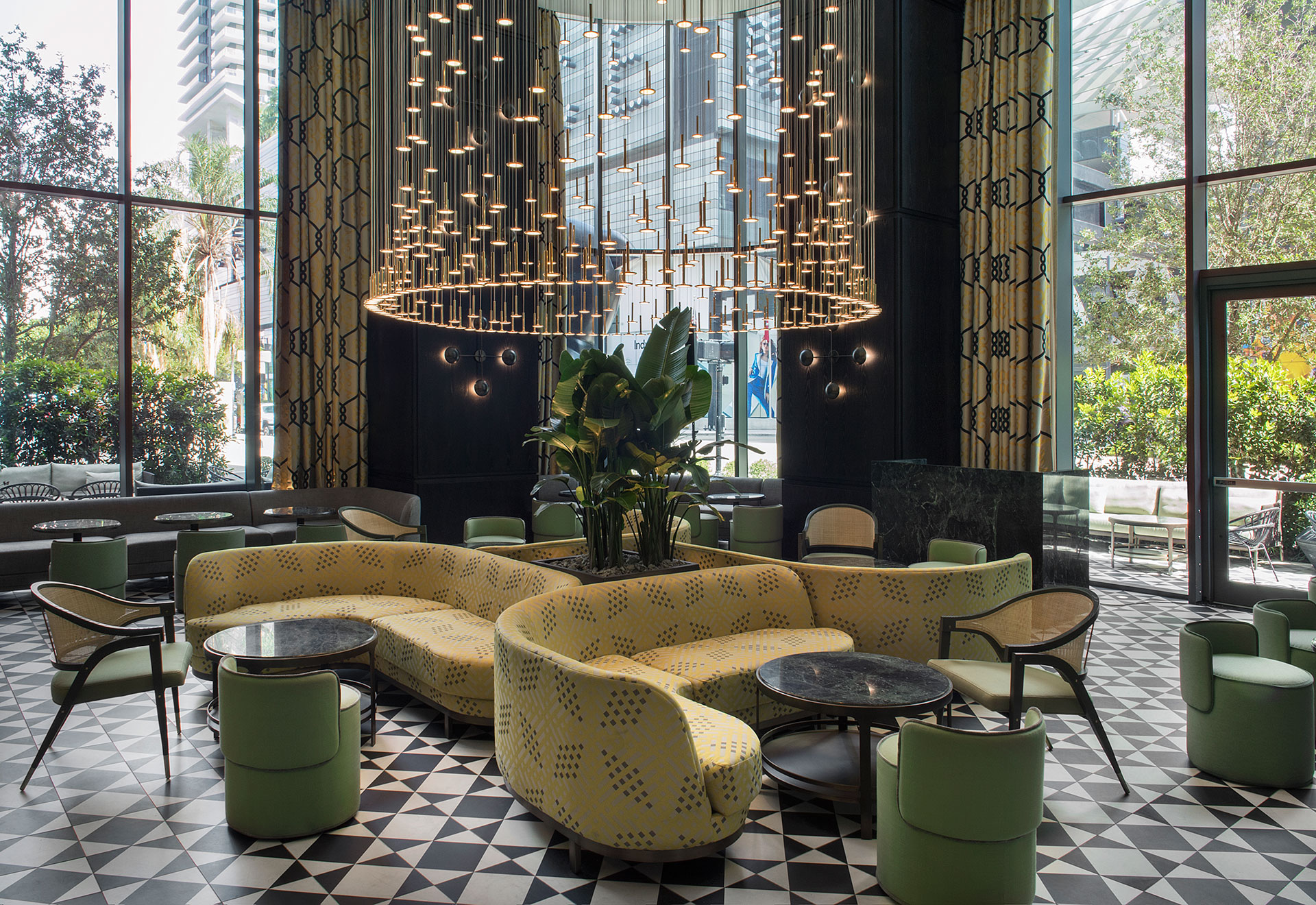 SLS Brickell encourages you to treat yourself with fine cuisine and soothing treatments. The hotel houses the Fi'lia Italian restaurant serving artisanal handmade bread, pasta and pizza and the SAAM lounge, also designed by Philippe Starck, which transmits a welcoming and laid-back atmosphere brought to life with earthy tones, soft fabrics and leather furniture. Amenities by Ciel Spa encompass massage treatments, sauna rooms, a co-ed steam room and relaxation lounge while granting guest direct access Delano Miami Beach, the Altitude Pool Deck and a world-class Fitness Center.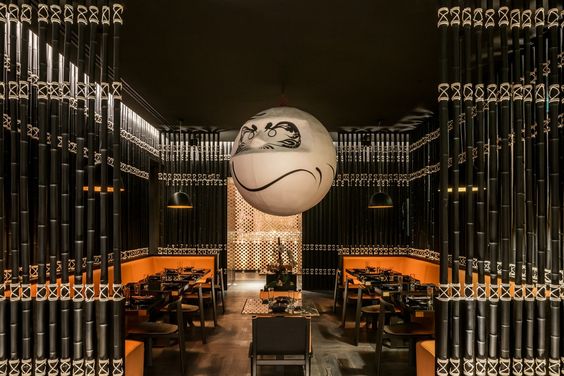 SLS LUX
On the other hand, the SLS LUX rises at 57 stories which are divided among 450 residence units and 84 condo-hotel suites. Surprisingly, it is not its height what draws one's attention to the monumental structure but rather its LED covered facade developed by artist Ana Isabel Martinez. The lights follow a diagonal pattern as they climb across the building's surface, giving it a surreal air during the night when its glow diverts people's attention from the nearby city-views. An equally impressive feature is the interior design produced by Yabu Pushelberg; a firm developed by George Yabu and Glenn Pushelberg in 1980 with a focus on the innovative design of buildings, interiors, landscapes, furniture and even graphics and lighting. Their studio currently holds offices in Canada and New York where they have been names Officers in the Order of Canada and members of the Interior Design Hall of Fame. The company has also been recognized as one of the world's most prominent design companies according to Elle Décor, Hospitality Design and the Business of Fashion.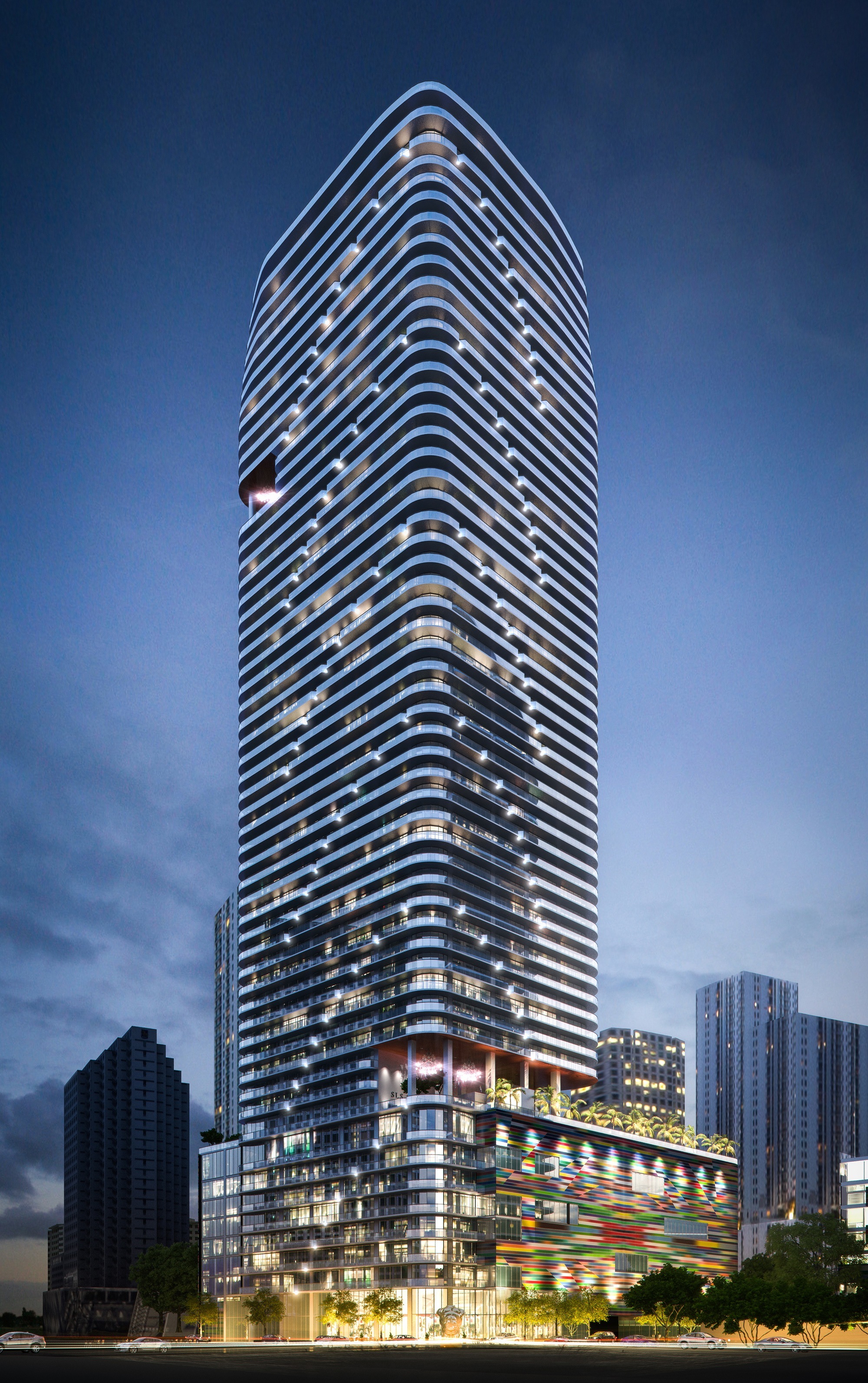 The world of Yabu Pushelberg
SLS LUX Brickell has thus welcomed Yabu Pushelberg's modern concept of design to transform a building into a carefully constructed and unparalleled experience. All residences come fully furnished with elegant pieces, Italian kitchen cabinets and stone countertops. Inhabitants can rest their eyes upon the city skyline and Biscayne Bay through the broad terraces separated from living areas and bedrooms by wide sliding glass doors. Some residences, such as penthouses, even include a barbecue and grill area, private rooftop pools and outdoor spas. Each room is beautifully transformed into an independent piece of art that belongs to a unique aggregate offering residents and visitors a sophisticated experience.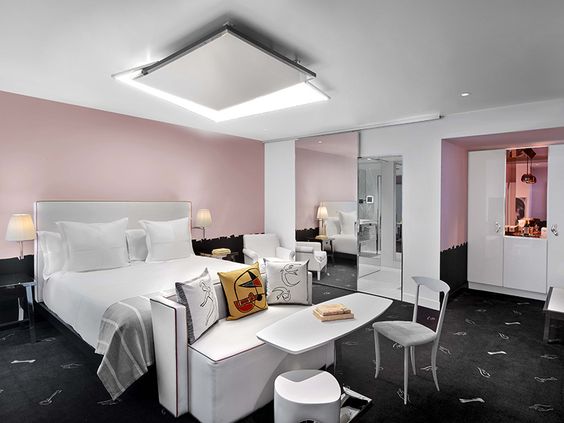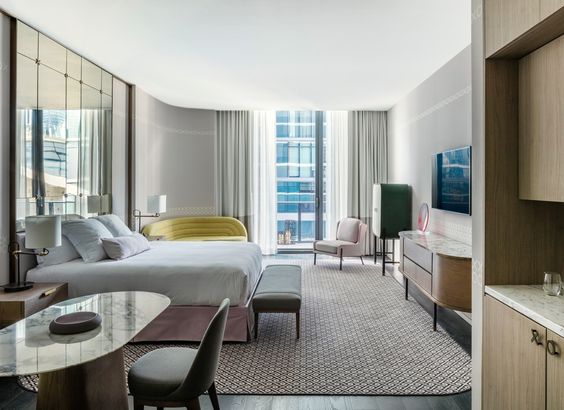 Picture yourself exiting a private elevator and walking across your condo's porcelain tile flooring past the kitchen featuring stainless-steel appliances, a built-in convection oven and ceramic glass stove-top. Before going to bed you can pamper yourself with a relaxing shower in the spacious tub or glass rain shower from the master bath lined with European cabinetry, oversized mirror, designer lavatories and porcelain walls. This kind of elaborate design is present in all areas of the buildings, not solely in its private units. Art is also a prevalent feature in all common areas; from the streets, pedestrians can admire Fabian Burgos' mural installation while those who enter the towers rest their eyes upon the works of other artists such as Matias Duville, Fernando Botero and Fabian Burgos.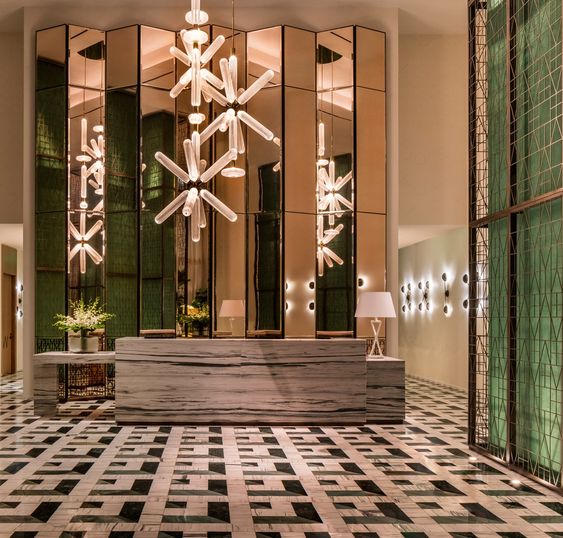 For an added comfort, units also count with on-demand hospitality services through the custom SLS LUX app which employs the same 'Smart Building' technology that is used for the SLS Brickell building. Beyond the contentment of their private condos, residents can also take in the ocean and city sights from the outdoor lounge space or make use of the poker table, billiards and wine cellar located in the two story indoor lounge and recreation area. As a matter of fact, the development is equipped with an endless variety of amenities that range from secluded cabanas and lounge areas to sports courts where residents can enjoy a friendly competition of basketball, tennis, and soccer among other options.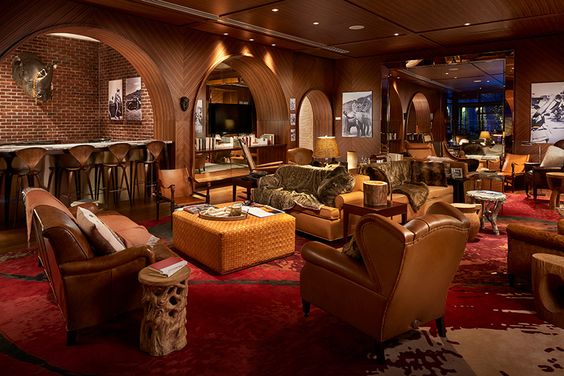 SLS LUX also looks after people's well-being through health and wellness centers that include quality weight training equipment and cardio machines. In case this is not enough there are also plenty of opportunities to relax at the spa with a professional massage or in the herbal steam rooms. Among the more animated activities, options include a club room lounge filled with state of the art multimedia entertainment system and a gourmet kitchen perfect or large gatherings. Residents and visitors can also relish exclusive access to the lounge, beach and pool services offered by the SLS Hotel's Hyde Beach club.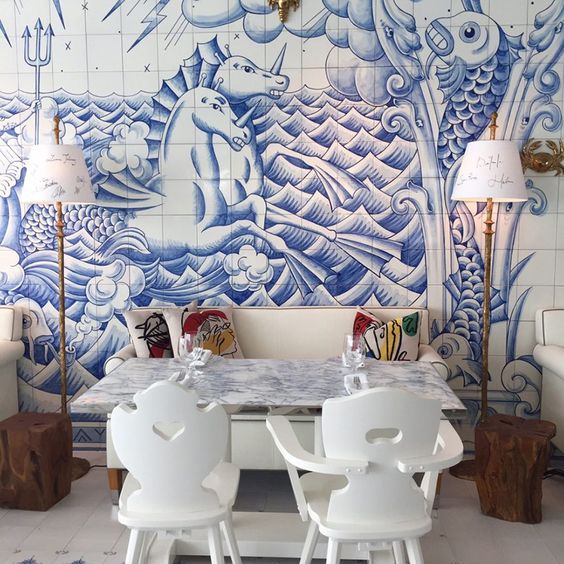 Final word
You have now heard about two of the greatest SLS creations which today grace Miami's urban life; however, no written portrayal can compare to the real product. Rather than comparing both towers, look for the greater and more vivid picture that can only be acquired from a first-hand experience. When people speak of great buildings, sophisticated designs and quality life-style, think about SLS LUX and SLS Brickell and you will know what such descriptions are referring to.