Today Miami can pride itself not only in being one of the largest cosmopolitan financial centers in the United States but also for featuring some of the most innovative architectural designs of this century. Among them, one in particular stands out; the Paraiso Bay Development designed by Arquitectonica with Bernardo Fort-Brescia at the head and introducing interior design by none other than Piero Lissoni. This exclusive residential complex is comprised of four towers: the Paraiso Bay, Gran Paraiso on the Bay, the One Paraiso and the Paraiso Bay views located in the private Edgewater neighborhood.
The ideal location situates residents at the very heart of Miami, enabling them to enjoy the city's various attractions that museums, arts, shopping and dining areas have to offer. This accessibility to cultural and business centers has made it one of the most coveted residential districts.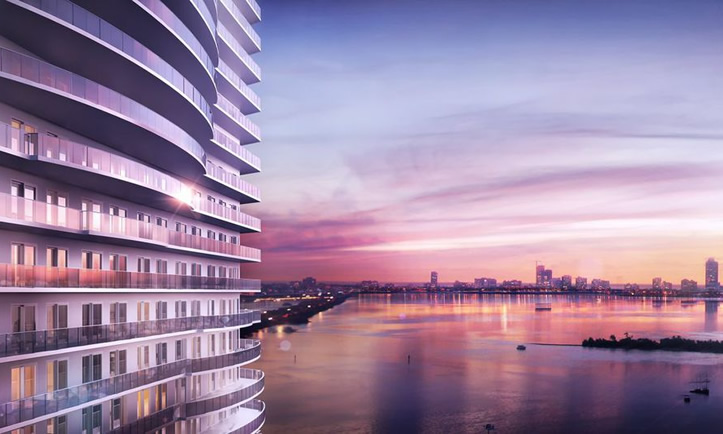 The creative genius
To understand the significance of Edgewater's latest addition it is crucial to first acknowledge the mastermind responsible for its design. The name Bernardo Fort-Brescia will likely spark recognition among the architectural and design communities and their followers. This acclaimed Peruvian architect underwent his studies at Princeton University and completed his Master in Architecture at Harvard. Not only is he a Fellow of the American Institute of Architects and an AIA silver medal winner but he also possesses the Land Institute's Lifetime Achievement award. Nonetheless, one must not forget that fame and wards do not make the man but rather his determination and an original vision.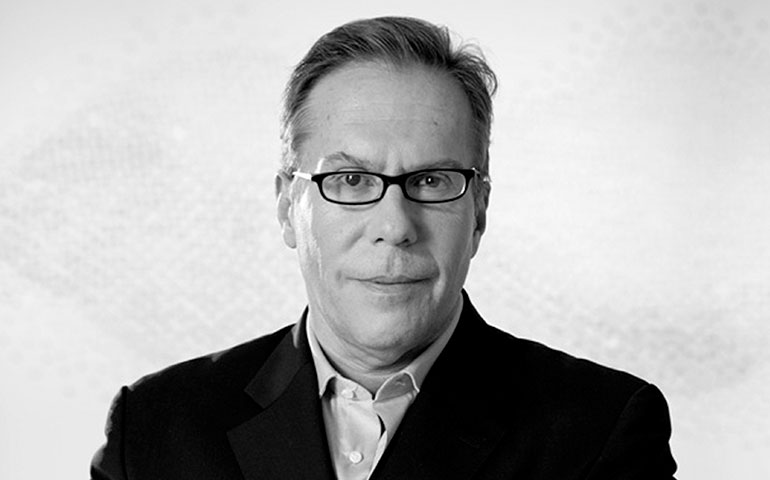 His most recognized achievement, which also paved the way for the countless that followed, was the creation of Arquitectonica in 1977 in cooperation with a group of promising architects like Laurinda Spear and Andrés Duany among others. Together with his team, Bernardo has incorporated aspects of globalization to the realm of architecture through revolutionary outlook; thus, ensuring that Arquitectonica's creations go beyond the expectations of commercial design. The corporation's ecological orientations provide exceptional products that coexist in harmony with the natural environment; all projects seek a compromise between aesthetics, efficiency and sustainability.
Bernardo has stated that: "We still believe in form-follows-function and that nothing should be superfluous and if we do anything else beyond that is an embellishment, is to humanize."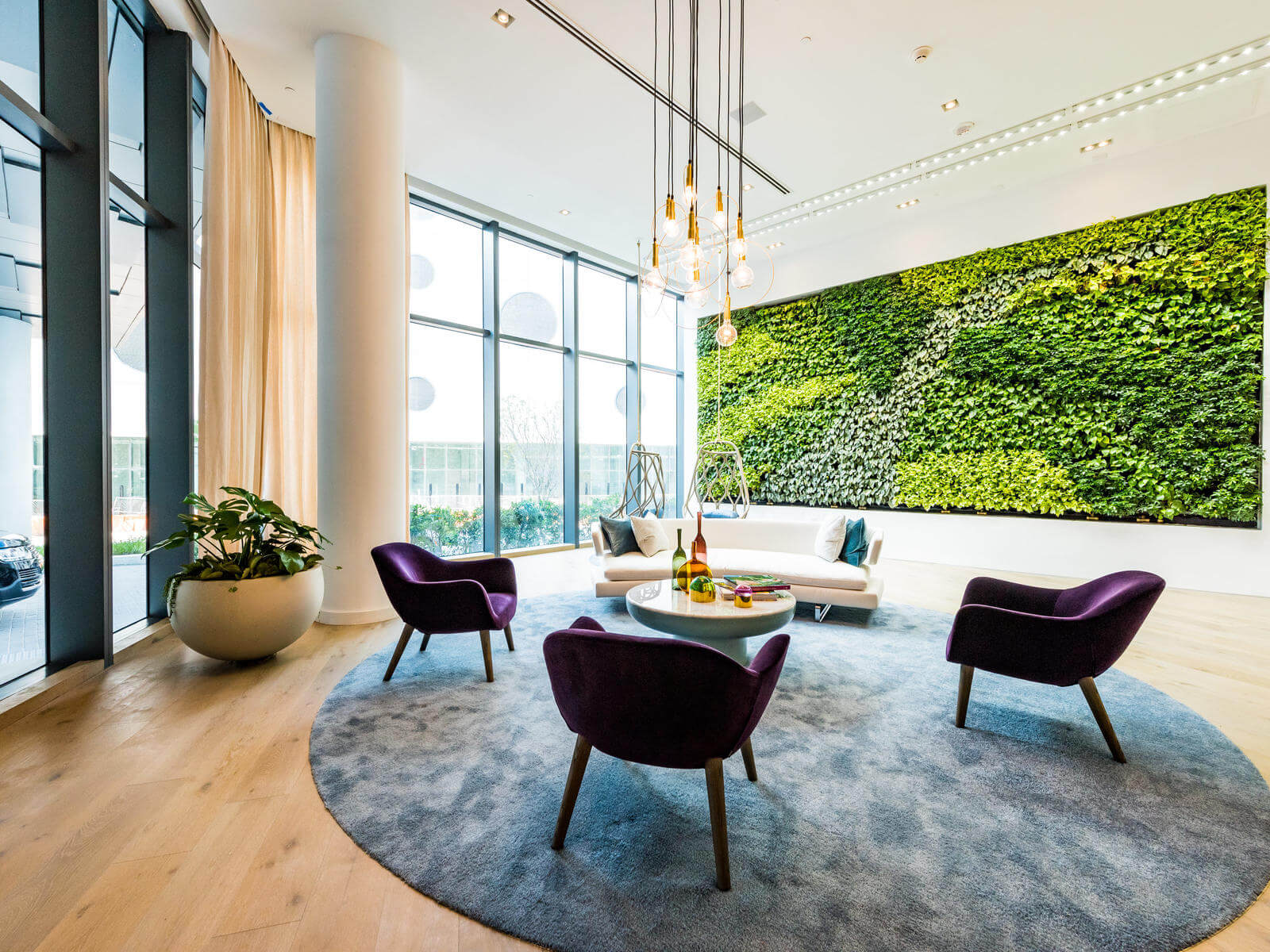 The prominent firm can trace its origins to Coconut Grove which have quickly expanded to other cosmopolitan cities like New York, Los Angeles and eventually its influence has even reached an international scale. Today Arquitectonica counts with offices in Europe, South America, the Middle East and Southwest Asia. Its modernist approach has attracted international attention since its establishment and its projects have shaped landscapes worldwide in 59 countries such as Singapore, China, France, and Brazil among others. However; nowhere has its presence been more visible than in the United States through projects like the Bronx Museum in New York and the Infinity and Lumina towers in San Francisco among several which are also located in Miami.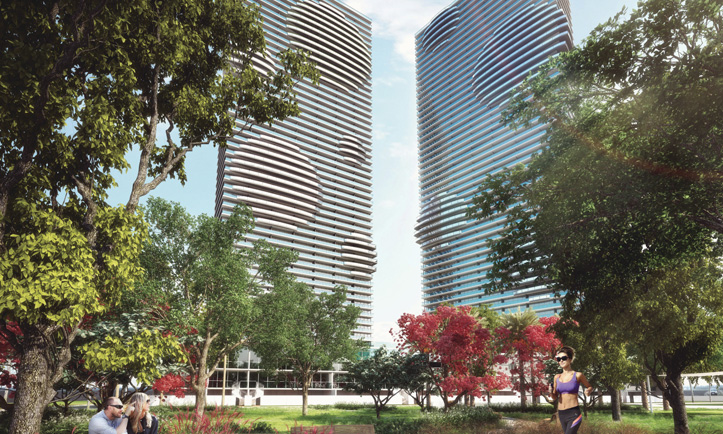 "The fact that so many cultures and so many ways of thinking are coming to one place really makes the architectural opportunities much larger because your audience is the world…that means your building needs to have a universal appeal"- Fort-Brescia
Bernardo Fort-Brescia, as one of the founding Principals of Arquitectonica, has played a significant part in defining Miami's urban landscape. As the city began to attract more international attention, the firm contributed to its growth with the incorporation of unique and breathtaking buildings. Nonetheless, despite the possible disturbances generated throughout the building process of such projects, the final result never ceases to amaze residents, viewers and critics. There is no better example of this than the most recent addition to the North Edgewater neighborhood: the Paraiso District residencies.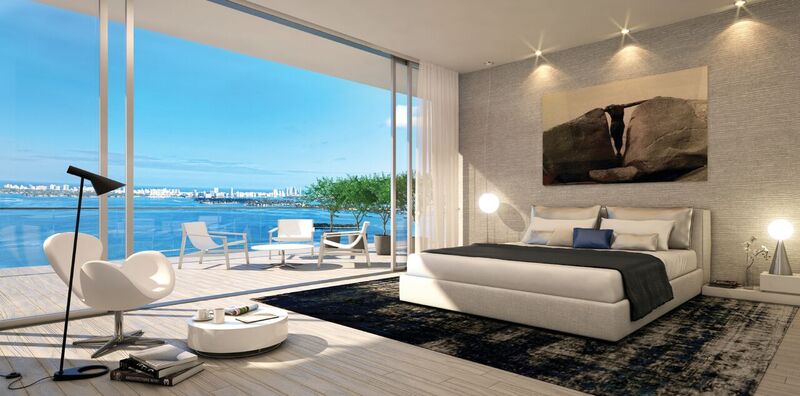 A tour of the development
The waterfront real estate counts with 1,367 residential units divided among four buildings: the 53 story towers of Paraiso Bay and Gran Paraiso, the 51 story One Paraiso and the 43 story Paraiso Bayviews. This residential complex includes an extensive array of exclusive, state-of-the arts amenities such as multimedia facilities, an outdoor spa, a shared resort and beach club among other luxuries.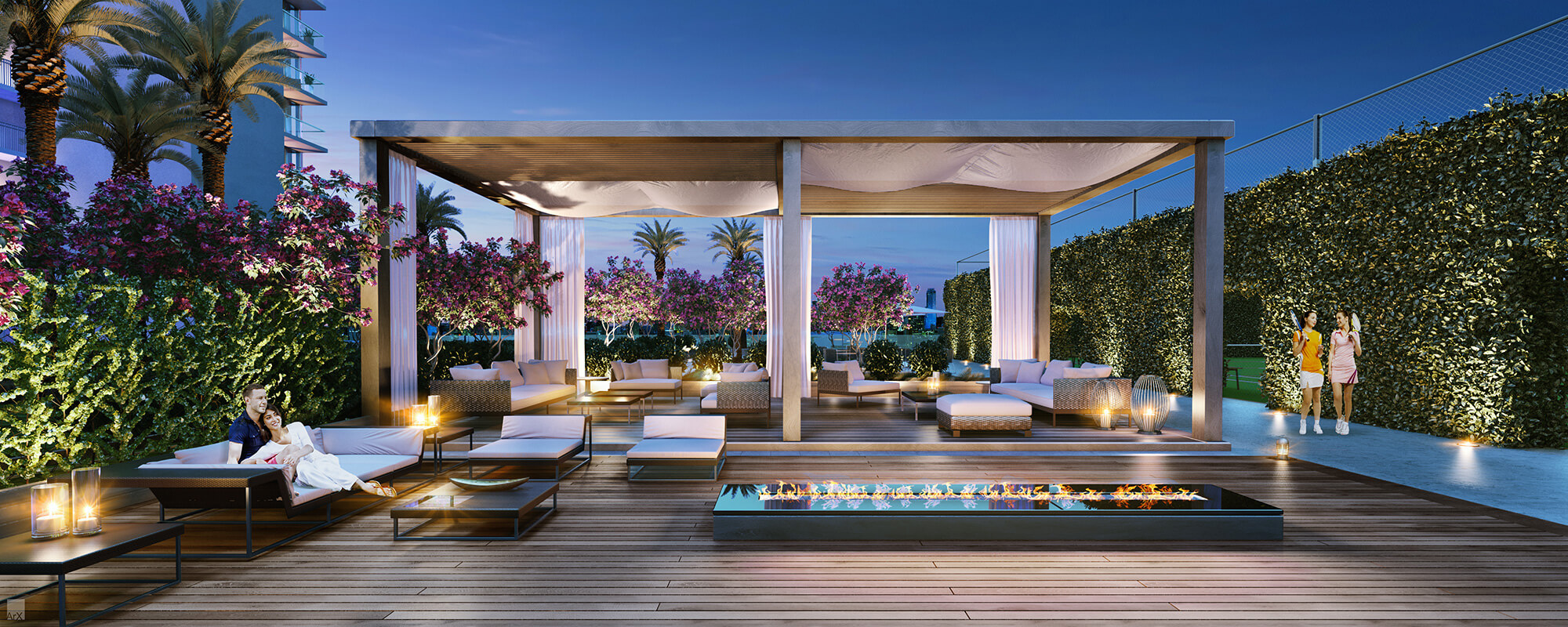 Water is a key element for Paraiso Bay. The multi-phase development located by the waterfront provides its residents with numerous opportunities to revel in the tranquil environment and breathtaking scenery of Biscayne Bay, South Beach and the ocean.
The elegant architecture is based on an open concept approach which features glass towers with floor-to-ceiling windows and private terraces that blur the boundaries between interior and outdoor spaces. The result is the merging of sophisticated private settings with the idyllic and beautifully envisioned gardens by landscape architect, Enzo Enea.
"I am interested in Paraiso Bay since I am very much attracted to the neighborhood, the beauty of the building, the comfort, the bay views and the fact that it has an outdoor lifestyle surrounded by gardens and parks is very important to me."- Manu Ginóbili, four time NBA champion.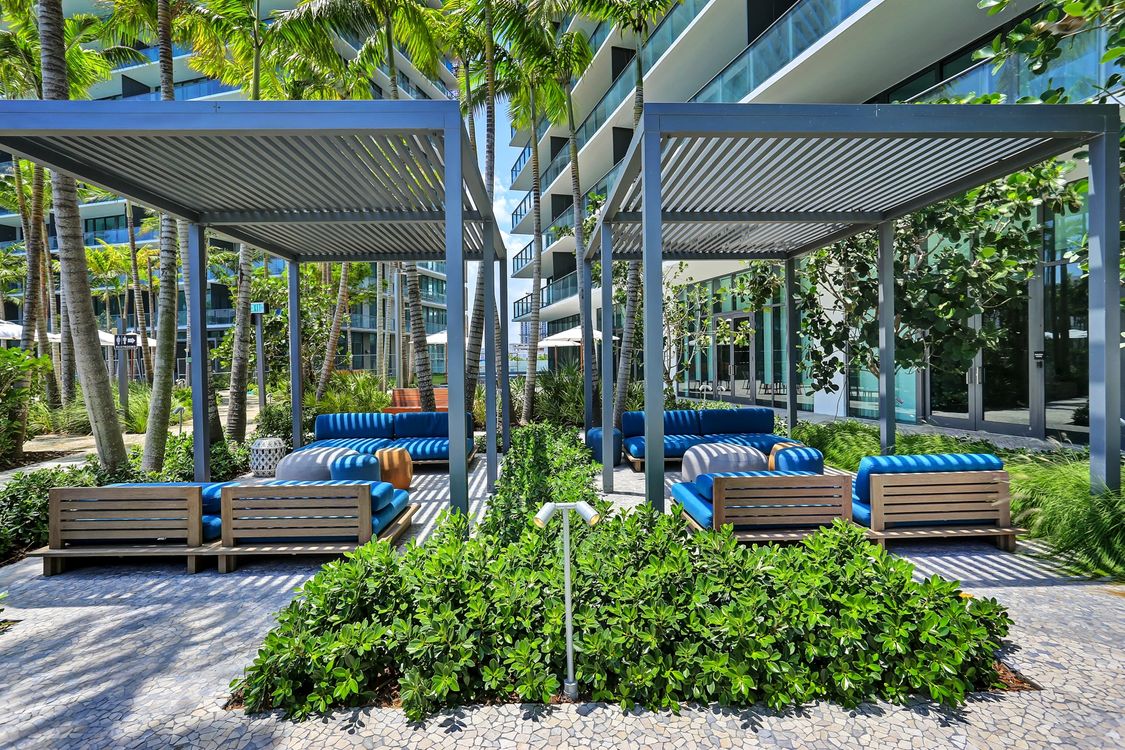 The master of design
An equally important contributor to the Paraiso Bay Development has been Piero Lissoni; architect, art director and designer set with the vital task of bringing the condos' interiors to life.
His studio, Lissoni Associati is renowned for collaborating with exceptional Italian and international furniture manufacturers. Since its establishment in 1986, Piero's firm has worked on the fields of architecture, industrial design and graphics; producing a variety of accessories, furniture, advertisement catalogues and even designing the interiors of hotels, private houses and yachts. Some of his most distinguished works include the renovation of the historical Teatro Nazionae of Milan, the Bentley Design Hotel TM in Istanbul and even interior design plans for Ghost, a 27m sailing yacht.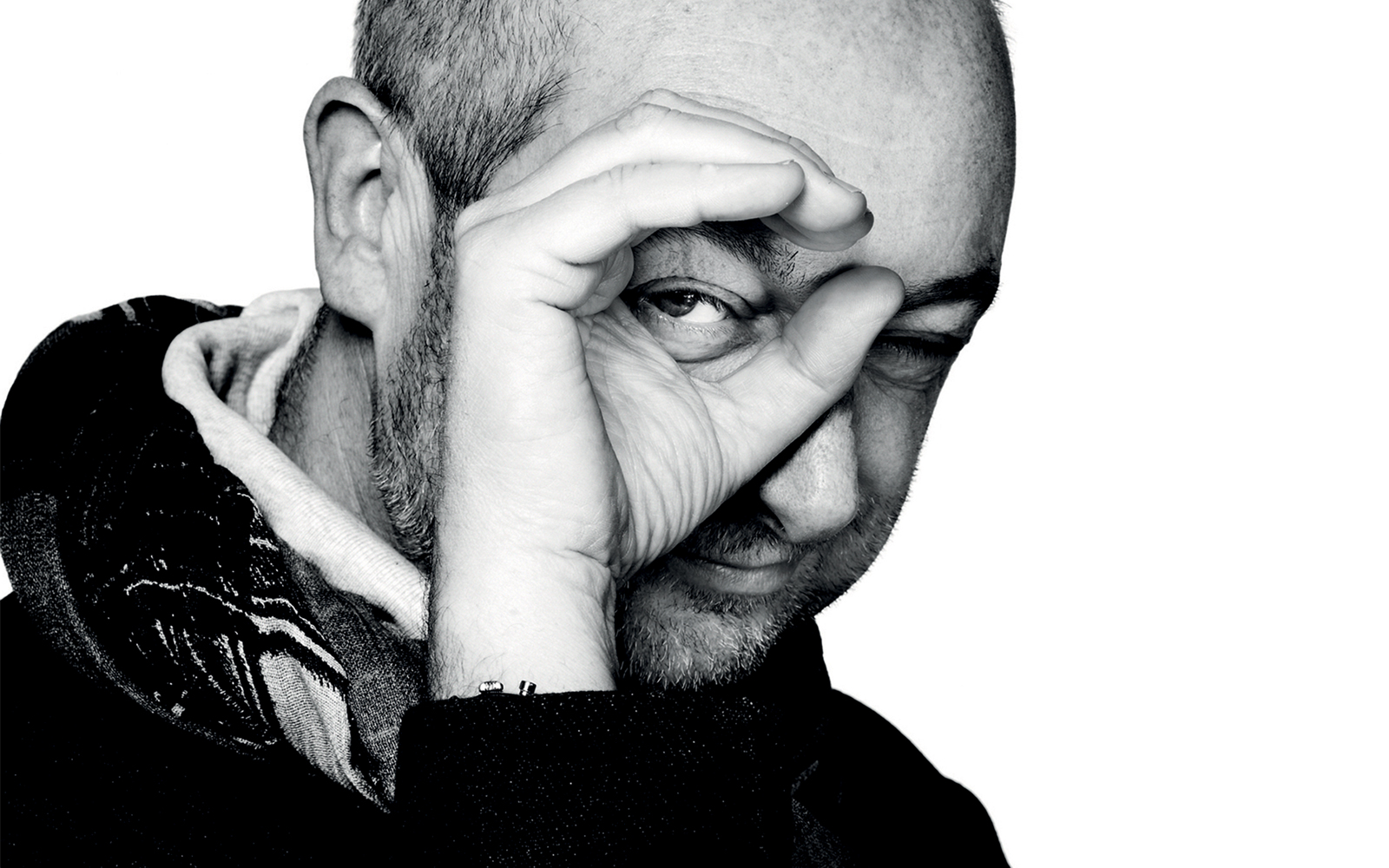 Lissoni's fame has been in part due to his work with numerous companies such as Alessi, Boffi, Kartell and Illy, just to name a few. Nonetheless; his confident ideals and elegant compositions are what distinguish him from his peers in the scene of contemporary architecture and design. Piero's projects seek to embrace the human element by stepping outside the confinements of mere functionality and into the complex realm of the living. This implies that his work often involves the portrayal of contrasts; a connection of different materials and their histories to generate sophisticated, calm and clean products.
"I like to combine different layers of life. We have to think that, in a way, we are living in a very complicated time and for that reason I like to transform one space such as a professional space into a human space."-Lissoni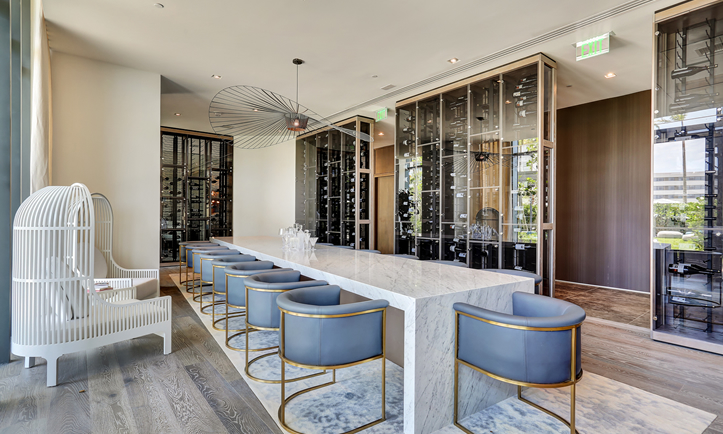 Piero Lissoni has indeed transformed the Paraiso Bay residences into spaces that people can connect to while forming memories and stories as precious as their settings. This monumental project benefited from his creativity for the design of exquisite, spacious and energy-efficient interiors. The European inspired spaces which now characterize Paraiso Bay are lined with custom-made cabinets, optional quartz countertops and full size mirrors that reveal an extraordinary attention to detail. The open-concept presents itself once more in the adjoined living dining room with breakfast bar and in the master baths. However; most impressive of all is the rich array of materials like marble, wood and glass that together form a modern and balanced composition.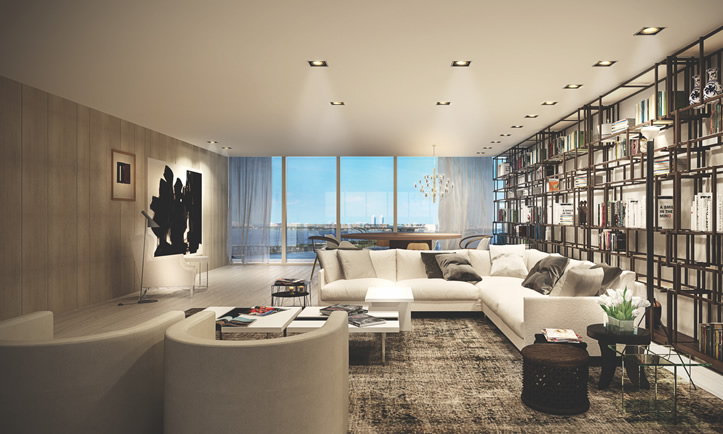 With closings quickly underway the Paraiso Bay District acquires an even greater utopic quality; it becomes the ideal oasis that people unknowingly envision and long for. The possibility of becoming part of its alluring scene is just within reach and there is no denying that the complex has already become a significant part of Miami's distinguished landscape.
"Imagine the best in European design, a curated art collection, and spectacular amenities in a lushly landscaped bayfront location…This is the vision we have brought to life at Gran Paraiso." –Jorge M. Pérez