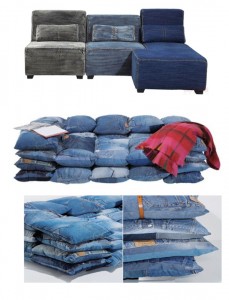 More taste than money! This is the corporate credo of the Munich based design studio KARE. Worldwide this lifestyle company markets design products of its own creation at affordable prices. Their products are unique, style-creating and urban.
Exactly the urban style has inspired KARE designers to create one of the most unordinary and innovative products in its product range – the Jeans Sofa. There is nothing more popular and urban than jeans. Everybody wears them and the idea of creating a sofa from recycled jeans is just marvelous, isn't it?
The Jeans sofa features a stainless steel frame. It's simple, durable and strong and it provides the support and the base for the padding and the cover. The sofa also features polyester padding and a removable cover made from recycled jeans. The overall dimensions of this unique piece of furniture are 0,7 x 2,1 x 1,3 m. It weighs 86.8 kg and it's extremely comfortable.
Actually this sofa is just a part of a whole Jeans collection that also includes pieces such as sectional sofas, armchairs, curtains and square pillows and they are all made using recycled jeans.
What you can be sure of when buying such a sofa is that each piece is unique and different from the other ones so you will get a sofa like no other.