Gathering around the table for a meal is still one of the most effective ways to bring a family together or entertain guests. Accordingly, dining room furniture and decorations are very important for creating a certain atmosphere and making an impression. Once you've determined the mood you want to create in home, then you can pick the pieces accordingly.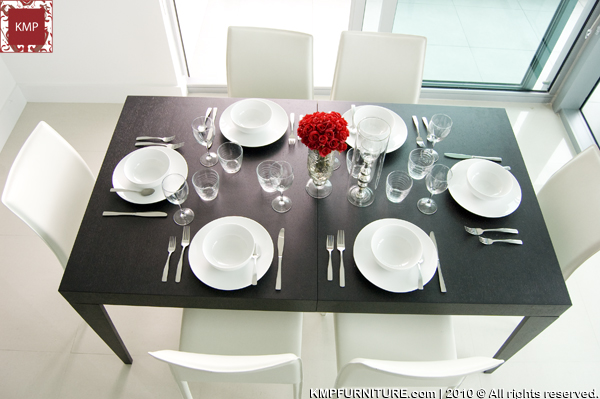 A traditional dining room is usually quite simple to accomplish, as no matter where you are the basics will be quite common to furniture stores in your area. This style is a good one if your goal is to promote societal conventions and give the impression that heritage is important. Accordingly, you might seek out antique pieces or vintage reproductions that represent former time periods. The items you pick out should include a rectangular or oval shaped table and an even number of matching chairs. You should also acquire a hutch and, if you have the room, a sideboard to store your finer dishes, stemware and flatware. Go for darker wood finishes like mahogany or cherry; and add color with chair upholstery, rugs, or curtains.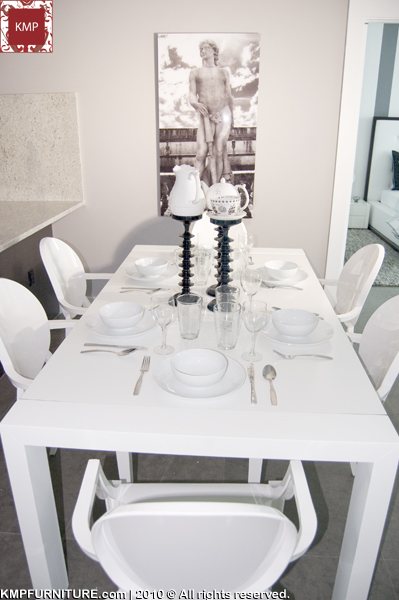 Not everyone wants to follow the conventions of bygone eras. Contemporary furniture has gained a lot of popularity as younger generations grow older and begin starting their own families. A modern dining room uses most of the traditional pieces, but the furniture selection changes the customary facets of form, color, and pattern. The message is that you appreciate what tradition has to offer, but are interested in moving into the future and creating new standards. Pick chairs with high backs and no arms, while maintaining clean lines in all pieces. A modern alternative to the classic hutch is to use floating shelves instead. Lighting is also important to distinguish a contemporary feel. Steer clear of overly ornate chandeliers, but try streamlined or multiple pendant lights. Color in contemporary rooms tends to be cooler than traditional options. White lacquer, colored leather and stainless steel fit into this style well.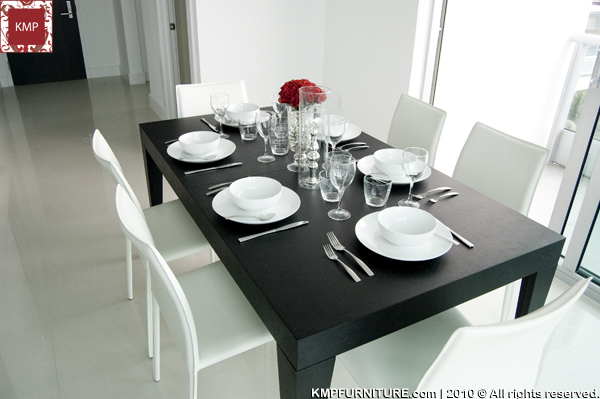 If you're prepared to go avant-garde with your dining room furnishings then all bets are off. Of course, it has to be functional so a table of some sort and places to sit will be necessary. But the way these are arranged can push the interior design envelope as far as you would like to take it. An interesting option for an alternative setting is to have along table with a couch on one side, instead of chairs. This adds an element of whimsy and is great for long meals with many courses. Your guests and family will love the comfort! Another alternative to chairs is a long bench. A room like this can send the message that you welcome creativity and trying new things. You can express your tastes with abstract art and sculpture and pick bright colors and elaborate patterns for textiles.Whatever your style, remember that dining room is a special place of gathering in your home. It should be a place that balances comfort and formality that expresses the overall intentions of your home.